A group of students at a Scottish school has launched a "peaceful petition" against new rules which mean toilets are locked during class time, saying the policy "breaches human rights".
The "Free the Bladder" campaign was started by students at Perth Grammar School, after the new headteacher, who they call "Mrs X" to protect her identity, brought in the rules.
"As of last week, Mrs X decided that students would no longer be able to use the toilet facilities during class time and proceeded to lock all bathrooms to prevent us from using said facilities," the Change.org petition reads. "The toilets were then promised to be unlocked at interval and lunch but so far this has failed to happen.
"Mrs X does not approve of the number of people being excused from class and fears people may ''hide'' in the bathrooms to prevent going to subjects they dislike and fair enough, this does happen."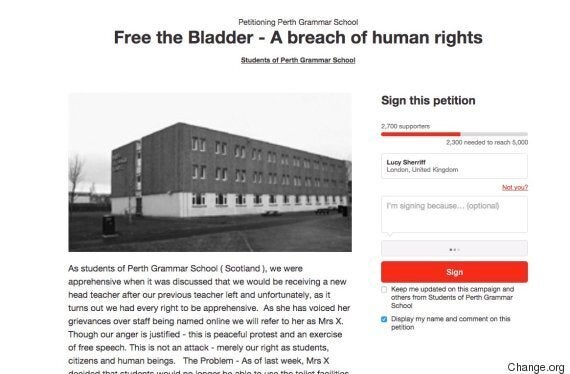 The petition on Change.org
Although the students say the motive "seems sensible", they add: "However, preventing us from one of our basic human rights is NOT the way to solve the problem. Let's explore the issues that restricting the toilets cause: We won't be able to concentrate. With restricted access to toilet facilities students will avoid keeping hydrated and therefore lose concentration and consequently fall behind in class."
The pupils also point out the "large number of girls in our school", who need to visit the toilet regularly when they are on their periods.
According to the petition, which has been signed by more than 2,600 people, one student wet themselves after being too scared to ask for the toilet doors to be opened.
"Our bodies do not belong to anyone else," the students conclude. "It is our duty alone to look after said bodies and that includes relieving the body of waste product whenever the body is ready to do so.
"No one should be able to take that right away; please stand with us and help us take back our human right. Thank you, everyone. It's time to free the bladder."
The spokeswoman said: "There has been an ongoing issue with a large number of pupils asking to be excused during class time.
"The head teacher has taken steps to reinforce the school's existing policy that pupils should not be out during class time unless under exceptional circumstances.
"We will work with the school's staff, pupils and parents to ensure that everyone understands the policy and how it is being implemented."
According to the Daily Record, the school's head teacher Fiona Robertson sent a newsletter to parents condemning "inappropriate and completely unnecessary postings on social media".
She added: "On occasion, the school appreciates that someone may need to use facilities during class. The teacher will authorise this."
Popular in the Community