A teenager from a famous racing family has crushed to death when her horse fell on her, as her parents watched on from the stands.
Thousands have shared tributes after promising rider Olivia Inglis, 17, died riding her horse Coriolanus in a championship event in Australia on Sunday.
Her parents Arthur and Charlotte were watching from the stands at the Scone Horse Trials in New South Wales when the horse fell during a "botched" jump, local media said.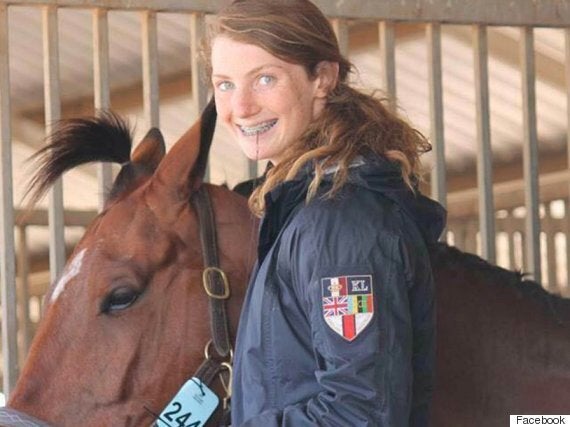 Olivia was reportedly killed 'instantly'
The horse, which had been trained by Olivia's mother, fell on her during a "botched" jump, local media said.
The accident happened at around 9am and paramedics ran to help Olivia, while the crowd could only watch.
Equestrian Australia spokeswoman Judy Fasher told the Daily Telegraph that said the Inglis family were "beside themselves" after witnessing the death.
"You can imagine they are traumatised, they've got a horrendous situation today," she said. "Unfortunately sometimes horses make mistakes."
She paid tribute to Olivia as "talented and accomplished" and said she had been riding since she was a little girl.
"She was an accomplished rider, very experienced and has been riding all her life, since she was a little tot," she said.
"Her mother is a rider, she trained and rode the horse."
Olivia was from a family of well-known horse racers, and the daughter of horse auctioneer Arthur Inglis.
Riding fans have been sharing pictures of themselves with their horses online in tribute to the young sportswoman, using the hashtag #RideForOlivia.
By Thursday morning more than 120,000 people had posted photographs or videos on Instagram alone, the BBC claimed.
The competition's organisers said the jump where Olivia was killed had been successfully jumped by three other riders that day, and was used in last years' event where there were no incidents.
The event has been cancelled while an investigation takes place, according to a police spokesman, and Coriolanus is being looked after by vets.
The Scone Horse Trials released a statement saying offering "heartfelt condolences" to Olivia's parents, asking that their "privacy be respected at this time."
Related