John Swinney recounted a "conspiracy theory" which alleged that conversations at Rupert Murdoch's wedding led to the story hitting the front page of the media mogul's tabloid on Wednesday.
He said: "If the Queen's had a private conversation with senior members of the government on Privy Council terms, and we all know what those rules mean, they're supposed to be kept private."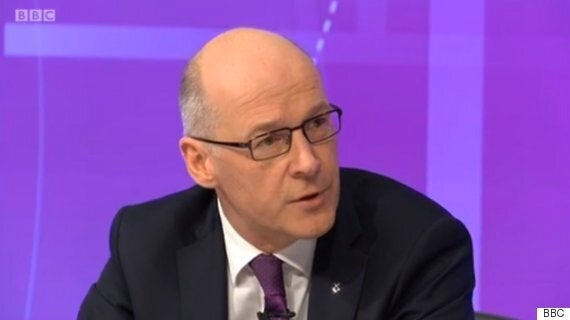 John Swinney MSP recounted a "conspiracy theory"
The SNP MSP continued: "Then a member of the Government has thought it fit to go to Rupert Murdoch's wedding and then have a conversation there which miraculously results in this story being reported on the front page of The Sun.
"I think it says more about senior members of the Government than it says about the Queen."
He then turned to the panel to ask: "Is it just me who's been wound up by that conspiracy theory or is that maybe something that might have happened?
"I think that essentially if the Queen is going to be outside of politics she's chosen to be, other than on some occasions, unless she says something definitively, publicly and with her own words. Then I think we should respect the Queen's decision not to get involved."
The SNP politician made the comments while responding to a question on Thursday's BBC 'Question Time'. Watch video, above.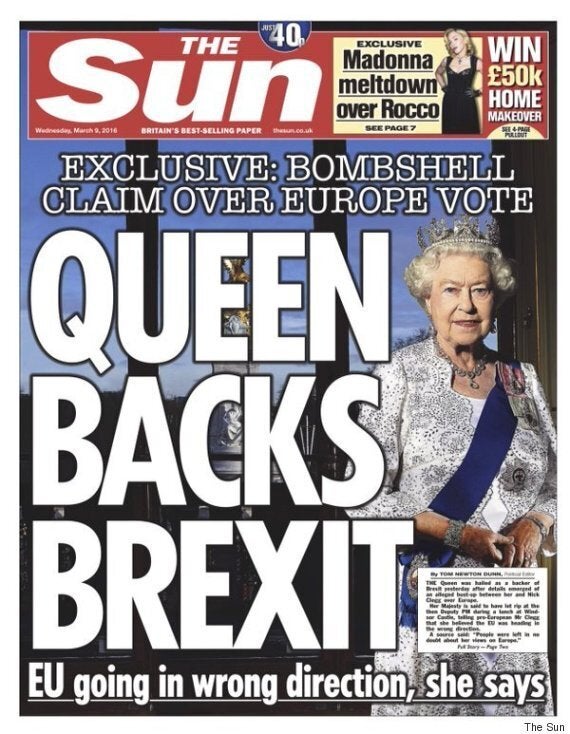 The Sun's front page on Wednesday
It comes after Justice Secretary Michael Gove, one of the most prominent figures backing "Brexit" in June's referendum, was touted as the figure most likely to have leaked details to The Sun.
The newspaper reported on Wednesday that the Queen told then deputy prime minister Nick Clegg she believed the Union was headed in the wrong direction during a private lunch, citing two sources.
Other names listed as having been in conversation with the Queen at the Windsor Palace event in 2011 include Gove; former Welsh secretary Cheryl Gillan; Lord McNally, who was a justice minister; and Judith Simpson, a clerk.
Responding to claims Gove was the source, The Sun's editor Tony Gallagher told ITV News: "They can believe what they like. We would never reveal who our sources are.
"I think it's interesting to note that there is clearly a smear operation underway at the moment and an attempt to identify Michael Gove."
Swinney wasn't the only one casting light on Murdoch's wedding on Thursday evening.
Speaking on 'This Week', veteran broadcaster Andrew Neil reported Gove's presence at Murdoch's wedding, who attended along with Rebekah Brooks, an executive of The Sun's publisher, and Gallagher, before quipping: "Hashtag just saying."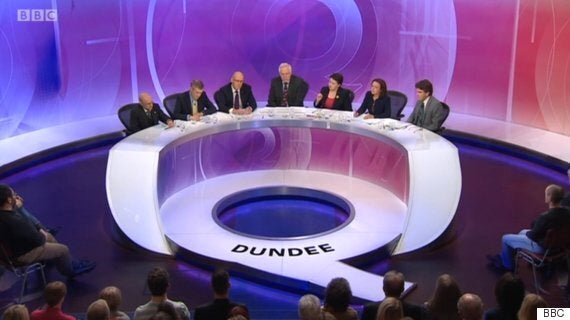 Thursday's Question Time came from Dundee
Thursday's Question Time came from Dundee, Scotland. The programme's panel included leader of the Scottish Conservatives Ruth Davidson MSP, deputy first minister of Scotland John Swinney MSP, Labour's health spokeswoman Jenny Marra MSP.
Alongside leader of the Scottish Liberal Democrats Willie Rennie MSP, co-convener of the Scottish Greens Patrick Harvie MSP and Daily Telegraph columnist Tim Stanley.
Popular in the Community