The third series of 'Line of Duty' debuts on Thursday evening on BBC Two and, after a sneaky preview of the heart-thumping first episode, I can happily confirm that writer writer Jed Mercurio has lost none of his skill in taking his audience in all sorts of confusing directions, as his central team AC-12 continue with their attempts to police the police.
Keeley Hawes did such a magnificent job of stepping into the antagonist's role for Series 2, this could have been a daunting task for any actor. Enter Daniel Mays ('Outcasts', 'Mrs Biggs', 'Dad's Army'), with his curling lip, eyes that look on the brink of bawling, and a personal mission we can but guess at.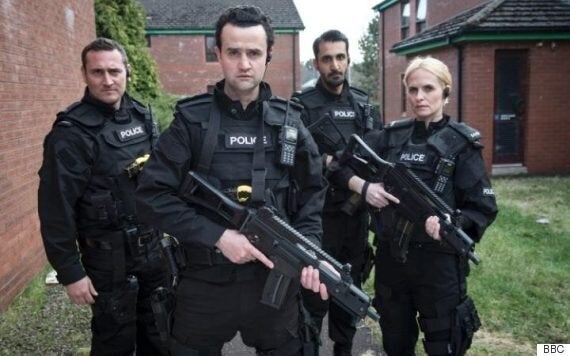 Sergeant Danny Waldron (Daniel Mays) is the latest subject of AC-12's investigations
Here, he's a revelation as Sergeant Danny Waldron - a man seemingly shy, stumbling but charming when he's in the pub, uncompromisingly driven, even dead-eyed, when it comes to work and leading his team of armed officers into the heart of a gangland sting. What happens when they get there shows yet another side to him, and will be at the heart of this series investigation by the internal affairs team we already know.
Martin Compston, Adrian Dunbar and Vicky McClure are back on duty, with Dunbar's Superintendent Hastings finding an uncrackable wall in the protocol-spouting Waldron, even while Compston's DS Steve Arnott starts sniffing at a bigger story.
As before, Jed Mercurio treats us to one of those intense interrogation scenes, with one police officer being interviewed by another, both equally aware of the special responsibility that goes with their status, as well as their rights and the lines they cannot cross.
The writer told his preview screening audience last night, he's not in the business of bashing police with this engrossing drama, due to air on BBC Two next month, even while he begins preparing the fourth series for production later in the year. Jed Mercurio says, "We hope that in watching the series people will understand the kinds of situations that police officers deal with are ones that very few other professionals have to face and that is obviously great for us dramatically."