A Londoner woke up to a surprise after a night out when he woke to find out that an Uber ride he thought had cost £15 had actually cost him £102.
Daniel Kaizen, 26, had booked an Uber taxi home after celebrating his final shift at the Loves Company cocktail bar in London.
However, after falling asleep he was taken on a 20-mile detour instead of the four mile trip from Old Street to Clapton, The Evening Standard reported.
It wasn't until the following morning when Kaizen checked his Uber app that he realised his quick trip home had turned into a 20-mile journey around the North Circular road, costing him more than £100.
Uber has since apologised and refunded him the full fare.
An Uber spokeswoman told The Evening Standard: "We are investigating exactly what happened in this instance and have given the rider a full refund. Unlike other transport options Uber offers transparent receipts with a record of every trip and a map of the route taken so if there is an issue it can be resolved."
Last week Daniel's friend Toby Quirk was taken on a detour through Queen's Park on what should have been a short trip between London Bridge and Clapham.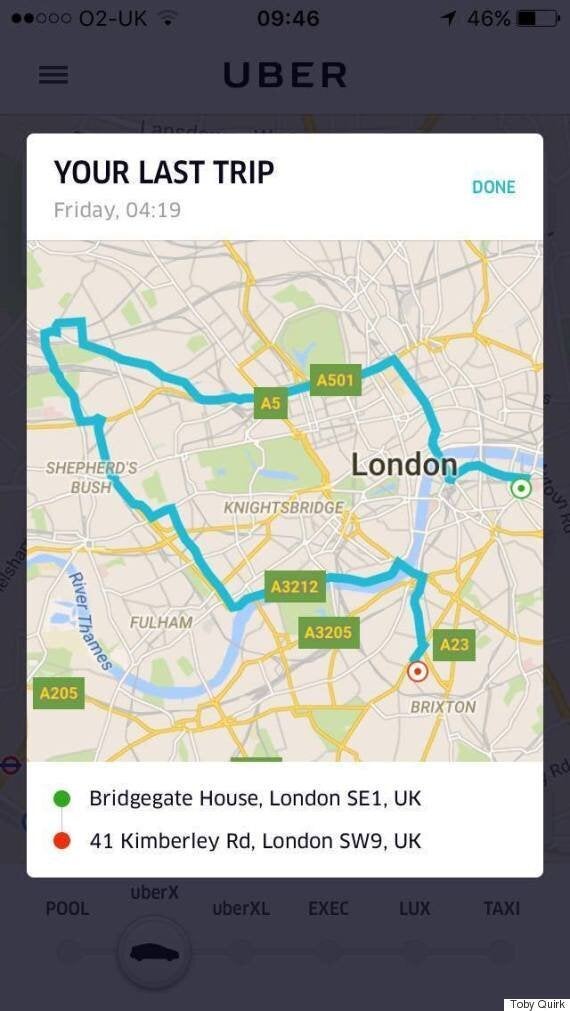 Speaking to HuffPost UK, Quirk said: "I got steaming drunk on Thursday and ordered an Uber home from London Bridge to Clapham, a quick trip. I fell asleep and woke up in NW10. The driver claimed it was the road I told him but I was like 'this is not my house - take me home'.
"So he took me home, but when I woke up the next morning I saw I'd been charged £70.
"I emailed Uber on Friday and they had refunded me the fare difference my Sunday evening. The drivers are thieving morons but the customer service is amazing. They emailed me four times over the bank holiday weekend and had the money back in my account within two days."