The five things you need to know about the Barack Obama-David Cameron press conference on Friday April 22, 2016…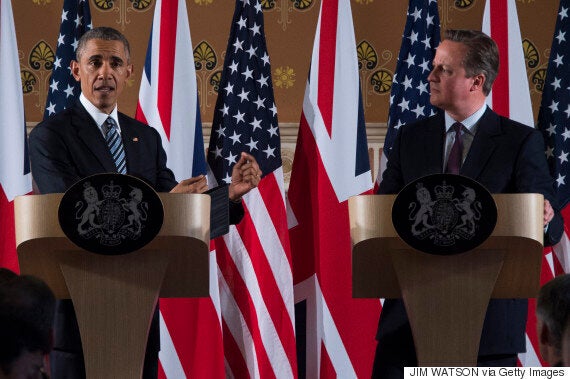 1) BACK OF THE QUEUE, BACK OF THE NET
The second he said it, you could feel the air in the room change. Barack Obama's warning that Brexit would mean "the UK is going to be in the back of the queue" of America's trade priorities was as brutal as it was effective. And the sharp intake of breath from the gathered press pack, greeted by the knowingly satisfied smiles of Downing Street aides, was proof that the President had delivered and delivered in spades.
Of course, we had all expected yet another chapter in the Obameron bromance. But with the stakes so high for the Prime Minister – he furrowed his brow, he swallowed hard, as he hung on every word of the President's answers – Obama clearly felt he had to flash some steel as well as his 100-watt smile.
It felt like a targeted drone strike on the Brexiteers' weakest argument: that somehow Britain can quit a huge trading bloc and expect to have the same clout when it comes to buying and selling stuff to other countries. And the pounding of the Vote Leave bunker was relentless. It wasn't just trade that would be at risk, it would be security, intelligence, protection against climate change and migration.
Cameron insisted that he couldn't tell a President what to say. Oh no, perish the thought. But given that the US and UK are famously 'separated by a common language', Downing Street were not unhappy that he used the very English 'queue' instead of the American equivalent 'line' in his killer quote.
Later, Obama insisted the UK-US 'special relationship' would survive Brexit. Yet the main economic message was clear. He'll still keep sending Christmas and birthday cards, it's just that there won't be a fiver inside them any more.
Lots of British politicians dream of a 'Love, Actually moment'. You know, the bit where dashing young Prime Minister Hugh Grant stands up to a bullying and dismissive American President and tells him where to go. The fictional premier reels off all that is great about the UK - "David Beckham's right foot..David Beckham's left foot…" – before winning the applause of his staff and an avalanche of questions from a stunned press corps.
As a putative PM, Boris Johnson could have taken on that role today. "I fear that this has become a bad relationship; a relationship based on the President taking exactly what he wants and casually ignoring all those things that really matter to, erm... Britain." (That's Grant but it fits perfectly to Boris's self-deprecating Old English Sheepdog schtick).
But in fact Bojo boobed big time with his Sun column today. His piece was meant to be a doughty riposte to Obama's paean to the EU. But what caught the ear of many was a loud dog whistle about the President being "part Kenyan'"and his "ancestral dislike of the British empire". Boris even suggested this lay behind the removal of a bust of Winston Churchill from the Oval Office when Obama took office in 2009.
Now, there's long been confusion about the on-loan Churchill bust. Yes it was taken out and returned to the British embassy, but Obama already had another one outside his private office. When asked about the Boris attack, the President smiled a big smile before baring his teeth.
"I love the guy [Churchill, of course, not Boris Johnson]….There are only so many tables where you can put busts otherwise it starts to looks a little cluttered." And then came the kicker, where he really managed to make Boris look very small indeed. As the first African American president, he'd decided that a bust of Martin Luther King would be more "appropriate", to remind him "of all the hard work of a lot of people who somehow allow me to have the privilege of holding this office".
The delivery was all Obama's, that uniquely laid back style of his, sounding for all the world like a university lecturer shooting the breeze. But he's a uni lecturer who drives around in an armour-plated limo called The Beast.
His language was all the more menacing because it was so polite, not least as he had to pretend that he was not trying to skew our referendum. "I'm not coming here to fix any votes…I'm offering my opinions…. In democracies everyone should want more information not less…That's not a threat…that should enhance the debate." The fine line between interfering and influencing was never finer.
Even his 'back of the queue' line came prefaced with rope-a-dope soothing lines. "Maybe some point down the line" we will get a US-UK trade deal, but "that's not going to happen sometime soon". He wasn't technically threatening anybody. But neither was the Godfather threatening anybody when he made them 'an offer you can't refuse'.
And the low-key undertone was particularly notable as he closed his Boris/Churchill remarks "That's just on Winston Churchill. I think people should know that, know my thinking there."
Cameron had his own thinly-veiled reward for the President when asked about Donald Trump. Contrary to claims that he was keen to water down his previous attacks on Trump ("stupid", "wrong" "divisive" remember), Cameron was as nonchalantly passive-aggressive as Obama. "I've made some comments in recent months…I don't think now is the moment to add to them - or subtract from them". You could hear Hillary Clinton's whoop of joy from several thousand miles away.
4) LOVE, ACTUALLY, REALLY
The seats at the press conference were arranged with the usual 'Bride or Groom' layout, with the Brits on the right and the Yanks on the left. Politically that matched their broad politics, but it also sounded very much like the pair of them were renewing their special relationship vows.
Their scripted speeches went beyond the usual diplomatic bromides that are always rolled out when leaders visit each other. Cameron talked about 'Barack and me', and "my friend Barack" for good measure, stressing "he's a man with a very good heart". Obama, slightly taller, was always the more senior of the two.
Just as he often pats the PM on the back, he gallantly even corrected Cameron's account of their previous table tennis match, saying they were on the same side when beaten by some school pupils. "I can't remember whether they were eight or 10, but they were decidedly shorter than we were, and they whooped us."
The President also laid on the charm, not just to 'David' but to the Queen and Great Britain itself. His line that The Queen was "a real jewel to the world and not just to the United Kingdom" sounded impromptu, but it worked. It also takes a special light touch to move effortlessly from praising the Enigma codebreaking machine on display in the Foreign Office to citing John Donne's 'no man is an island' poem. Obama didn't make just a meal of it, he made a SuperSize Meal of it.
For West Wing addicts like Cameron and Osborne, the glamour of a real Presidency is hard to resist. Some still blame the Chancellor's disastrous 2012 'Omnishambles' on the fact that he took his eye off the ball back home when he jetted out on the eve of the Budget for a bit of political tourism to tag along on the White House south lawn for Cameron's visit.
But I haven't seen leader love like this since I attended the famous 'Colgate' summit in Camp David between George Bush and Tony Blair, bomber jackets and all. At one point I showed a senior No10 aide a tweet which read "This is the best day of Cameron's life so far. Sorry Sam, but you can see it in his face." The aide couldn't help but laugh.
Blair's premiership never depended on Bush (in fact most people forget he actually won a third general election after the Iraq war as well as before it). Yet Cameron's own political future beyond June 23 relies very much on him winning the EU referendum. And that's why he looked so grateful for Obama's love bombs today.
5) NOT TOO COOL FOR SCHOOL
From the moment Obama arrived at the press conference in the Foreign Office's grand Locarno Room, he looked the cooler of the pair, one hand in his pocket and the other one flicking a fictional cigarette at Brexiteers (both Cameron and the President are reformed smokers).
It's that cool that is part of Obama's appeal to the ordinary floating voter who were being targeted by No.10 today in the referendum. Near the end of the press conference, the President even had a question about the death of Prince. He revealed that he and the US Ambassador (who loves his music and has a turntable and lots of vinyl) played "Purple Rain" and "Delirious" "just to get warmed up before we left the house for important bilateral meetings like this". Other than Bill Clinton, you can't imagine a single US President ever saying anything like that on a foreign trip.
Obama joked about 'my team sitting here' and told a lovely story about the Queen devoting time to one of his star-struck staff.
Yet overall, he wasn't too cool for school. In fact No10 couldn't have asked for a more perfect performance. The week that started with a British economic bombardment of the Leave camp ended with a surgical strike. Boris and his Brexiteers will be back, and may well snatch victory in the end, but today they looked like the walking wounded.
If you're reading this on the web, sign-up HERE to get the WaughZone delivered to your inbox.
Got something you want to share? Please send any stories/tips/quotes/pix/plugs/gossip to Paul Waugh (paul.waugh@huffingtonpost.com), Ned Simons (ned.simons@huffingtonpost.com), Graeme Demianyk (graeme.demianyk@huffingtonpost.com) and Owen Bennett (owen.bennett@huffingtonpost.com)
Related