The five things you need to know on Wednesday April 27, 2016…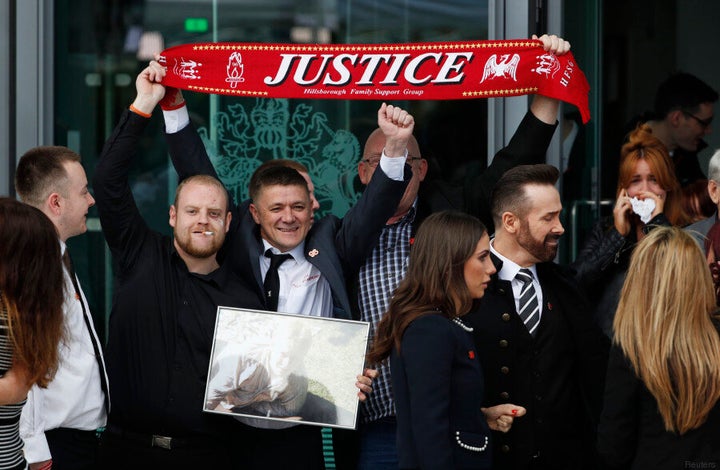 There will be a sombre mood at PMQs today, ahead of the Hillsborough statement by Theresa May at 12.30pm. Junior doctors, Brexit and other issues may of course crop up but the historic jury verdict will overshadow proceedings.
The Home Secretary will be careful to warn that there is a current investigation into the police's conduct and we may not get anything concrete in terms of Government policy as a result. Yet it will still be a big Parliamentary moment, and a chance for MPs who have fought for so long to air the families' case once more.
In the Lords, which will also have a Hillsborough statement, keep an eye on ex-Sheffield MP David Blunkett and on Michael Wills, who has been pushing a Private Members' Bill on the need for a public advocate in future similar cases. Michael Gove is said to be receptive.
Hillsborough dominates the front pages of most national newspapers, although it is the Sheffield Star's blacked out front page ('Sheffield in the Dock' ) that moves the story on to the next battle for the police to answer for their actions. The Liverpool Echo's 'Angels and Demons' was yet more proof of how vibrant our local papers can be, despite years of shrinkage.
Only the Sun and the Times failed to put Hillsborough on their front pages, omissions which led to a backlash online (it's worth pointing out the Times changed its second edition to include a picture of the families), even though both had extensive coverage on inside pages.
On the Sky paper review, Sun political editor Tom Newton Dunn said: "Every single person who works on the Sun shudders with horror and embarrassment. It was the worst thing we ever did as a newspaper, it was our worst day, our deepest shame." As for the continuing criticism of the paper, he said: "Yet another story 'No apology from the Sun' - I don't think it should all be about the Sun - it was not us who committed Hillsborough..."
Because of the obvious need to focus on Hillsborough, the first ever all-out junior doctors' strike got less media coverage than it would have. That pattern will continue today too. With nearly 80% turnout, the support for the strike was clearly very strong and it's difficult to see a way out of the impasse.
As one junior doctor put it on Newsnight, he was replaced by four consultants on his ward, and reports are coming back that the level of staffing was higher than it's been in years in some areas. Combine that with some patients staying away and the worst-case scenarios seem to have been avoided. Yet it's hard to see what the BMA does next. Another round of similar strikes? With less notice? Neither Jeremy Hunt nor No.10 (who were not exactly on the same page about the 'miners' spin strategies yesterday) are in the mood to cave.
Politically, Jeremy Corbyn and John McDonnell surprised some of their MPs by appearing on the march to the Department of Health. With the Shadow Cabinet nervous about Labour being seen to explicitly 'back the strike', the leader and his Shadow Chancellor made a deliberate decision to 'back the doctors'. So instead of appearing on the picket line, they joined the march - which started just after the action was suspended at 5pm.
But union rights are in the spotlight again today after BIS yesterday published yet further concessions (on e-voting and transition times) on the Trade Union Bill. With time running out for this Parliamentary session, the changes are designed to chip away at Lords opposition (MPs vote today on Lords amendments and it will come back next week to the red benches). When I asked about more scope for concessions, No.10 pointed out the bill "it is not yet on the statute book".
I understand yet more changes will take place should the Lords stick to their strongest demands next week. Government (and senior Labour) sources insist this is nothing to do with worries about union backing in the EU referendum and everything to do with facing an anti-Tory majority in the Lords.
Meanwhile, the Sun reports that Zac Goldsmith has vowed to 'stand up' to the Tube unions (not something Boris has ever done in reality, mutter some in the Treasury). He says he will scrap a free ticket scheme for TfL staff relatives and spend it on more transport cops.
Naz Shah's two-year-old Facebook post calling for Israel to be relocated to the US laid bare just the kind of casual, reflexive anti-Israeli attitudes among many in her Bradford constituency. It was a direct hit for Guido Fawkes' website and Labour were swift to strip her of her post of PPS to John McDonnell.
Last night Bradford Synagogue tweeted that "Whatever her views in the past @NazShahBfd has been a good friend to Bradford's Jews and to the shul". But it will be hard to shrug off this row that simply.
And there's another problem looming, which is that Shah is on the Home Affairs Committee, which is inquiring into anti-semitism. The Guardian reports Jonathan Sacerdoti, director of communications at the Campaign Against Antisemitism, saying: "If Naz Shah remains on the committee it will be hard for those of us giving evidence to take the inquiry seriously." Will she recuse herself from the inquiry, a step that would be excruciatingly embarrassing, or just step down completely from the committee?
I suspect supporters of Shah, including some Corbyn supporters, will again claim that this is not about anti-Jewish conduct but anti-Zionism. Yet the problem is not just that Labour policy is to back the existence of the state of Israel, it's the way anti-Israel sentiment can curdle in to a darker, more insidious suggestion that Jews are behind some kind of global media and political conspiracy. Jonathan Freedland put it well last month when he questioned why the hatred of Israel on the Left was so intense, 'unmatched by the animus directed at any other state'.
Many in Labour are simply appalled at the trashing that's taken place of the party's record on anti-semitism. Lord Dubs, whose father was Jewish, has been leading the way on the child refugee bill this week (there was another Government defeat last night). Lord Mendelsohn has fought hard to change the trade union bill. Those are the kind of voices the party needs to reassure an increasingly worried Jewish Labour vote.
BECAUSE YOU'VE READ THIS FAR…
Hillsborough and the doctors' strike have switched focus away from the seemingly never-ending referendum, but don't be fooled: the EU is rarely far away at Westminster. The Sun has a front page scoop on No.10 using a WhatsApp messaging system to avoid scrutiny of secret Remain campaign plans. The encrypted texts have upset the Brexiteers because they claim important decisions won't be subject to civil service transparency or record-keeping.
Vote Leave's Matthew Elliott (who is in trouble with the Treasury select for failing to give evidence before it) says the secretive messaging may even be illegal. One intriguing line in the Sun story is that the Chancellor's spokesman refused to say if he was part of the WhatsApp group. There's also a suggestion a similar system was used before the last general election.
Meanwhile, the blue-on-blue action continues, with Michael Gove's MoJ snubbing Theresa May's call to quit the ECHR. No.10 said that no one should overstate the 'differences' between the PM and Mrs May on this, but it did admit those difference existed. In normal times, this big split on a major policy would be bigger news.
The Be-Leavers had some more ammo on migration overnight though, with Migration Watch claiming an extra 50,000 immigrants had slipped into the UK uncounted by official figures. The ONS admitted in committee yesterday 'we don't know exactly' how many foreign nationals Iive and work in the UK.
A new report from the Efra Select Committee warns today that air pollution in the UK is a "public health emergency". Its Tory chair Neil Parish recognises this is an issue that has rapidly risen up the political agenda, ranging from hard-edged consumer issues such as scrappage schemes for dirty diesel vehicles to the awful data showing pollution causes 40,000-50,000 early deaths a year.
The cross-party report says it's time to give dozens of cities which currently suffer illegal levels of air pollution much stronger powers to deter polluting vehicles with charges. With court cases in the background, there's also a behind the scenes battle between departments like DECC and DEFRA that want to do more, and the more cautious Treasury and Cabinet Office. We have more on this today.
And speaking of the Cabinet Office, there's one nugget in the report today: the inter-ministerial 'clean growth' committee - chaired by Oliver Letwin and created in November at the PM's request - doesn't publish minutes, action plans or outcomes. It says he has to report to Parliament by July 21. Will he respond in Cabinet Office Questions?
Meanwhile, Adair Turner is launching a new report from the Energy Transition Commission, a gathering of politicos like Al Gore and experts like Lord Stern, as well as energy firm chiefs, to find concrete ways to hit Paris targets.
If you're reading this on the web, sign-up HERE to get the WaughZone delivered to your inbox.
Got something you want to share? Please send any stories/tips/quotes/pix/plugs/gossip to Paul Waugh (paul.waugh@huffingtonpost.com), Ned Simons (ned.simons@huffingtonpost.com), Graeme Demianyk (graeme.demianyk@huffingtonpost.com) and Owen Bennett (owen.bennett@huffingtonpost.com)