The five things you need to know on Thursday May 5, 2016…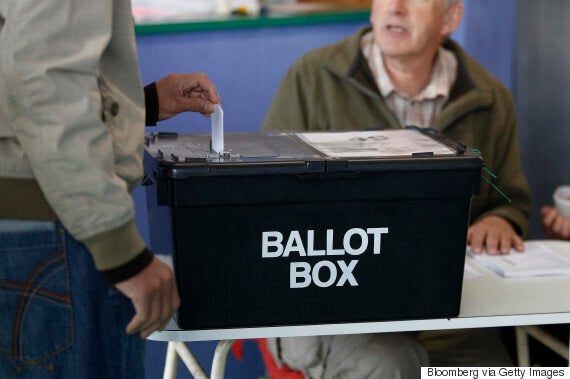 One of the best Dr Who episodes ever written was called 'Blink', and it featured advice on how to deal with aliens: "Don't blink. Blink and you're dead". Today is all about blinking, or not blinking, in a political sense.
David Cameron blinked over child refugees, but refuses to do so over his Trump remarks. Jeremy Hunt is certainly not blinking over junior doctors, but the BMA has today shown a bit of rapid eye movement. And the battle between Jeremy Corbyn and his internal critics is a world staring contest to played out over the weekend - and right up to July.
For most politicos, if not the voters (low turnout is expected) today is a Big Day. In fact it's so big that some have lamely tried to call it 'Super Thursday'. There are certainly lots of elections, from the Scottish Parliament, the Welsh Assembly, PCCs, mayors, 124 councils, two Parliamentary by-elections (dead certs for Labour, though eyes will be on their rivals' share). We have a handy LSE tool to tell you what's happening in your postcode.
With polls having opened at 7am, the broadcasters will be legally required to be silent until 10pm. But the online world is different, and we'll aim to keep you posted throughout the day. (We have final pitch blogs from Sadiq Khan and Zac Goldsmith). Unlike the BBC et al, we will even be allowed to report on the final skirmishes of Business Questions.
In normal times, such a set of elections would be seen as a referendum on the progress of a sitting Prime Minister. But with a new leader of the Opposition, they are inevitably also seen as Jeremy Corbyn's first major collision with the reality of the ballot box. One Shadow Cabinet source tells me that Jon Trickett has 'owned' this local election campaign and the Corbynistas have no one to blame but themselves for the expected losses. Up in Scotland, Kezia Dugdale warned that the anti-semitism row (or rather the mess of it) was being brought up on the doorstep.
Managing expectations is what local elections are usually about but Corbyn's line this week that "we are not going to lose seats" sounded like the New Politics. Unfortunately the old politics means some PR rules still apply and yesterday we saw the surreal sight of his spin doctor saying Jezza had been 'slightly misinterpreted'.
Several Labour MPs were muttering dark thoughts after the PM turned PMQs into LeaderOfTheOppositionQs with his Hamas attack. The critics are as split as ever, but watch for a coordinated parade of discontent when those English council losses roll in overnight and early tomorrow. One thing's for sure however on the plot front: I'm told it's "complete fantasy" to think Tom Watson will give even tacit backing for any attempt to oust Jezza.
The impending refugee U-turn seemed like such a good issue for Corbyn at PMQs, it's genuinely baffling as to why he didn't make it the subject of at least some of his questions yesterday. He had a story to tell about having visited the Calais and Dunkirk camps, and even with a Cameron concession (which the PM clearly was uneasy about making, as he drip-fed it over several questions) he could have claimed a moral and political victory. With Labour's Alf Dubs - and to be fair Tim Farron - making the weather, even some close to Corbyn wondered just why he let the SNP claim the PMQs limelight on a 'Labour' issue.
There's still a lack of detail about just how many refugees will be allowed in, but No10 made clear an hour after PMQs (always a sign that a policy has been hastily drafted) that only those already registered in France, Greece and Italy would be eligible. Councils are expecting to get some financial help to make this work - and work quickly.
Many MPs believe the PM would have acted earlier to find a compromise but for his worries about the message it would send about European migration controls and Brexit more widely. And speaking of Brexit, the Sun has a fun mock-up of Cameron looking like Wurzel Gummidge as it reveals he will appear on Countryfile in a bid to persuade rural voters to stay in the EU. Oh, and he was so worried about the 'hordes of Turks' line that he told the Liaison Committee Turkey's membership of the EU would take 'decades'.
As Ken Livingstone proved last week, sorry really seems to be the hardest word for some politicians. Elton John was prescient about Labour's anti-semitism row - 'It's a sad, sad situation. And it's getting more and more absurd' - and yesterday yet another Labour councillor was suspended.
But David Cameron too is in non-apology mode when it comes to The Donald. Some in Whitehall and the Foreign Office were taken aback earlier this year when the PM broke with convention to attack Trump so vociferously over his Muslim plan ban.
As ever in diplomacy, it's about being able to mend fences at some point in the future, making your displeasure clear while keeping open your options. Yet Cameron's 'stupid' 'divisive and wrong' line came from his gut and No.10 sources made clear he has "no intention" of withdrawing the remarks. Trump's team have insisted on a retraction before he makes any visit to the UK this summer, but one gets the feeling that Downing Street is calculating that Trump needs that photocall a lot more than they do.
BECAUSE YOU'VE READ THIS FAR…
Has the BMA blinked first in its row with the Department of Health? The doctor's union has announced it is looking at the Royal Colleges plan for a five-day truce - but only if Jeremy Hunt suspends his contract imposition and starts talks again.
The Department of Health last night appeared to insist that it was happy to resume talks suspended three months ago, but would not drop its contract timetable. And you many Tories now scent the BMA is on the back foot. The DH said: "The BMA directly caused the introduction of new contracts after we agreed to suspend imposition last November, because they went back on their word to talk about Saturday pay. It is now too late to change the process of bringing in contracts which is well underway throughout the country". Hardball indeed.
The BMA itself is under pressure from some junior doctors to actually step up the industrial action and start an 'indefinite' series of strikes. said a Department of Health spokesman. The Guardian has an interesting snippet about the most recent cross-party compromise plan to pilot the contracts It says Hunt rejected it "after discussing it with Downing Street".
Away from the cacophony of PMQs, one of the least noticed stories yesterday was the decision by the DfE to axe the role of mental health champion for schools. Suspicions were instantly raised that Natasha Devon was being silenced because she had been so outspoken about the impact on children of the Government's primary school testing regime.
The DfE strenuously denies there's any attempt to shut her up and says she will remain on a mental health steering group. Devon last week told a headteachers conference that for youngsters a "culture of testing and academic pressure is detrimental to their mental health".
Charities and unions smell a rat. Devon tells the Guardian she is 'no longer authorised to comment' as mental health champion. Not a good look for Sam Gyimah, who appointed her last August.
If you're reading this on the web, sign-up HERE to get the WaughZone delivered to your inbox.
Got something you want to share? Please send any stories/tips/quotes/pix/plugs/gossip to Paul Waugh (paul.waugh@huffingtonpost.com), Ned Simons (ned.simons@huffingtonpost.com), Graeme Demianyk (graeme.demianyk@huffingtonpost.com) and Owen Bennett (owen.bennett@huffingtonpost.com)
Popular in the Community