The five things you need to know on Tuesday May 17, 2016…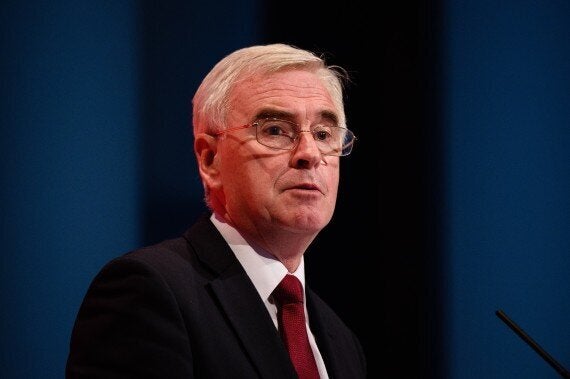 1) BREXIT DOORS TO MANUAL
After yesterday's arresting sight of Ryanair captain George Osborne flanked by air hostesses Ed Balls and Vince Cable (which Boris rather brilliantly compared to a 'hostage' video), the Remainers are wheeling out the big guns once more. The PM unafraid of getting his hands dirty in a bit of mano-a-mano combat and has another big speech this morning warning of the dangers of Brexit.
In last night's Bloomberg debate, Liam Fox said something very ear-catching: that Margaret Thatcher had made clear to him that the EU single market was not the right trading model for the UK in the long term.
As for the polls, there's a vigorous debate amongst psephologists about the merits of phone and online surveys. Yet more phone polls give Remain a decent lead, but one online poll puts Leave ahead. Nigel Farage has been in the Mirror (and on BBC Breakfast) hinting that there could be a second referendum if the result is tight.
Shadow Chancellor John McDonnell has his own big speech today, declaring "I want to rescue the debate from the negativity and 'Project Fear' coming from all sides of the Tory party". This is a common theme for Labour's In campaign these days, trying to stress the positive case for Europe. Yet McDonnell will also say something Ed Balls didn't yesterday: that if there is a downturn following Brexit, there will be yet more austerity and cuts. In lines just released, he will also warn that a Tory government outside the EU would negotiate a 'TTIP max' with worse workers' rights in their desperation to get a free trade deal.
Still, as with his Mao and Hoxha references, McDonnell can't resist lines that his friends see as jokes but enemies see as deadly serious. In the New Yorker (see below), when asked to say how improbable it was that he and Corbyn were now in charge, McDonnell quoted Fredric Jameson, an American Marxist scholar. "It is easier for people to imagine the end of the earth than it is to imagine the end of capitalism," he said. "And that is what we are about, aren't we?"
The FT says business support for Brexit is rising, the Daily Mail splashes on claims that No10 conspired with pro-EU firms to sign them up even before his Brussels renegotiation deal.
Rachel Sylvester in the Times highlights one way the Tory party can heal after the referendum: the 2010 and 2015 intake of MPs are planning 'Thatcherism for the Uber generation'. The '2020 Group' of MPs, chaired by life sciences minister George Freeman, is looking at a 5% 'Philanthropy Tax' for millionaires, plus a tax and red tape 'break' for entrepreneurs with turnover of less than £500k.
McDonnell, Mandelson and Farage all take part in the Mirror's EU debate after 3pm
With Parliament in recess, there was no PLP meeting last night but in a way there was no need because Peter Mandelson has neatly summed up the conundrum facing his colleagues. In a New Yorker profile of Jeremy Corbyn, the Dark Lord declares: "We are in a situation now where he is unelectable in the country but unassailable in the Party".
No surprises in the first part of that sentence (and Mandelson may point to an ICM/Guardian poll putting Labour behind the Tories again today). But the second bit is much more interesting. Mandelson sounds like he's resigned to Corbyn staying in place. Was this a signal to the the plotters to hold their fire, for another year at least, until the party at large falls out of love with JC?
Corbyn tonight delivers the Ralph Miliband lecture at the LSE. It's not being pre-briefed in any way. But its title is 'Rebuilding the Politics of Hope'. Those Corbyn mugs and T-shirts mimicking Obama's famous Hope logo are very popular online I hear. And there's a growing feeling among Team Jez that there is not so much a hope, but an an expectation, that he will fend off any coup.
Right on cue, a new Times/YouGov poll finds that Corbyn's support among party members has increased (from nearly 60% in the leadership race to 64% now). Party members are now more likely than not to believe that Mr Corbyn will become PM— in contrast to November when a greater proportion believed he would never make it to Number 10.
Yet while there's no clear consensus about any replacement, here are the names most favoured by members: 19% for Dan Jarvis, 17% for Andy Burnham, 13% for Yvette Cooper and 5% Chuka Umunna. Given three of those ran (and nearly ran) previously, does that confirm that Jarvis is the only fresh face with a hope of replacing JC before 2020?
3) IT REALLY TRUMPS ME UP
Good Morning Britain follows up its interview with Donald Trump from yesterday with a chance for Sadiq Khan to hit back. And that word 'hope' is here again, with Khan saying it would trump fear.
The Mayor of London had a good news line, inviting Trump "to come to the greatest city in the world" to see for himself how mainstream Muslims and Western values fit together. Khan sounded measured, authoritative, calm as he promised he would 'educate' Trump.
He had some nice quotes too on Trump's mad ban would mean barring Muslims like Bake Off's Nadiya, Leicester City's Riyad Mahrez and others. But despite the detente, Khan underlined his wish for Clinton to smash Trump: "obviously I wish the other woman wins - and I hope Hillary trounces him"
Meanwhile, the 'Sadiq Khan Effect' may be having an even deeper impression on Labour MPs than thought. Actually running things with a huge direct mandate, instead of waiting for 2020 (or 2025) is proving tempting for some.
Burnham is still weighing up the Manchester Metro Mayor job, but last night it emerged that Luciana Berger is now interested in running for the Merseyside Metro Mayor post too. Steve Rotheram (an ex Mayor of Liverpool) is considering throwing his headgear into the circular receptacle too. And Rotheram is Jezza's PPS. One Labour source tells me Rotheram has suggested to friends locally that Team Corbyn don't listen to him (and worse). Still, others mutter that boundary change squeezes may play a role too for Liverpool MPs - and Joe Anderson may be difficult to beat.
BECAUSE YOU'VE READ THIS FAR…
He may revive parts of the Tory vote that others can't reach but Boris's legacy in London is getting trashed nearly every day now. Proving that winners really do get to write and rewrite political history, Sadiq Khan is doing to Boris what Boris tried to do to Ken: claim your predecessor left not a legacy but liabilities.
The latest example is on the hot topic of air quality, with Khan publishing a report Boris didn't: a study that found that 433 schools in the capital are located in areas that exceed EU limits for nitrogen dioxide pollution – and that four-fifths of those are in deprived areas.
Khan has been quick to pledge new pollution taxes, with plans to expand clean air zones and says Johnson turned the city into a "laughing stock" on the issue. The report Analysing Air Pollution Exposure in London was finished two years ago but not published.
Battlebuses are wonderfully retro campaign vehicles (I have fond memories of playing cards and visiting surreal locations on both the Blair and Hague charabancs in the 2001 election). Boris is back on his bus today in the Midlands, while Alan Johnson is on the Labour IN one.
Yet amid all those accusations that Tory MPs are facing over their 2015 Road Trip election expenses, someone has decided it's time to look at Labour's own expense spending. Guido Fawkes has found three examples of where the Labour Express bus visited key seats where candidates didn't find declare the cost on their exes.
Meanwhile, that appearance by ex-City minister Ed Balls yesterday has prompted the FT to look at the current Shadow City Minister Richard Burgon. It reports that he has held meetings and phone calls with big banks and insurance firms. "He just sat there, barely listening, and left quite quickly," says one source. City types says it contrasts with the Shadow Chancellor: "McDonnell told us that they would still need banks, even after the revolution", one business insider said, but Burgon looks as "if waiting for it to be over".
If you're reading this on the web, sign-up HERE to get the WaughZone delivered to your inbox.
Got something you want to share? Please send any stories/tips/quotes/pix/plugs/gossip to Paul Waugh (paul.waugh@huffingtonpost.com), Ned Simons (ned.simons@huffingtonpost.com), Graeme Demianyk (graeme.demianyk@huffingtonpost.com) and Owen Bennett (owen.bennett@huffingtonpost.com)