The five things you need to know on Thursday May 26, 2016…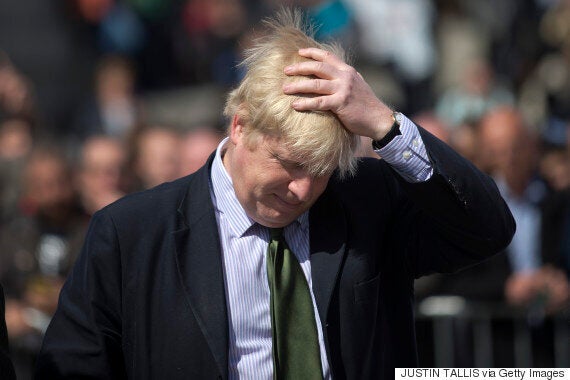 Today is migration day in the EU referendum debate. From the images of the capsized boat off the coast of Libya to Donald Tusk at the G7 calling for global action, you can't escape the issue. And it's also stat day, with the ONS projecting overnight a 4 million increase in the English population ahead of the 9.30am release of quarterly immigration figures.
Some in the Vote Leave camp believe that there has been a dirty tricks op by their enemies to claim they are pushing immigration as their sole weapon, purely to deter anyone from seizing on today's figures. But of course the stats will still get lots of attention. Chris Grayling tells The Telegraph the levels of migration forecast by the ONS report "will change the face of our country forever".
Of course, even if we quit the EU, the Treasury's forecasts rely on immigration to keep the economy going and even some Leavers argue that non-EU migration may have to rise. What's surprising is the way Boris Johnson's previous calls for an amnesty for illegal migrants (a call backed by fellow Brexiteer Nadhim Zahawi) has got such little play in the campaign so far. Not quite the same hymn sheet as Nigel Farage.
As for Bozza, Jean-Claude Juncker has told a G7 presser in the middle of the night he'd be willing to re-educate the former Mayor. "It's time for him to come back to Brussels in order to check in Brussels if everything he is telling the British people is in line with reality. I don't think so." Boris's first editor, Max Hastings (who was breezily dismissive of Boris's innovative stories as a hack on Channel 4's BorisVDave last night), has come out for Remain in the Mail today.
Steve Hilton has told the Times that the PM would back Brexit if he weren't PM. Spookily, this may be the only thing he has in common with Jeremy Corbyn (whom many assume would back Leave if he were a backbencher). Remainers will counter that becoming party leader or PM makes you think about the national interest, rather than party interest. Hilton also claimed yesterday he was 'gagged' from making the 'quality v quantity' argument on immigrants. Can't think why.
David Davis, who prefers to talk about trade rather than migration, has a speech today making the 'positive case' for why it would be cheaper to quit the EU. His old sparring partner David Blunkett disagrees. The FT splashes on warnings from the WTO that Brexit UK won't be able to "cut and paste" new trade deals.
Finally, there was a wonderful breakfast spat between two Tory MPs (see below) that encapsulates the way the row is going.
Our hot news from the PCS union's conference yesterday was that it voted to take its first step towards affiliating to the Labour Party. This is a move backed by Mark Serwotka and although a final decision won't be taken until next year it shows that some in the union movement are starting to circle the wagons around Jeremy Corbyn and John McDonnell.
If the PCS, seen as one of the most left-wing unions in the UK, does affiliate its 250,000 members will have real clout at party conference and over policy. Serwotka says: "If you close your eyes when Jeremy Corbyn or John McDonnell are speaking to conference you could easily think you were listening to a member of our NEC". A senior Tory source has reacted to our story overnight: "Serwotka's comments tell you everything you need to know about the current Labour Party."
And not everyone is over the moon about the idea: Socialist Party members, those worried about civil service neutrality, 'moderate' Labour MPs all seem uneasy. Yet Corbyn and McDonnell are pledging national pay bargaining, an end to the 1% pay freeze and repeal of union laws. And the PCS knows it will never get a more socialist leadership team running Labour. The FBU has already affiliated to the party and there's a wider bid to defend the leadership from any coup attempt by bolstering the leftwing presence on the NEC and policy commissions.
As it happens, former PCS official Andrew Fisher looks set (the Times says) to get a big promotion to executive director of policy for Corbyn, a role previously occupied by Neale Coleman. But Team Corbyn aren't getting it all their own way. GMB rep Cath Speight, who replaced Ken Livingstone to co-convene the international policy commission, told John Woodcock's Trident review that she was backing renewal. "I will fight to defend my members' highly paid, high-skilled jobs that, if the successor programme does not go ahead, will be lost," she says.
The old 'sticks and stones' argument doesn't really wash with many women who suffer vile online abuse daily. Today, Yvette Cooper is leading a cross-party coalition called Reclaim The Internet (inspired by the Reclaim the Streets campaign of the 1970s) to combat misogynist trolls.
New Demos research, monitoring the words slut" and "whore" on Twitter in a three-week period, found 6,500 individuals were targeted by 10,000 aggressive and misogynistic tweets. Cooper is joined by Tory Maria Miller, Lib Dem Jo Swinson and Labour's Jess Phillips. Jess has blogged for HuffPost this morning. She writes: "I want spunky women shouting up and facing honest to goodness debate and challenge. Not men with spunky names bullying women in to silence."
The Guardian reports that teaching unions are backing the campaign, but points to increasing online abuse of men and women staff - often from parents. Half of teachers questioned in a survey of 1,300 said they had been targeted on social media in relation to their work.
BECAUSE YOU'VE READ THIS FAR…
David Cameron has decided to target the grey vote in the EU referendum, writing in Saga magazine that "a vote to leave would put pensions at risk". Brexit would also put up the cost of pensioners' holidays and hit care homes with an exodus of care staff going back to the EU (a point made by Simon Stevens at the weekend but lost under the docs/nurses line).
Vote Leave's Matthew Elliott dismissed the scares, but it's clear why No.10 is targeting what had previously been seen as a prime demographic for Brexit: Project Fear seemed to work well on pensioners in the Scots independence referendum.
A Populus poll for the magazine of the over-50s also published today showed 42% intend to vote for the UK to remain a member of the EU – up from 41% in April. Support for Brexit also nudged up by a point to 46%.
The Times' Sam Coates has a delicious account of a breakfast bust-up in between two Tory MPs in the Commons Tea Room. The battle was of course over Brexit (or should that be Br-egg-sit?) as Euroscep Andrew Bridgen exchanged words with Remainer Alec Shelbrooke.
It started when Bridgen welcomed the YouGov/Times poll showing Remain and Leave were neck and neck on 41%. Bridgen was eating a soft boiled egg, while Shelbrooke had a plate carrying a toasted sausage sandwich and a toasted bacon sandwich. This is the kind of colour we pray for.
But Bridgen sparked a backlash when he said the poll also showed only 18 per cent of voters said they trusted the PM on Europe, suggesting that David Cameron's credibility had been "blown", adding "I'm not surprised given the outrageous claims the Remain campaign are making"
His fellow Tory MP said Leavers "had it all your own way" until now but "now you're getting it from the prime minister and just don't like it". Bridgen hit back that new waves of migrants would mean lowering the quality of life for people already here.
Then it escalated with Bridgen telling his famously well-upholstered colleague: "When I saw your breakfast I thought you had invited your entire office." For good measure, he is said to have added: "Watch your fingers when you're eating the sausage sandwich because they are going to fall out."
"If this was in the bar they would have gone outside," one onlooker told the Times. Whips have been informed but are unlikely to act on the handbags at dawn exchange.
If you're reading this on the web, sign-up HERE to get the WaughZone delivered to your inbox.
Got something you want to share? Please send any stories/tips/quotes/pix/plugs/gossip to Paul Waugh (paul.waugh@huffingtonpost.com), Ned Simons (ned.simons@huffingtonpost.com), Graeme Demianyk (graeme.demianyk@huffingtonpost.com) and Owen Bennett (owen.bennett@huffingtonpost.com)