The five things you need to know on Wednesday June 1, 2016…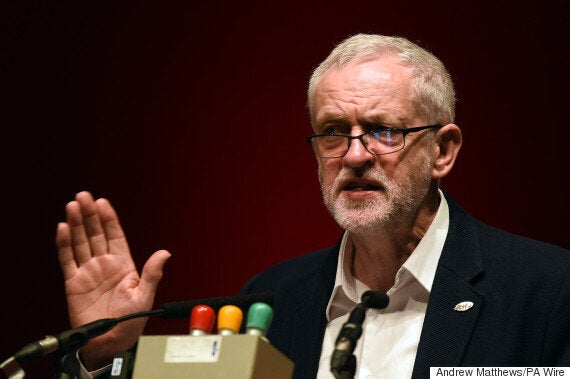 Vice News today puts online its fly-on-the-wall documentary on Jeremy Corbyn and his top team. From the stories overnight, the news ain't all that good.
The Times' Michael Savage reports that Corbyn's comms chief Seumas Milne is caught on camera accusing Labour HQ staffers of leaking PMQs prep. Asked if the Tories found out Corbyn's questions in advance, Milne says: "It leaked from that meeting. It only happens about a third of the time, but it obviously gives them a little bit of extra time. Whenever there is a leak it gives them that advantage." Relations between Team Corbyn and the rest of the party, including HQ, have been strained to say the least, but this appears to confirm the suspicions held by one of the leader's closest aides.
Corbyn himself seems to share Milne's view of the BBC, particularly its reporting of the run up to the local elections. "There is not one story on any election anywhere in the UK that the BBC will not spin into a problem for me," Corbyn says. "It is obsessive beyond belief that they are obsessed with trying to damage the leadership of the labour party and unfortunately there are people in the labour party who play into that."
In the documentary, he is also shown complaining that an article on antisemitism written by Jonathan Freedland in The Guardian is "utterly disgusting". The Telegraph reports that one aide says: "If you want to get rid of him the best thing to do would be to leave and let Jeremy fail on his own – I don't think he will - but fail in his own time."
Has the leadership team been naive or refreshingly open? We will find out later. Labour MPs will be looking to see if there is indeed an on-camera 'row' between Milne and policy chief Simon Fletcher. But some MPs are already wondering how Corbyn could agree to such a warts-and-all documentary, given that Rupert Murdoch's 21st Century Fox owns shares in ViceNews (which isn't keen on recognising the NUJ).
One Brexit minister I spoke to yesterday told me just how much fun he and others in his camp were having right now. He said it would almost be a shame to go back to the old politics after June 23. That ICM poll yesterday certainly put a spring in the step of the Brexiteers. Leave was on 52 per cent, a four-point lead over Remain. Bit of a turnaround from their phone poll last month, whch gave Remain a ten-point lead.
Vote Leave are playing to their strengths today, unveiling plans for an Australian-style points-based system for migration. The joint declaration from Boris Johnson, Michael Gove and Priti Patel looks even more like an Alternative Government programme - and a direct threat to David Cameron's authority. Nigel Farage tweeted "Pleased that Boris Johnson & Michael Gove now support same policy I've advocated for years". The Mail hails an 'immigration revolution'.
Of course there are problems with the plan, not least (as the Times points out) that its three-year timetable suggests migration and trade deals would have to be cut quicker than previously suggested, and that even MigrationWatch has suggested an Aussie-style system is unsuitable for Britain. Add in that non-EU migration is likely to rise and it's not straightforward.
Chris Grayling tells the Guardian that staying in the EU would make it even harder for young people to buy a house or rent.
The In camp are continuing to play to their own strengths on the economic cost of Brexit, with the TUC saying wages will be hit by £38 a week and leading firms like Siemens, Airbus and GKN warning manufacturing jobs will be lost- along with the 'Made in Britain' logo on many goods.
Meanwhile, in just one vignette of how this campaign has gone, Liam Fox yesterday said Brexit would make it easier to ban another form of migration: puppy trafficking. But Remain said 'Fox is barking up the wrong tree' as it's already banned in the EU.
Jon Cruddas is among those launching a new non-factional ginger group today called Labour Together. Vice-chairs include Lisa Nandy and Steve Reed and councillors Richard Leese, Sharon Taylor and Judith Blake.
In a piece for the Mirror, Cruddas says the Labour party is "in trouble" and needs to renew itself. In the Guardian, Nandy says the challenge is to create a party "that speaks for both the working class and the middle class, that can knit those interests together".
But when it comes to tactics on the EU referendum, it's a case of Labour Apart. PolHome reported last night that John McDonnell had told a Labour In meeting that sharing a platform with David Cameron "discredits" the party and "demotivates" its supporters. This was hours after Sadiq Khan joined the PM, and in answer to a question from a party activist asking if it was the right thing to do. McDonnell's spokesman denies there was any direct attack on the Mayor of London. Yet there is an unease among some on the left of the party that Labour figures from Tessa Jowell to Harriet Harman to Brendan Barber have been photographed alongside Cameron.
Jeremy Corbyn's brother Piers last night tweeted "ManMade #ClimateChange is a LIE like #BetterIN". Which just shows what a crazy old campaign this is.
Luciana Berger's decision to run for Metro Mayor of the Liverpool City region yesterday underlines again the feeling that some shadow ministers believe it's better to follow Khan's lead in seeking power outside Westminster.
BECAUSE YOU'VE READ THIS FAR…
After June 23, how will Cameron put Humpty back together again? The FT reports that allies of the PM want to use the Chilcot Report and a fast-tracked Trident vote to unify the Tory party. And the idea of a July 'revenge reshuffle' is again being played down (probably though because it acts as a useful disciplinary tool in its run-up), and may be put back to September.
The Chilcot report is due on 6 July, but some Tory MPs also believe Cameron could call an early vote on Trident. The vote would be symbolic rather than a 'maingate' decision and some in Labour's 'moderate' ranks want it done quickly too, to make their own conference decision look academic. Still, I hear there are some in No10 who want to delay the vote until after Labour's conference. Emily Thornberry's interim report due at the end of his month could prove crucial.
One unnamed MP close to the Prime Minister downplayed the prospect of a reshuffle taking place in the immediate aftermath of the referendum. "There will be lots of other things going on at the time," the MP tells the FT. "You act in haste and repent at leisure."
The Guardian has an excellent splash scoop. It reports that the head of MI5, Eliza Manningham-Buller, was so incensed when she discovered the role played by MI6 in 'extraordinary rendition' abductions, she threw out some her sister agency's staff and banned them from working at MI5's headquarters. MI6 was then run by Sir Richard Dearlove.
Manningham-Buller also wrote to Tony Blair, to complain about the conduct of MI6 officers, saying their actions had threatened Britain's intelligence gathering and may have compromised the security and safety of MI5 officers and their informants. This all happened during Blair's era and the Guardian has a lovely line that Whitehall sources insist the relationship between MI5 and MI6 "has now been repaired after a difficult period".
If you're reading this on the web, sign-up HERE to get the WaughZone delivered to your inbox.
Got something you want to share? Please send any stories/tips/quotes/pix/plugs/gossip to Paul Waugh (paul.waugh@huffingtonpost.com), Ned Simons (ned.simons@huffingtonpost.com), Graeme Demianyk (graeme.demianyk@huffingtonpost.com) and Owen Bennett (owen.bennett@huffingtonpost.com)