The five things you need to know on Friday June 3, 2016…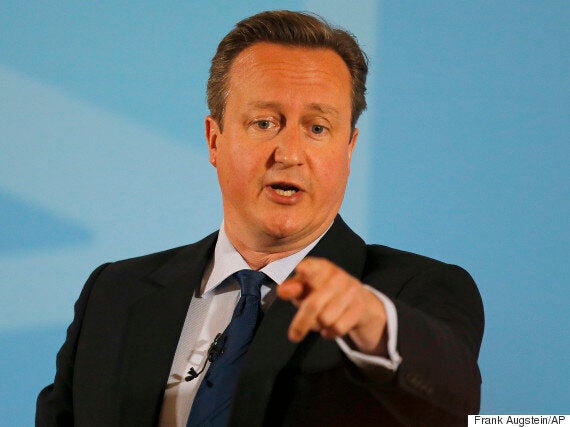 Just 20 days to go folks. And after David Cameron's hostile audience reception on SkyNews last night, the British public seem to be letting politicians know at first hand (and it was the PM's first real collision with the punters in this entire campaign) just how irritated they are by Project Fear.
Faisal Islam did a superb job, hammering home how the PM's net migration target conflicts directly with EU freedom of movement. But the PM too was pretty impressive, using every minute of those 10 years of doing these CameronDirect events to good effect. Treating the questioners with respect (even when they veered off down non-EU cul-de-sacs), and smoothly closing the show as if he was hosting it, proved what a pro he is at this politics business.
Still, the wounds in the Tory family run deep. In the Spin Room afterwards perhaps the most striking quote was from Iain Duncan Smith, when asked by PolHome what he thought: "What do you think? What do you really think? I thought Pinocchio was definitely on offer tonight."
The PM has been on Good Morning Britain and when asked how he'd reunite his party after June 23, he said: "That, I think, will be fine…" But he had a veiled threat too for those MPs who want to keep up the pressure if there is a narrow In vote: "We accept the result, we accept the instructions of the British people". He said that last line twice, in case we didn't get the message: back off plotters, a win is a win.
It is Michael Gove's turn on SkyNews tonight. Gove has this morning confessed ""I'm quite nervous ... because I've never done anything like this before". "I think falling over as I arrive or leave would be a bit of a no-no…I remember Ed Miliband falling off the stage." That was typical Gove, self-effacing and polite - but with a bite.
While he is adored by many Tories, many of the public still see him as a bogeyman from his years in Education (don't forget why Cameron sacked him) and may not warm to his Oxford Union debating style. Maybe it's the wavering Tory audience – loyal to Dave despite their doubts - that is his real target tonight. He'll try to play nicely, but will the studio audience be as hostile as Cameron's? Having unleashed the hounds, Sky may have to ensure they emerge again this evening.
Jeremy Corbyn's Big Speech on the EU and workers' rights was a big moment in his leadership. His pledge to veto the TTIP free trade deal – 'as it is' - toughened up party policy significantly. I'm told that few in the Shadow Cabinet were informed in advance about the shift, which is strange given that Corbyn's leadership style is to be collaborative. Many pro-Europeans MPs were also irritated by the way their leader undermined the Treasury's warnings about a year-long recession after Brexit.
But it was the audience reaction to the media yesterday, and Corbyn's own reaction, that caused just as much concern among senior MPs. With some in the crowd believing that even to ask difficult questions is to be part of a media conspiracy against Labour, the hiss that greeted Laura Kuenssberg – before she had asked a question – revealed a nastiness that was pretty far from the 'kinder, gentler new politics' Corbyn wants to present. He did try to 'shush' the audience, but his smile suggested he had sympathy with their feelings about the BBC (a feeling underlined in his ViceNews documentary).
Charlie Falconer was in the audience and told me afterwards that the audience conduct was 'appalling'. He went further this morning, telling me: "It was really encouraging to hear Jeremy make a passionate Labour case to remain in the European Union. That said, it was really disappointing that a minority of the crowd let themselves down by heckling a very experienced and talented journalist. It was ugly and wrong."
Tom Watson, deputy Labour leader, last night tweeted this (during the Cameron SkyNews event): "I feel embarrassed that @bbclaurak was hissed in the course of doing her job today. It was rude and inappropriate." Given that was hours after the event, it was a very deliberate move. Wes Streeting was just as furious, telling PolHome Labour events seemed to "resemble Trump rallies where journalists are booed and hissed at for doing their job. We're meant to be a political party providing effective opposition and an alternative government, not a cult."
Of course many political leaders have loathed the media – and the BBC – over the years. The BBC's FoI specialist Martin Rosenbaum yesterday unearthed this gem of a memo from John Major to George Bush Snr. He claimed "the Conservative press here has been bloody" and "haven't been reporting our policy". But "the BBC has been appalling too", adding that "for what is supposed to be a public television service, it is not impartial at all". The difference is that you didn't get Tory members hissing and booing reporters – or assuming that they're a bunch of Judases betraying your cause.
Today, David Miliband and Alan Johnson team up for the Labour IN campaign, to tour a new HSBC development in Birmingham. In some pro-banker rhetoric we haven't seen for some time from Labour, they will say inward investment into financial services earns the UK £442 a second – and creates over 189 new jobs a week and safeguarding a further 39 a week.
Miliband was just on LBC ramming home 'Project Fact versus Project Fantasy'. And when asked why Corbyn hadn't been doing more to promote the EU In campaign, Miliband said: 'That's a question for him'.
There's more migration woe for the PM in the Home Affairs Committee report on foreign criminals in British jails. It says the Government's failure to deport 13,000 foreign nationals (including 4,000 from the EU) would lead the public "to question the point of Britain remaining a member of the EU".
But that killer phrase has proved highly contentious. And it was only approved after the committee split 4-4, with the casting vote of chairman Keith Vaz deciding it should stay in the report. Chuka Umunna, who sits on the committee, was not present when the vote was taken. Is that his fault or the fault of the chairman?
Either way, Justice Minister Dom Raab has had a field day, though Umunna has denounced the Brexit attempt to seize on that line. Is this a classic attempt to scare the public about foreign rapists and muggers with misleading stats?
A look at the detail is worthwhile. The two largest groups of foreign offenders in prison in England and Wales are the 983 from Poland and 764 from Ireland. The Ministry of Justice said both groups had special status and could not be sent home. No Irish prisoners, save for exceptional cases, have been sent back since a 2007 bilateral agreement - that has nothing to do with the EU.
There is also a block on sending prisoners back to Poland until the end of 2016 as it has an exemption under the EU prison transfer agreement because of lack of capacity in its jails. But that latter excuse may not wash with many floating voters.
And there's more trouble on migrants. The Local Government Association is warning that councils will have to slash services or put up council tax to take in child refugees.
BECAUSE YOU'VE READ THIS FAR…
Watch Hillary Clinton say 'thin skinned' Donald Trump should never have the nuclear codes. Cameron this morning said 'the good news' was Trump had dumped his Muslim ban (but has he?)
The Sun has a fun tale about Vote Leave having to vacate its central London offices because of a major leak. "We could be out for a few days, the whole building is apparently unsafe and there is water pouring through the ceiling." One source quipped: "We need a leak inquiry."
The Westminster Tower office, which has hosted speeches by Boris, Michael Gove and other leading Brexiteers, could be emptied for a few days.
The Remain camp can't resist the gagfest: "Clearly their building is about as watertight as their economic arguments. The big question is, will they call a Polish plumber to get their heads back above water?"
Today music executives from across the world gather in Cannes for Midem – Europe's largest music business conference. And guess what? Brexit is very much on the agenda. That's because new research shows that British artists make up nearly one in every six albums sold in the EU's largest markets.
And British record labels are very keen to stay in the EU, it seems. A survey of members by the BPI – which holds the BRIT Awards – found that 78% of its members want to Remain. When it comes to copyright and protecting music content, 90% think it is important for the UK to have influence in framing rules that govern the sale or use of British music in Europe.
Geoff Taylor, Chief Executive BPI & BRIT Awards, has blogged for HuffPost UK and points out for almost half of UK record labels, at least a quarter or more of the revenues they earn outside of the UK comes from trading in Europe. For a fifth of them, the figure rises to 75% of their revenue. "A bright future for the British music industry means continuing to perform as part of a group, not going solo," he writes.
Meanwhile, ticket reseller Ticketbis says Brexit would make it harder for fans and bands to see and perform gigs in Europe. A future 'Beatles in Hamburg' breakthrough could be less likely, they seem to suggest. See, this referendum business gets everywhere…
If you're reading this on the web, sign-up HERE to get the WaughZone delivered to your inbox.
Got something you want to share? Please send any stories/tips/quotes/pix/plugs/gossip to Paul Waugh (paul.waugh@huffingtonpost.com), Ned Simons (ned.simons@huffingtonpost.com), Graeme Demianyk (graeme.demianyk@huffingtonpost.com) and Owen Bennett (owen.bennett@huffingtonpost.com)