The five things you need to know on Thursday June 9, 2016…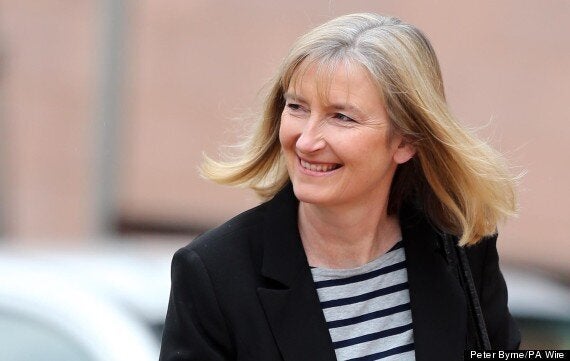 1) IN THROUGH THE OUT DOOR
As political 'defections' go, Sarah Wollaston's is pretty perfect for the Remain camp. She's a GP, she's Tory, she's a woman, she's ever-so-reasonable. And her decision to switch from being an Outer to an Inner centres on the controversial £350m-for-the-NHS figure plastered all over Vote Leave leaflets. "I could not have set foot on a battle bus that has at the heart of its campaign a figure that I know to be untrue," she says.
What turned Wollaston into an ex-Brexiteer was the arrival of her postal vote, a crystallising moment when she realised the NHS would actually suffer from the UK quitting the EU, she says. Of course all defections carry the downside of the 'turncoat/ditherer' accusation, but she has tweeted 'I understand that politicians are not allowed to change their minds but real people do'. Still, the BeLeavers think she'll only be remembered as the 'Hokey-Cokey MP'. Don't forget many Tory MPs are undeclared - and another Tory doc, Dr Philip Lee (who made such an impressive Queen's Speech speech) could declare his hand today.
I was tempted to headline this section Nott In My Name, because better news for VoteLeave comes in the shape of Mrs T's former Defence Secretary and famous TV-interview-walker-outer, John Nott. The Telegraph reports how he has suspended his Tory membership in protest at Cameron's 'tirade of fear' on the EU referendum. Nott told HuffPost in 2014 that he'd voted UKIP in the Euro elections, so we kinda know where he's coming from.
Lots of papers focus on JCB boss Lord Bamford's decision to write to all his 6,000 UK staff to tell them there's 'little to fear' from Brexit. The Times' Francis Elliott recalls how Bamford was blocked from getting a peerage in 2010, after the Inland Revenue placed a 'black mark' (Bamford's own words) against him. Happily for him, all such worries were miraculously cleared up in 2013 when the PM recommended him for the honour. Is the PM regretting that today?
George Osborne was grilled but not really kebabbed by Andrew Neil on the BBC last night. But he did get the Chancellor to admit his pension lock would protect incomes from any Brexit impact – and forced him into a strange prediction on Turkey. "Is it going to be a member of the European Union? No, it's not." John Redwood rightly told the Today prog Turkish membership was still UK policy. Asked if Osborne had lied, Redwood said "He's clearly wrong, yes".
There's yet another EU TV special tonight. We hacks may be getting 'debate fatigue', but the punters may only just be waking up to all this. And in fact the ITV show - at 8pm - really will be a proper debate, with Boris and Nicola Sturgeon providing the box office draw.
Angela Eagle will be part of the ITV debate tonight and it's a big test for her to prove her credentials as Labour's 'deputy PM' – or even future leader. Commons watchers know she's very adept in the chamber, but can she pull it off on live telly? One person who certainly isn't lacking in confidence is Sadiq Khan and his overnight boast is that only Labour can now clinch the referendum for the Remain camp.
There was certainly a flurry of 'is this a putative anti-Corbyn coup?' speculation when the Khan op note was sent out yesterday. It doesn't take a genius to work out the London Mayor's message is aimed at the Labour leader, when he says "it's time for us to step up" and "We don't want to look back in two weeks' time and think - did we do enough". Anti-Corbyn forces are convinced a leadership challenge would happen if voters back Brexit. Appearing at the Shard alongside Alan Johnson, Harriet Harman and Yvette Cooper at 9am, it's at the very least a reality check on Corbyn's position so far.
With uncanny timing, within minutes of notice of Khan's warnings, it emerged that Corbyn would indeed be stepping up to the plate, on a new SkyNews 'In or Out?' programme on June 20. Perhaps more fun will be his appearance on Channel 4's The Last Leg comedy show this Friday…
Khan (who is facing flip-flop questions of his own on his fares freeze pledge) at least agrees with Corbyn on the Iraq war. But Tony Blair's damning verdict on Corbyn on Bloomberg yesterday struck a chord with many in the PLP. It's worth reading his words in full:
"There are two types of politicians on the left, and there always have been. There's a guy whose face is on the placard, right? And that's me. Hate that guy…You're the face on the placard. Jeremy's the guy with the placard. He's the guy holding it. One's the politics of power, and the other's the politics of protest."
As for defence more widely, John Woodcock's backbench Trident review is scathing about Emily Thornberry's suggestions of a nuclear 'third way'. It says her assumptions are based on 'science fiction' and 'Buck Rogers-style scare stories dressed up as military expertise'. Ah Buck Rogers, remember him? What, you don't?
Rob Hayward is one of the wisest elections analysts in the business. The man who first spotted Kinnock would not win despite the polls of 1992, he was one of the few last January to warn that the polls were all underestimating Tory support ahead of the 2015 general election.
Now a Tory peer, Robert has for years been doing regular briefings for a group of us hacks which always prove fascinating. And his latest analysis is perhaps his biggest call yet: that Brexit WILL win the EU referendum. He told me yesterday how the key to his forecast was that almost all the people who were 'deviating' from their expected position were Remainers turning out to be Brexiteers. From public sector workers in the north to private sector staff in the south, those who you'd expect to be natural Inners were showing themselves to be Outers.
Rob's big beef is that the polls are failing to capture these people. From the City bosses to Labour-supporting middle-of-the-roaders, the Leave message is working, he says. The m-word features heavily among the Missing Voters the polls can't catch: motorway oriented, mortgaged, married, male, mid 30-40s with kids. "My experience is that these people are not that heavily for Remain" he says. Hayward adds that Remain's best hope is for really high turnout – and better targeting of women voters.
Hayward is not party-pris, in the sense that he's actually a backer of the Remain camp. Yet his analysis is a 'defection' that could far outweigh anything from Wollaston, some BeLeavers think.
BECAUSE YOU'VE READ THIS FAR…
4) MAJOR LOOK, MAJOR STARE
Fresh from his onslaught on Boris on Marr at the weekend, Sir John Major is back on the political front line in Northern Ireland today, this time alongside Tony Blair. It's guaranteed TV coverage simply because they are both former premiers and both heavily involved in getting the peace in the province that has lasted for more than 20 years now.
Their joint warning that Brexit would lead to insecurity in Ulster is a real one. If it was just their word against Theresa Villers', there would be no contest. But as far as Northern Ireland voters are concerned, Major and Blair's words may not carry as much weight as the Democratic Unionist Party's own decision to come out for Brexit. So among the relatively small numbers of voters in the province, we may see a Republican-Unionist Remain-Leave split.
Yet what's more interesting is the influence Blair and Major's message may have outside Northern Ireland, rather than in it. Voters in the rest of the UK may think, 'hang on, bombs in London, Manchester and Birmingham again are just another risk we can't take'. But as William Hague says Brexit could harm the Falklands too, will it be again seen as Project Fear by a jaded public?
The decision to extend the voter registration deadline to midnight tonight is certainly very, very unusual. Emergency legislation – in the form of a statutory instrument published today – is normally reserved for things like the Omagh bombing, not Millennials who can't get their wit together to actually exercise the democratic rights won for them through two world wars.
Some VoteLeavers smelled something fishy when the PM hinted at a 24 hour extension and then Matt Hancock announced there would be 48 hours to let the stragglers register. At one point one Vote Leave insider suggested a mad conspiracy theory that the Government had deliberately sabotaged its own Cabinet Office website in order to allow young – and overwhelmingly Remainiac – voters to swing the referendum. The prospect of sounding as swivel-eyed persuaded Vote Leave to swiftly kill that suggestion.
But Farage backer Arron Banks has never had a problem with sounding like a conspiracy theorist and he's told the BBC he is considering a judicial review. Of course, he's cried wolf before, having threatened and then backed off a JR of the official designation of the Vote Leave, after it beat his own Leave.eu campaign for recognition. JRs of actual legislation –rather than Government decisions – are very difficult. But if the vote is close, expect some serious 'they rigged the rules' political fallout.
If you're reading this on the web, sign-up HERE to get the WaughZone delivered to your inbox.
Got something you want to share? Please send any stories/tips/quotes/pix/plugs/gossip to Paul Waugh (paul.waugh@huffingtonpost.com), Ned Simons (ned.simons@huffingtonpost.com), Graeme Demianyk (graeme.demianyk@huffingtonpost.com) and Owen Bennett (owen.bennett@huffingtonpost.com)
Related