'Hamilton' dominated this year's Tony Awards, and the cast paid tribute to the victims of the Orlando shooting, which claimed at least 50 lives, by removing all prop guns from their performance on the night.
The critically-acclaimed production, which tells the story of Alexander Hamilton, one of America's founding fathers, won 11 awards including best musical after receiving a record 16 nominations.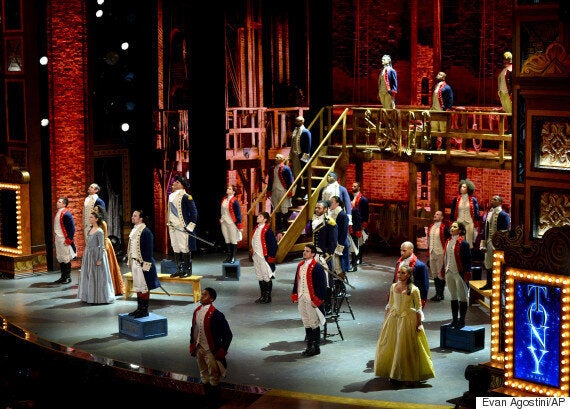 The 'Hamilton' cast on stage
Briton Cynthia Erivo won best performance by a lead actress in a musical for her role as Celie Harris in the Color Purple.
Fighting back tears on stage, she said: "I promised myself I wouldn't cry because my make-up artist would be really mad at me.
"Thank you American Theatre Wing for making a London girl very, very happy."
The awards were dedicated to the victims of the massacre at a gay nightclub in Orlando which left at least 50 people dead and another 53 in hospital.
Host James Corden opened the show with a message to those affected by the deadliest mass shooting in US history.
"Our hearts go out to all of those affected by this atrocity," he said. "All we can say is you're not on your own right now. You're tragedy is our tragedy.
"Hate will never win. Together we have to make sure of that. Tonight's show stands as a symbol and a celebration of that principle."
The attack in Florida prompted the cast of Hamilton to drop their Revolutionary War muskets for their performance at the awards, a spokesman for the musical said.
Speaking before the ceremony in New York, Lin-Manuel Miranda, the star and creator of Hamilton, said the shooting was "heavy in my heart and heavy in my mind".
Veteran American actor Frank Langella, who won best performance by a lead actor in a play for his role in The Father, urged Orlando to be "strong" in the wake of the atrocity.
"When something bad happens we have three choices," he said. "We let it define us, we let it destroy us, or we let it strengthen us.
"Today in Orlando we had a hideous dose of reality. I urge you Orlando to be strong because I'm standing in a room full of the most generous human beings on earth and we will be with you every step of the way."
Jessica Lange won the award for best performance by a lead actress in a play for her role as morphine-addicted Mary Tyrone in Long Day's Journey Into Night.
"This is a dream come true," she said. "It fills me with such happiness even on such a sad day as this."
The two-time Oscar winner beat Lupita Nyong'o, Michelle Williams, Laurie Metcalf and British actress Sophie Okonedo to win the award.
Hamilton, which is expected to open at London's Victoria Palace Theatre in October 2017, has achieved rave reviews and sell-out performances since making its debut in February last year.
It won Tony Awards for best musical, best lead actor in a musical for Leslie Odom Jr, best featured actor and actress statuettes for Daveed Diggs and Renee Elise Goldsberry, best score, best book of a musical, best direction, orchestration, choreography and best lighting design and costume design of a musical.
But the show failed to match the record haul of 12 Tony Awards won by The Producers in 2001.
In a pre-recorded video message, US president Barack Obama said Hamilton was "not only a smash hit but a civics lesson our kids can't get enough of", while rapper Common described the show as a "cultural phenomenon".
The Color Purple received the Tony Award for best revival of a musical, while A View From The Bridge took the prize for best revival of a play and Humans won best play.
Erivo, who grew up in Stockwell, south London, stars opposite American actress Jennifer Hudson in the Broadway production of The Color Purple.
The 29-year-old Briton reprised her role in the musical on the US stage after first playing Celie Harris in London in 2013.
During her acceptance speech, Ervio spotted her mother in the audience and said: "Hi mummy, look!" before thanking Oprah Winfrey, who starred in the 1985 film The Color Purple.
"To every single person in the cast, you are magnificent," she said. "Thank you so much for lifting me up when I'm tired. For holding my hands when I'm happy. For kissing me on the forehead when you know I just need some love."
Corden, who won a 2012 Tony Award for his performance in One Man, Two Guvnors, hosted the 70th Tony Awards following his successful stint as the presenter of the Late, Late Show in America.
The ceremony also featured Barbra Streisand who took to the Tony Awards stage for the first time in 46 years to hand out the best musical award.