The five things you need to know about David Cameron on Tuesday, September 13, 2016…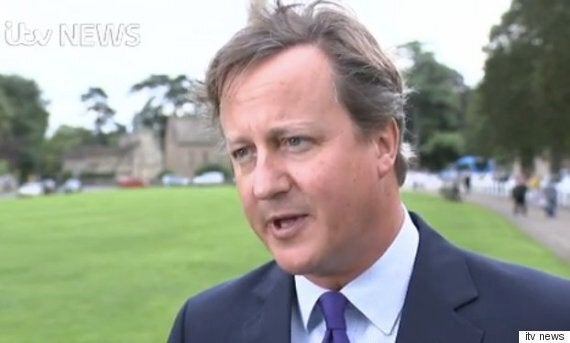 1) DO, DO, DO, TA-TA DA DA
In the end, nothing in his political life became him like the leaving it. After the Shakespearean drama of his rapid fall from grace, David Cameron's announcement of his resignation from Parliament yesterday was utterly, unquestionably Cameroonian.
The former Prime Minister summoned a TV camera and journalist for one final photo-opp, in front of St Mary's Church in Witney, to break the news to the nation. Keen to get across the 'optics' of his love of his constituency, he told the ITV crew (a final poke in the eye for the BBC) what a 'sad day' it was. Just moments earlier, he had phoned Theresa May to inform her of his decision.
His words, as well as the carefully-managed clip, were straight out of the Cameron playbook. He talked about "this country that I love so much" and declared "it's the right thing to do" (several YouTube videos have pieced together his DoTheRightThing verbal tic). All that was missing was the final, abrupt turn on his heel that often accompanied his pooled TV clips.
But yet again, the man who made party 're-branding' and media image a key part of his Tory leadership and premiership faced accusations that he really wasn't giving us the whole picture. The former PR chief who arrived on the political scene in a blaze of husky-hugging attention - only to later dismiss the environment as 'green crap' - had his sincerity doubted once more. If he loved his country so much, why was he abandoning his constituents? If it was the right thing to do, why had he waited until now?
Cameron was typically polished and fluent with his answers, but his critics felt they were typically empty too. Many years ago, one of his Tory colleagues told me: "Dave believes in one thing and one thing only: becoming Prime Minister". His allies say that's too harsh and his band of loyalists could yet prove they really do believe in some core 'moderniser' beliefs (like not returning to grammar schools).
However, it was Cameron's infamous hum, caught on mic in Downing Street the day he announced Theresa May would succeed him, that perhaps sums up the divisions that will endure over his legacy. That 'do, do, do' was seen by friends as an endearing Winnie-the-Pooh like moment. Others saw it as final proof of a reckless nonchalance about the state he'd left the country in.
2) A BLIGHTER, NOT A QUITTER
'Brits don't quit'. That was Cameron's catchphrase during an EU referendum campaign that ended in such spectacular failure. Yet here he was, er, quitting.
In one LOL moment (that's 'laugh-out-loud', not 'lots of love', as he once thought he was texting Rebekah Brooks), he actually told ITV's Chris Ship: "I'm sure I will be remembered for keeping that pledge to hold a referendum when many people thought that promise would never be kept". No Dave, you'll be remembered for - as Ken Clarke put it - accidentally pulling the UK out of the European Union.
And throughout the campaign, Cameron had no real answer when asked why, if Brexit was such an existential danger to Britain - with threats of recession ruining all his work on the economy and even "serried rows of white headstones" in new war cemeteries - he'd called a referendum in the first place.
In reality, Cameron is smart enough to know that few politicians get to write their own political obituary. Yet he may look back ruefully at his 2013 Bloomberg speech when, with UKIP snapping at his heels, he finally caved to pressure from his backbenches to pledge an EU referendum. UKIP ended the 2015 general election with one seat but a much, much bigger prize.
The former PM's announcement yesterday also had the ignominy of sounding like one, final, broken promise. At his final PMQs, before all that applause, he told MPs: "I will watch these exchanges from the back benches." Technically, he kept his promise: he watched just once, to see Theresa May debate Trident (though became distracted and was spotted tapping into his smartphone).
When asked by his local radio station if he'd stand again in 2020, he replied: "That is very much my intention." On his final foreign trip to a Nato summit in Poland, Cameron told reporters it was his "intention to continue serving".
It may well be that he had indeed intended to stay on a bit longer, not least because the ex-PM made such a fuss over getting a big new Commons office this summer, booting out some unhappy Welsh Nat MPs to make room for his large suite of rooms. But, as with Brexit itself, he'd not really prepared properly for his sudden Leadsom-inspired departure.
Word is that it was on holiday that he finally realised it was better to go quickly. His 50th birthday looms large too, due on October 9, and deeper thoughts of 'what next' were stirred by the party arrangements.
Cameron's friends point out that he got some big calls right: opting to go in to Coalition was a masterstroke that killed off the Lib Dems while allowing him to inject Tory stability to the economy. Winning the general election in 2015, even against a weak opponent like Ed Miliband, gave the Conservatives their first outright majority for 23 years - and a springboard for an even bigger one in 2020.
At times, he made being PM look easy. Cameron was often across his brief at PMQs, and statesmanlike for big events like Bloody Sunday and Hillsborough. Yet he couldn't shake of the tag of being an 'essay crisis Prime Minister', a politician fixed on tactics rather than strategy. As a boy, he'd crammed for his O-levels and A-levels and it worked, and at Oxford he pulled off a first to the surprise of some who felt he'd left it too late.
The EU referendum, unleashing as it did long pent-up forces of discontent in northern Britain, was a case in point. In a typical flash of arrogance/confidence/self-delusion (delete, according to your view), Cameron told fellow EU leaders at a summit dinner last December: "'I'll win this, I'm a winner".
Boris's face the morning after the EU result made Brexit look like a column that had gone wrong. Cameron too faces the criticism that for all his talk of 'public service', his career was all one big PPE game theory tutorial gone wrong.
Now, Cameron says he doesn't want to be a 'distraction' from the new PM. He's right of course that (as David Miliband realised) every word and vote and gesture will be interpreted as a comment on his successor. His downbeat summary of the new grammars kinda proved that point yesterday. Still, some MPs scent him only hastily realising what he should have realised the day Leadsom imploded.
BECAUSE YOU'VE READ THIS FAR..
Unlike Cameron, Tony Blair had ample chance to plan his own departure and I remember he even sorted a 'legacy tour' of the nation before his handover to Gordon Brown. But like his predecessor, Cameron surrounded himself with a tight-knit band of followers and was accused of cronyism.
A recent YouGov poll found that Cameron was the most popular prime minister since Margaret Thatcher. His "good or great" prime minister rating was 32% compared to Blair's 20%. Yet Cameron has trashed his own brand in the last few months, sorting payoffs and gongs for his staff in another crammer's rush before leaving office. Bumper pay rises and his resignation honours list contrasted starkly with the mantras about 'austerity' Britain 'cutting the cost of politics'.
On that final flight to Nato - his only trip on his new plane (the 'Blair Force One' that Blair never had) - he was asked if he would "do a Blair and make some money". He ducked the question, saying only that such decisions would "come a bit later".
But although he probably won't be as obvious as Blair, Cameron may follow John Major's lead in making money from a book, speech-making and a lucrative post on a company board. Outside Parliament - and it's expected he will only take a knighthood, not a peerage - Cameron will be free of declaring any details publicly.
Samantha Cameron will of course have played a big part in Dave's decision making, keen as she was to give their children a life outside the 'gilded cage' of No10. There's talk she may want to launch her own fashion label business.
When asked by ITV about his political plans, he said nothing had been sorted but he did want 'to continue campaigning'. Just as Blair has sports, the Middle East and inter-faith issues on his agenda, and Gordon Brown is UN Special Envoy for Global Education, Cameron could pick one or two key policy areas. International aid, having embedded the UK's commitment to 0.7% GDP on development, could be a theme. Gay rights and the voluntary sector are other possible themes.
it would be a delicious irony for many Brexiteers if arch Eurosceptic MEP Dan Hannan, having made himself redundant, was plucked as Cameron's successor. Hannan has wowed the local association in the past.
The Times today chucks another name into the frame: Ian Hudspeth, the Oxfordshire County Council leader who once attacked Cameron for Government cuts to local services. Ruth Davidson has ruled herself out and so too has Osborne's former aide Rupert Harrison (though he's one to watch in 2020). After Douglas Hurd, Shaun Woodward and Cameron, Witney likes to pick a rising star.
The date for the by-election has not yet been set, but Labour could use the opportunity to hold its own delayed by-election in Batley and Spen on the same day. The Labour selection for the Yorkshire seat vacated after the death of Jo Cox will be handled by the NEC and, like all by-elections won't feature an all-women shortlist, though women will be strongly encouraged to apply.
The NEC agreed a timetable yesterday and applications have to be in by this Friday. The overnight boundary changes raise the possibility of a comeback for Ed Balls. His old seat of Morley would be merged with Batley in 2018 to make a safe Labour constituency. If he won Batley and Spen, under party rules he would automatically be entitled to run for the new seat too.
Balls is distracted by Strictly right now, but you never know. The former Chancellor may lick his lips at the symmetry of a return to the Commons - just as his old foe D-exits after Brexit.
If you're reading this on the web, sign-up HERE to get the WaughZone delivered to your inbox.
Got something you want to share? Please send any stories/tips/quotes/pix/plugs/gossip to Paul Waugh (paul.waugh@huffingtonpost.com), Ned Simons (ned.simons@huffingtonpost.com), Martha Gill (martha.gill@huffingtonpost.com) and Owen Bennett (owen.bennett@huffingtonpost.com)