The five things you need to know on Friday, September 16, 2016…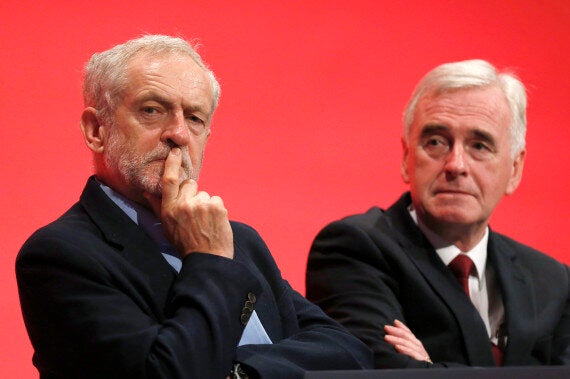 Owen Smith today has a speech declaring that there are 'five days left to save the Labour party'. Tony Blair famously claimed in 1997 there were '24 hours to save the NHS', but few MPs believe Smith's warning will prove as effective.
Last night Alastair Campbell, a veteran of those Blair years, clashed with John McDonnell on BBC's Question Time and it wasn't pretty. The Big Al v Big Mac bout saw McDonnell describe the former spin chief as "nauseating because you are the one, above all else, who actually created the environment where no one believed a word a politician said". Campbell hit back: "We won three general elections John" and later tweeted McDonnell was "a man who hates anyone who helped Labour win". Word is they nearly came to blows when the show was over.
Anna Soubry called McDonnell "a nasty piece of work" and the row over the 'hit list' of MPs rumbled on. Several Labour MPs spotted that despite offers to personally apologise to all 13 MPs on the list, McDonnell yesterday said the list was a response to "incoming flak" and was "just a factual report".
At his Bloomberg event, Corbyn himself told me "I"m very keen on providing olive branches, and indeed a number of olive branches have been offered to me," he said. In typical Jez fashion, the Labour leader added: "As a practical start for this I'm growing an olive tree on the balcony of my office and it's doing very, very well. It's thriving." My colleague Ned Simons has got a pic of the actual olive tree. I'm not making this up.
There are interesting developments on the work behind the scenes to unite the party after next Saturday (see HuffPost later today). But with MPs refusing to accept apologies (and believing they're not real apologies at all) and a lot of bad blood spilled in recent months, it's going to be a huge task.
We report today on how the activist who so upset the Jewish Labour MP Ruth Smeeth last night doubled down on his stance, claiming she was "a right-wing Labour MP who was consorting with the Daily Telegraph".
George Osborne is clearly determined to carve out a post-Brexit legacy that lasts a tad longer than David Cameron's new Commons office suite. Although his very political future hangs in the balance after a boundary review that abolishes his constituency and pits him against the formidable Graham Brady, the former Chancellor has announced he will fight on for a 'Cheshire' seat.
And Osborne is very keen to maintain his own political identity. And he wants to be remembered not for austerity but for his Northern Powerhouse project. Devolving power to metro city regions, connecting up Manchester and other cities with new rail links, pumping science and tech cash into the north west, that was all meant to be his lasting policy achievement.
Many Labour MPs derided it all, and contrasted it with the council and other cuts leading to a 'Northern Poorhouse'. But worse for Osborne was that having been sacked by Theresa May, she hasn't been keen to even utter the words 'Northern Powerhouse' since coming to office and instead said she wanted to boost 'the whole economy'.
Today, Osborne is launching a new think tank the Northern Powerhouse Partnership. He's written a piece for the Sun, which has a headline 'Hands Off May', and says its a 'direct challenge' to the PM to not water down his pet plan. On the BBC last night, Ed Davey said that in Cabinet May and Osborne had "really disliked each other".
Still, May is smart enough to know she can cherry pick the bits of the project (key to the long-term political fortunes of the Tories in northern marginals) and take it on her own terms. The Telegraph quotes old Osborne ally Sajid Javid saying "I warmly welcome the launch of the Northern Powerhouse Partnership'. And Andrew Percy is a specific Northern Powerhouse minister.
Osborne was on Today, so he's still got some media pulling power. He went on to make plain his discomfort with May's new grammars, praised Justine Greening's focus on 'all' pupils not just a few, questioned whether there was a need for a new 'special share' on Hinkley and even damned May with faint praise, saying she was the best of the Tory leadership candidates 'who put themselves forward'. Asked if he would be a distraction to the new PM, he replied: "Not necessarily." If this is a truce, it's not an easy one.
It's the UKIP conference in Bournemouth and we will find out at lunchtime who will replace Nigel Farage as its leader. Our resident Kipper expert Owen Bennett says the smart money is on Diane James but warns that Lisa Duffy has some grass roots backing.
One thing that's for sure is that Farage's departure has laid bare all the splits that were previously papered over. Deputy leader Paul Nuttall says the party could 'die' unless it gets its act together, which prompts the question: why didn't you stand for leader then?
After Brexit, UKIP obviously faces the existential question of just what it is for now that we're quitting the EU. And Theresa May will be delighted at further defections back to the Tories. Party director Steve Stanbury quit live on air on the Daily Politics saying the Conservatives offered him everything he now needed. Former media chief Alex Phillips has today told the BBC she's also going back to the Tories.
The Express (as close as it gets to being UKIP's in-house paper) splashes on a story that lots of party members have spoiled their ballots, asking for Nigel to return.
And Farage himself has again slammed UKIP's only MP Douglas Carswell: "I don't know why he joined. I genuinely don't. He doesn't seem to support anything we stand for. It's very odd. He doesn't really matter, does he? He doesn't really contribute to what we do as a national party." Will Carswell be next to go back to his old party? What would they need to offer to tempt him back?
BECAUSE YOU'VE READ THIS FAR…
Just as the UKIP conference ends this weekend, the Lib Dem conference starts (tomorrow) and Tim Farron is trying his best to accentuate the positive for his party as it continues its long, long haul back. Having just 8 MPs (as many as the Democratic Unionist Party) makes life difficult but Farron knows that he can still get noticed with the right quote or bit of research.
Councils are where the party needs to rebuild first and last night they had a decent ward byelection victory, taking a Derbyshire seat from Labour with a big swing. We know how much Jeremy Corbyn values local council byelections so he may have been a tad disappointed (then again the by-election was propmted by the resignation of a Labour councillor who had bitten a teenager on the nose - no, really). But a week ago the Lib Dems also took a council seat in Sheffield from Labour.
Farron has done a round of sit-down interviews this week (in the Standard he signalled that people like Vince Cable were set for a spring general election). In the Guardian today he tries to woo Labour MPs and voters, saying he admires Tony Blair (he meant his first two albums, not his difficult later work).
And on Corbyn, Farron says something straight out of the Owen Smith random-speech-generator: "I think he and his movement are potentially going to be responsible for landing us with a Tory government for the next quarter of a century."
Damian Green's finding out how difficult life is in the DWP. Yesterday he put out a written ministerial statement on housing benefit caps, signalling a new "ring fenced" cash plan to protect women's refuges and housing for people with learning disabilities. The Sun hails this as a victory for its 'Give Me Shelter' campaign, and Labour's Jess Phillips (who has led the campaign against the cap) was clearly pleased the Government was not going ahead.
But the Mirror points to Mencap saying that the decision to postpone the changes until 2019 wasn't enough and that "The Government's proposals will compromise the right for people with a learning disability to live independently, and must be reconsidered urgently."
Shadow Work and Pensions Secretary Debbie Abrahams also attacked Green for "sneaking this out yet again the day before our recess" instead of turning up to Parliament. Other items taken out with the trash yesterday included courts cuts, pension reforms delays and City bonuses returning to an all-time high.
If you're reading this on the web, sign-up HERE to get the WaughZone delivered to your inbox.
Got something you want to share? Please send any stories/tips/quotes/pix/plugs/gossip to Paul Waugh (paul.waugh@huffingtonpost.com), Ned Simons (ned.simons@huffingtonpost.com), Martha Gill (martha.gill@huffingtonpost.com) and Owen Bennett (owen.bennett@huffingtonpost.com)