The five things you need to know on Thursday, October 27…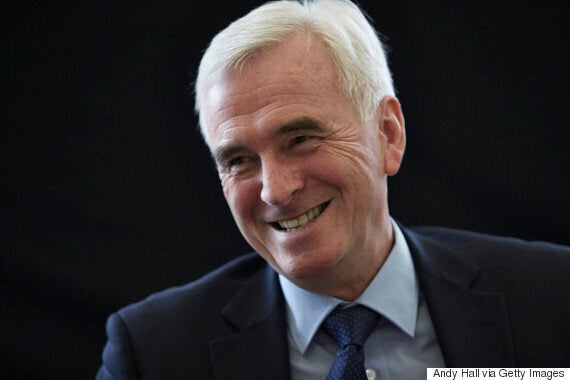 Today, Chief Whip Gavin Williamson will move the writ for the Richmond Park by-election, and I'm told he will announce it will be held on Thursday December 1. The Lib Dems are already determined to turn this into a second referendum on Brexit, as much as a vote on the 'Con Air' (new Cowley St can have that one for free) betrayal over Heathrow.
On Heathrow, Labour's message is unclear, to say the least. Many Labour MPs are for, some are vehemently against, but the official line seems agnostic until pollution and other tests met. And on Brexit, the party's policy seems as opaque as Theresa May's own Brexit means Brexit.
John McDonnell often seems as much of a Eurosceptic as he is a Heathrowsceptic. Today, he has a big speech on Brexit which sounds very much like the 'Lexit' of the old Labour Leave campaign. The overnight extracts show the Shadow Chancellor will attack the Tories' 'Bankers Brexit' (he says it at least four times) and a right-wing vision of Britain-as-Singapore after we quit the EU.
McDonnell's pitch is that the City shouldn't get any special favours and that public services and key industries like steel need protection as much as financial services. Perhaps the most surprising admission is him saying some of his friends voted Tory. But of course, there's a kicker: "Like me, you will have friends who have voted Conservative. They don't want a Bankers' Brexit any more than I do."
The difficulty is Labour isn't yet clear about freedom of movement and which migrants, high or low skilled, it wants. McDonnell struggled to say on Today what the party wanted.
And even if you're trying simply to argue for 'no favours' for Canary Wharf and the Square Mile, there's a risk of sounding like Paul Whitehouse's 'the bankers, the bonuses'. In a constituency like Richmond Park, where many voters are not fatcat bankers but middle classes who work in all sorts of jobs that rely on the financial industry, that's not an easy sell.
2) MARMAGEDDON OUTTA HERE
McDonnell's stronger lines of late have been attacks on the Tories for failing their own virility test on the deficit. The FT also picks up that today he will defend the Bank of England's independence after the damage caused by May's conference speech.
In one of the least-noticed blunders of the new No10 operation, Bloomberg reported yesterday that the PM had to apologise to Mark Carney for her 'clumsy' language suggesting she could end Quantitative Easing. Worse still, the Treasury was not consulted, hence Hammond's mopping-up exercise ever since.
International Trade Minister Mark Garnier, as much a Remainer as Hammond in the referendum, was candid enough yesterday to tell Radio 4's Wato: "I'm not going to use the expression Brexit means Brexit for obvious reasons – because it does not necessarily give that much clarity." He was talking more about detailed trade talks rather than the PM's over-arching we-are-definitely-leaving message, but the phraseology did cause a heart murmur in No.10.
Garner ought to be praised for his candour. In a new Bloomberg interview he's admitted banks will lose their 'passporting' rights under Brexit, while stressing he wants a 'special hybrid' version that could limit the damage. But he also admitted that the Marmite row is just a starter course for a bigger menu of food price rises.
"We have had Marmageddon," Garnier said. "Consumers are going to start to see rising prices and there's nothing we can do about that. That was a well-predicted effect of Brexit. The point was very clearly made by everybody: Brexit could easily result in a slump in the value of sterling. That has transpired."
As for 'the bankers, the bonuses', The Treasury this morning reduced the Government's share in Lloyds to below 9%. We still have a hefty chunk of RBS however.
Liam Fox told MPs yesterday that the problems with the Canada-EU trade deal showed why the UK should get its own EU trade deal sorted before the two-year Brexit window. His department was delighted by the WTO chief Roberto Azevedo eating humble pie on SkyNews, saying the UK would not face a trade 'vacuum' or 'disruption' outside the bloc.
But the other two of the three Brexiteers are in the news today too. Michael Gove's political comeback continues with his election to the Brexit Select Committee (while Remainer Anna Soubry paid the price for being outspoken and didn't get on). Gove is also putting down a marker today with a speech that Britain must treat would-be migrants from the EU in exactly the same way as those from outside the bloc. That's a real challenge to P Hammond.
Gove gave the Lib Dems a free campaign leaflet in Richmond Park with his admission (Wato ran more of his interview) that the "overwhelming reason" the last Government didn't expand grammar schools was because "the Liberal Democrats wanted no increase in selection". He too, however, sounded again lukewarm in his support for the new grammars.
Boris Johnson, meanwhile, has had another clash with Theresa May, the Sun reports. The PM cut off Bozza in a recent Cabinet sub-committee meeting. One of those in the room says: "Theresa interrupted Boris to tell him to shut up and stop running old arguments. It was quite a moment, as Cabinet ministers don't really speak to each other like that. It left everybody in no doubt who was in charge, but Boris didn't enjoy it very much."
BECAUSE YOU'VE READ THIS FAR…
The ongoing conflict in Yemen is proving a difficult political challenge for both the Government and Labour. ITV's News at Ten last night, there was evidence that British-made cluster bombs had caused injuries to civilians. The Times today carries a disturbing front-page photo of an emaciated 18-year-old Yemeni. The paper also says May should adopt Jeremy Corbyn's call to withdraw Britain's backing for Saudi membership of the UN Human Rights Council.
But Labour's internal war flared up again in the Commons last night. As we report, nearly half of the PLP didn't vote for their party's own Opposition Day motion calling for the UK to withdraw support for the Saudi-led coalition involved in the Yemen civil war. Emily Thornberry got a tongue-lashing from a string of Labour MPs too.
Thornberry still believes the Government will regret formally voting against an independent UN investigation (and that 22 Labour MPs were paired with Tories). The Shadow Foreign Secretary is the first senior figure in the UK or US to raise questions about the Saudis' two distinct spheres of control in the conflict, a possible big theme in coming months. Yet for Labour in Parliament, for now, it looks like being a shambles on the policy.
No one can say the Syrian conflict is anything other than a 'hot war' too. The latest tragic news is that 22 children and six teachers have been killed in an airstrike in the northwestern province of Idlib. Russia's UN ambassador is so worried he's said "I hope we were not involved". Yesterday, in a speech to the Security Council, UN humanitarian chief Stephen O'Brien yesterday slammed Moscow for making Aleppo 'a kill zone'. Russian U.N. Ambassador Vitaly Churkin said O'Brien's remarks were "arrogant". "If we needed to be preached to, we would go to a church".
The bad news for non-combatants continued yesterday when a new Amnesty report found that 11 US-led coalition attacks had killed 300 Syrian civilians.
Yet there is a Cold War mood around too. The SNP's Angus Robertson scored a direct hit in PMQs (again) with his question on what the UK was doing about Spanish permission to refuel the Russian aircraft carrier on its way to the Syrian coast. May strangely didn't reveal that the UK had raised concerns, when we had. Anyway, the Spanish backed down.
Lots of papers focus on Nato squaring up to Putin (the Mail splash in fact) as Britain deploys troops, tanks and jets to Estonia and the Russian border. Latvia and Lithuania are also being bolstered by forces from Canada, France, Belgium, Denmark. Poland and Norway get US forces stationed there too. Not an easy one for Jeremy Corbyn after his leadership campaign wobbles on Nato's founding principle?
If you're reading this on the web, sign-up HERE to get the WaughZone delivered to your inbox.
Got something you want to share? Please send any stories/tips/quotes/pix/plugs/gossip to Paul Waugh (paul.waugh@huffingtonpost.com), Ned Simons (ned.simons@huffingtonpost.com), Martha Gill (martha.gill@huffingtonpost.com) and Owen Bennett (owen.bennett@huffingtonpost.com)
Related