The five things you need to know on Tuesday, November 1…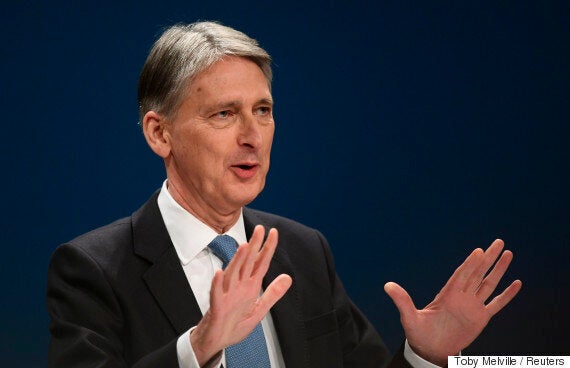 The word 'cyber', like the word 'digital', is often used by politicians and journalists in a bid to capture a splash of zeitgeisty glamour. Today, Philip Hammond, the most unglamorous minister in Government, has a Big Speech on cybersecurity and he's deadly serious about the threat to the UK from hackers of all kinds.
As a former Defence and Foreign Secretary, Hammond knows a lot about this stuff. The Times rightly picks up on a key line in his speech that the Government's new strategy will allow Britain to "strike back when we are attacked". Does this really mean we will retaliate in kind if states like Russia are found to have screwed up our systems? If so, that's a big deal. US Veep Joe Biden threatened a revenge cyberattack (see, I'm doing it now) against Moscow last month, but it sounded like mere words. If we launch a cyber-attack on a foreign nation, is that an act of war? And who authorises or monitors it?
In an exclusive Guardian interview, Andrew Parker, the director-general of MI5, openly criticised Russia for its "increasingly aggressive ways — involving propaganda, espionage, subversion and cyberattacks..here is high-volume activity out of sight with the cyberthreat." The Telegraph cites a warning from Cabinet Office minister Ben Gummer of the threat posed by hackers to NHS personal data. Less sexy than Nathan Hunt-style USB stick rescues, but just as worrying.
The Chancellor has all the emotion of a cyberman himself. But at least Hammond will be pleased Mark Carney is staying at the Bank of England until after Brexit in mid-2019. Eurosceptics, who think Carney wasn't robotic enough in recent years, will be pleased he's not hanging around to 2021. They may have ensured his replacement has no Remainer history, and goes back to the boring banker mode.
Labour figures like Rachel Reeves are worried about the threat to the BoE's independence, though we shouldn't forget that it was Pat McFadden who once called Carney an 'unreliable boyfriend' for his blunders with 'forward guidance' on interest rates. And don't forget the Labour muttering about Mervyn King's key role in hurrying the formation of the Coalition with all the talk of a market collapse in 2010. Still, some in the Treasury fear much more damage has been done by Brexiteers to Bank independence where it matters most - in the eyes of the City.
Amber Rudd was met with a wave of anger after her refusal to grant any inquiry, let alone a public inquiry, into the policing of Orgreave coking plant in the 1984/5 miners' strike. The Orgreave Truth and Justice Campaign will today use an event in Barnsley to say just how wrong they think that decision is.
Rudd tried to adopt the steely resolve of her predecessor, facing down her critics as she explained her reasoning: there were no deaths or wrongful convictions, no miscarriages of justice (not the same as wrongful convictions, by the way), some cops had long since died and it was all basically too long ago.
Sir Edward Leigh offered her a way out by suggesting a special Commons Select Committee investigation that could conduct an inquiry at lower cost than a full public inquiry, and Rudd hinted she wouldn't object to that. But for campaigners that won't be enough.
A key factor in the Government's political problems on this issue are the mixed signals coming out of Whitehall. Some had seized on a previous blog from May's joint chief of staff Nick Timothy backing a new probe. Others hinted some kind of inquiry was likely. Some of this may not have been Rudd's fault, but it looks like an expectations management blunder. Raising hopes, not just expectations, only to dash them so firmly, suggests a major strategic and communications failure. On such a sensitive topic, that's not a good look. Nursing a grievance is one thing, fuelling it is another entirely.
Diane Abbott has written us a blog on how Labour would commit to a full inquiry. There was some disquiet on the backbenches as to why Abbott had not requested an Urgent Question yesterday, as Rudd was allowed to get away with a few questions in Home Office Questions rather than a full hour-long grilling. Abbott's office say they were told Rudd would make a statement, and two Labour MPs' requests for UQs were dismissed by the Speaker. That hasn't stopped the muttering.
Will this month see more Government cash for the NHS? When I asked No10 yesterday if the PM was at least open to the idea of extra funding, her official spokesman replied, deadpan: "If you're trying to get me to speculate on contents of Autumn Statement that's not something I'm planning". Was that the faintest whisper/glimmer/hint of more money? Well, Downing Street are hardly likely to spill the Chancellor's plans, even if they knew them right now.
But you can see the political attractions to Theresa May of winning round more centre ground voters by recognising the cash crisis inherited from the Cameron era. St George's Hospital in Tooting had a dire Care Quality Commission report and is expected today to be put into 'special measures' for its poor leadership - the 18th such hospital in the country with that ignominious status.
Jonathan Ashworth's Urgent Question yesterday on the vexed £10bn claims prompted Jeremy Hunt to give a robust, four-point rebuttal to the the Health Select Committee. Yet Hunt's most significant lines seemed these: "The government has never claimed there was an extra £10bn increase in the Department of Health budget. I have always accepted that painful and difficult economies in central budgets will be needed in order to fund that plan."
Labour thinks that's an admission from Hunt that the £10bn includes cuts (Stephen Dorrell agrees the Goverment has been "misleading"). It's asked the UK Statistics Authority to verify the PM's, and Hunt's, claims about the figure.
BECAUSE YOU'VE READ THIS FAR…
Several months after she sparked the leadership challenge to Jeremy Corbyn, Angela Eagle is still very active (as her questions in the Commons yesterday showed). I went to her Wallasey constituency to interview her and see for myself the most famous political window in Britain. She was frank about the abuse politicians now face, about her coming out in 1997 and about the challenges Labour faces. Read the interview in full HERE.
Eagle is no longer in the Shadow Cabinet, but many think one of Corbyn's smartest appointments in his reshuffle was giving Keir Starmer the Shadow Brexit Secretary brief. The former DPP has scored some impressive hits on Article 50 and other issues.
But are Starmer's wings being clipped? Labour yesterday put out two job ads for political advisers (known as 'pads' in Opposition). One post was for "Political Advisor to the Shadow Secretaries of State for Foreign and Commonwealth Affairs and Britain's Exit from the European Union". The other was for an adviser to Shadow minister without portfolio, Andrew Gwynne.
So Starmer isn't allowed his own pad? Is this Emily Thornberry's rearguard action, having lost her argument to keep both Brexit and Foreign briefs? Is it sensible, joined-up policy-making. Or is it paranoia that Starmer could pose a long-term threat to the leadership…? (Update: I've since been told Starmer is getting a separate Brexit pad, and this new post is an extra one to share with Thornberry. The fact remains: most Shad Cab ministers have two pads, not one and a half)
As for Starmer's work on the IP Bill, many of his amendments in his previous post have forced Government concessions. Labour won a Lords vote on Leveson-related matters yesterday and the amendments return to the Commons today. Will Diane Abbott still call the bill 'draconian', even though it now includes Starmer's hard-won changes?
Last night on ITV's The Agenda, filmmaker and Corbyn ally Ken Loach blamed the media for the Labour leader's poor polling. The BBC, ITV, all newspapers were 'biased' against him.
Zac Goldsmith last night tweeted a neat riposte to Nick Clegg after the former Lib Dem leader appeared on his Richmond Park patch: "Mr Clegg, this by-election is happening because I kept my word. Your Party might be in better shape if you'd done the same."
Cleggy had been rather rude about Zac, saying local voters were now tired of having an MP with all the appeal of a "hip, faintly glamorous, minor royal". Goldsmith does have a touch of the Prince Harry about him, but as I've said before the attacks on him for being rich and/or posh don't really work in this seat. He's a genuinely popular local MP
What may have more impact is Zac's image as the laughing Brexiteer. With so many Richmond and Kingston jobs dependent on the City, it's this rather than the personal attacks (which surely Clegg must himself know is an unedifying business) that may cut his majority. Tim Farron is in the seat today and we have some new stats showing Goldsmith's Commons voting record makes him the second most Eurosceptic Tory MP in Parliament. Only DD is more anti-EU.
If you're reading this on the web, sign-up HERE to get the WaughZone delivered to your inbox.
Got something you want to share? Please send any stories/tips/quotes/pix/plugs/gossip to Paul Waugh (paul.waugh@huffingtonpost.com), Ned Simons (ned.simons@huffingtonpost.com), Martha Gill (martha.gill@huffingtonpost.com) and Owen Bennett (owen.bennett@huffingtonpost.com)
Popular in the Community