The five things you need to know on Friday, November 4…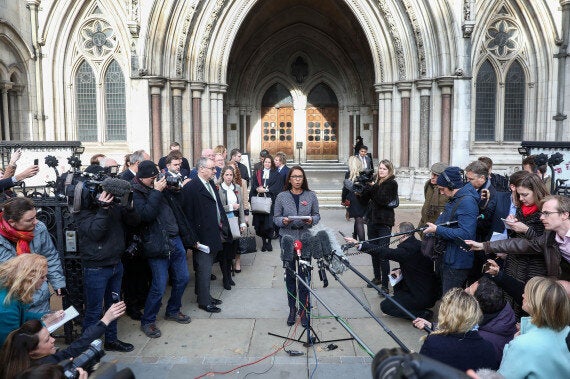 Have you caught your breath yet? Theresa May is trying to get on the front foot over yesterday's historic High Court Article 50 ruling. No10 says she'll ring Jean-Claude Juncker this morning to say her timetable of triggering it by the end of March remains unchanged. That, plus a stubborn message that she intends to hold a general election in 2020, not next year, are the main lines Downing Street wants out there: keep calm and carry on.
Readers of yesterday's WaughZone won't have been totally surprised by the Article 50 verdict, given the previous clues in court. But the question is whether May's timetable can still remain in place, and who is really prepared to delay it.
As I've pointed out, Labour's leader in the Lords Baroness Smith has said she won't 'block' Brexit. She knows that would spark an even bigger constitutional crisis given the unelected nature of her House. Yet the Lords and Commons can of course delay legislation, and ministers made plain that legislation, rather than a mere motion, will be needed to give effect to the judgement. 'Meet the Delayers' isn't as fun a headline as 'Meet the Blockers', but that's where the debate is. Tory peer and arch Remainiac Baroness Wheatcroft told Today: "I think there could be a majority in favour of delaying Article 50".
What surprises me about all this is why May didn't grasp the bull by the horns as soon as she was made PM. She could have avoided all this court trouble if she'd announced in July that she was herself going to publish a short bill giving Parliament the authority to allow her to trigger Article 50, while revealing she intended to do that by April 2017.
This would have been a break with the Cameron era, and a boost to 'constitutional' Tories like DD, Peter Bone, Rees-Mogg et al, who believe the British Parliament is supremely important. As well as 'Brexit means Brexit, she could have said 'Parliamentary Sovereignty means Parliamentary Sovereignty'. She could then have warned MPs not to defy the will of the people.
Of course, what worries some in No10 most is that any such bill is amendable. But the arithmetic isn't as unfavourable as many assume. May has a working majority of 15. But on Brexit she technically has a working majority of 23, given the DUP's strong backing. And while there are around 20 ardent Tory Remainers, only around 10 may be really prepared to defy huge media pressure, not to say local deselection threats, to delay Article 50.
Crucially, however, there are at least 20 Labour MPs (maybe 40) who will never delay it - because they risk the wrath of their Labour Leave voters. John Spellar is on record as saying he won't defy his voters. When asked if he'd vote for the trigger, even Hilary Benn yesterday said 'Yes'. The ball really is in Labour's court as to what red lines it would include in any amendments, and whether they would make sense - I suspect it's done even less detailed policy on how to square the seemingly impossible circle of curbing freedom of movement while retaining full membership of the single market.
It's true that some 'soft Brexit' Tory MPs are gearing up for 'guerilla warfare' by bogging the bill down with hundreds of amendments. But how many will really be brave enough to do anything that delays the PM's March deadline? Will George Osborne - who is privately even more scathing about the Brexiteers than you'd imagine - really insist on single market membership? Nick Clegg told Today "We will seek to amend the Bill in the Commons and the Lords' to get a 'soft Brexit' model". But if that mysterious model means no curbs on freedom of movement, it is guaranteed to fail.
Some Tories mischievously mutter they could bog the bill down in order to force May into an early general election, capitalising on Labour's dire poll ratings. Others think an appeal to the Supreme Court is doomed and a bill should be produced rapidly to avoid further delay. Maybe May will grab that bull by the horns in the end, and defy MPs to do their worst.
The reaction of some of our newspapers to the Article 50 case has been to focus on the judges. The Mailonline yesterday got a huge kicking for a headline deriding one of the judges for being an 'openly gay ex-Olympic fencer'. JK Rowling tweeted: "If the worst they can say about you is you're an OPENLY GAY EX-OLYMPIC FENCER TOP JUDGE, you've basically won life". The Mail pulled the header, and the story, soon after.
Undeterred, the paper itself splashes on a headline 'Enemies of The People'. It also derides the judges as 'unelected', ignoring the point that our judiciary is normally seen as proudly independent of political interference. The Telegraph's header is 'The Judges versus The People'. The Express intro is "today this country faces as grave a crisis as anything since the dark days when Churchill vowed we would fight them on the beaches". I know Twitter is not Britain (far from it), but Gary Lineker had a point when he said the intro was 'quite possibly the biggest overreaction in newspaper history'.
It's quite astonishing how few people understand the judges made a ruling about the law, as they are properly entitled to do, not about the merits or demerits of Brexit (as the opening of the judgement made plain).
There are real dangers too in going after the complainants who brought the court case. Yes, it's legitimate to point out many of them are wealthy, but did The Sun really need to describe Gina Miller as 'foreign-born' and 'Guyana-born'? The Times points out (as do we) that she has received rape and death threats. One Facebook group says: "Kill her! 2 behind the ear. Throw her in the garbage. Dustbin, whatever.." When Miller began her challenge there were two other claimants represented by Mishcon de Reya. By yesterday she was the only one left. "The others couldn't handle the abuse and I don't blame them," she says. Ah, This England.
Zac Goldsmith was on LBC yesterday and didn't disappoint in terms of news lines. His most ear-catching quotes were on warnings of far-right violence if Parliament blocked Brexit: "If we turned our backs or we ignore them I think we'd see the emergence in this country the sort of far-right extreme movements that plague the continent. I think there would be something of a political revolution and it will be indescribably dangerous."
That kind of talk - very similar to Nigel Farage's dark warnings yesterday - underlines something the Lib Dems have failed so far to make the key theme of their Richmond Park by-election campaign: Zac is an ardent Brexiteer. I live in the constituency (have I mentioned that?) and the leaflets from Farron's team have been laughably woeful - claiming a huge poll lead for Zac is good news, focusing on Heathrow rather than Brexit, citing defeated MP Susan Kramer. Goldsmith's leaflets by contrast are a model of simplicity: "Keeping His Word".
Yesterday's Article 50 case may give the Lib Dems the spur to finally turn this into a Brexit by-election, their best hope of slashing Zac's majority (Zac's so well-liked locally that Heathrow will turn into a score draw at best for them). He gave some added ammo on LBC by saying he may not stand in 2020, but he was 'not ruling anything out' about standing as a Tory again.
The Greens at least are offering a helping hand to the yellows. The Richmond and Kingston Greens agreed last night they won't put up a candidate and urged their voters to back the Lib Dems instead.
BECAUSE YOU'VE READ THIS FAR…
Watch this NHS worker tell Question Time: "I want people who are leaving to one day unfortunately have a child who needs that treatment but it's not there [because of Brexit]" No, really.
Those tiny violins of sympathy for George Osborne in the wake of his sacking just got smaller. The latest register of MPs' interests reveals that the Chancellor trousered a handsome £98k for delivering just three speeches in the United States in the past two months. The after-dinner speeches firm that hires him says on its website that Osborne is "a principled, modern and renowned global leader" who was responsible for a "dramatic improvement" in the UK economy.
Nick Clegg didn't hang around on the wonga front either. He was paid an eye-popping £1,250-an-hour to host 'Have I Got News For You'. Bit more than the minimum wage. Of course, now that he's got a Shadow Brexit spokesman post, this kind of thing will be trickier, won't it…?
The TUC meanwhile reports that thousands of people failing to take unfair dismissal or discrimination claims to an employment tribunal because of fees of up to £1,200. Maybe Osbo and Cleggy (no strangers to dismissal from Govt) could help crowdfund?
On some things Theresa May is doggedly stubborn. On others she shows political flexibility. This week one of the quieter U-turns has been on the fate of refugee children coming from Calais. In a written ministerial statement from Ed Timpson, the Government has pledged to set out a new safeguarding strategy to provide more funds, foster parents and housing for vulnerable migrant kids, as well as advoacy rights for the children's commissioner on their behalf. Recognising the concessions, I reported last night that Alf Dubs is now set to pull his amendment due next Tuesday in the Lords - as the Government has gone even further than he suggested. Effective opposition in action.
The Indy has picked up a fine Inside Housing magazine story that the Goverment is to 'delay' plans to extend Right to Buy for housing associations. DCLG civil servant Hilary Davies told a conference "The Brexit vote has made us think about timing and is leading to a delay in the process… we don't really know yet where the ministers are with regard to the details." Something may get a mention in the Autumn Statement.
As for the politics of housing, the Sun has a Liam Halligan column quoting ex No10 housing adviser Alex Morton: "This housing crisis, and the related feeling of unfairness, is the one thing Labour under ­Jeremy Corbyn could use to claw itself back into power."
With uncanny timing, Labour will this weekend unveil a new video of John McDonnell going back to his Liverpool council house roots to urge a radical house-building programme. We have an exclusive sneak-peek - HERE - of his trip down memory lane (Adlington Street, L3 to be precise), talking about his move from 'the slums' to a new state-built home.
Our latest Commons People podcast is out - listen HERE. We chew the fat on that big Article 50 judgement, on how much Blair's war in Iraq is to blame for Brexit, and NHS funding (£10bn or not £10bn that is the question). Oh, and a quiz about which words did and didn't make it into the Collins Dictionary this year. Amazingly, I had never heard of this phrase 'wake up, sheeple!' Apparently, it's a fave of conspiracy theorists in below-the-line comments on Mailonline. See, I may be thought of as internet-savvy but I'm really quite old...
If you're reading this on the web, sign-up HERE to get the WaughZone delivered to your inbox.
Got something you want to share? Please send any stories/tips/quotes/pix/plugs/gossip to Paul Waugh (paul.waugh@huffingtonpost.com), Ned Simons (ned.simons@huffingtonpost.com), Martha Gill (martha.gill@huffingtonpost.com) , Aubrey Allegretti (aubrey.allegretti@huffingtonpost.com) and Owen Bennett (owen.bennett@huffingtonpost.com)
Popular in the Community