The five things you need to know on Tuesday, November 15 …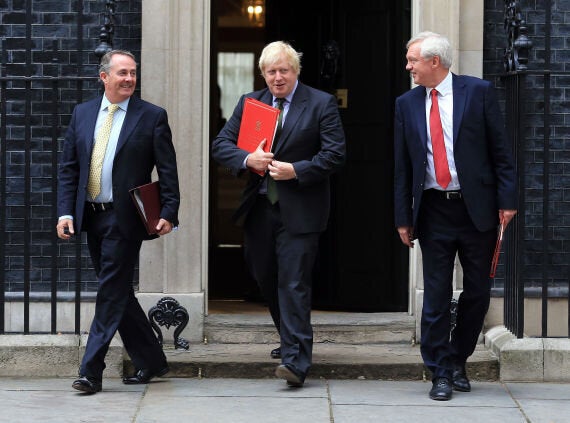 The British Cabinet gathers today for its first meeting since Donald Trump's extraordinary victory. Just how many of the ministers sitting around the coffin-shaped table will dismiss - or endorse - the Times' leaked memo, which suggested they're all so split on Brexit that it will take six months to sort their priorities?
The leaked memo, prepared for the Cabinet office by a consultant who does work for the department, was unsolicited. That means No.10 can say it has no official status. But the memo certainly expresses the concerns of many in business about how Theresa May is treating Brexit, not least that "the Government's priority remains its political survival, not the economy".
The 'Brexit Update' may even have underestimated the sheer number of different Brexit projects across Whitehall (it says 500). But Chris Grayling told Today that he "didn't recognise" its claim that up to 30,000 more civil servants will be needed (though it's worth remembering that would just take Whitehall back up to the levels last seen in 2012).
The line about May's governing style, and her tendency of "drawing in decisions and details to settle matters herself", rings true. Many of the PM's supporters say that's exactly how she will unify the government, by making the big calls on things like migration and trade. But the memo warns that micromanaging is unsustainable given the size of the Brexit task and warns permanent secretaries may have to intervene.
Politically, the memo matters because it feeds into Shadow Brexit Secretary Keir Starmer's central charge against the Government: that the real reason it is not revealing its Brexit plan is not because it wants to hide it from Brussels, but because it hasn't got one. Still, Remainers are unlikely to see the Labour cavalry ride to their rescue. Starmer is understood to have signed off a key section of John McDonnell's speech today, in which (as the Express reports) he will say: "We must not try to re-fight the referendum or push for a second vote and if Article 50 needs to be triggered in parliament Labour will not seek to block or delay it."
For all Theresa May's focus on Trump, George Osborne told ITV's The Agenda last night that Britain's main attention should be on Europe not the US: "For the first time really the most important decisions over the next few years are going to be about our relationship with Europe, not about our relationship with the United States." He added he believed that "no serious decisions" will be taken in Europe on Brexit "until after there's a new German government next Autumn". There's certainly a mood abroad in Whitehall that May will trigger Article 50 and then wait several months for the EU to sort its position.
In a story guaranteed to give Brexiteers a breakfast blood pressure spike, the FT reveals that the EU's Brexit negotiators are pushing for a draft UK exit deal by mid 2018 as part of a narrow, "divorce-first, trade talks later" negotiating approach. Oh, and the 'Brexit bill" of up to €40bn-€60bn, to compensate for pension liabliities, outstanding loans and unpaid budget commitments. As with any divorce, most parties want 'access to the children' sorted out before the split is final.
The decision of the US President Elect to give his first British political audience to a man who is not even an MP, let alone a Government minister, continues to reverberate. Nigel Farage wasn't very happy on LBC yesterday after the PM's spokeswoman dismissed him magisterially as a "third person" who will not be acting as a go-between for the White House and No.10.
To paraphrase Princess Diana's famous line about Camilla, Theresa May is convinced that she won't be saying 'there were three of us in this marriage', and that if Trump wants a Regan-Thatcher relationship, there's only room for two of them.
The UKIP leader lashed out at May's "ghastly apparatchiks", yet he has no problem with breaking bread (or rather cutting steaks) with Trump's highly controversial 'chief strategist' Steve Bannon. Our Owen Bennett is a Farage expert (he's got a book out, you know) and has remembered he once described Bannon as "my sort of chap".
Bannon has been accused of anti-semitism and domestic violence, and his Breitbart news site is lauded by white supremacists. Just a few Breitbart US headlines underscore its approach: "Birth control makes women unattractive and crazy", "Political correctness protects Muslim rape culture" and so on. Melanie Phillips defends Breitbart for exposing "Islamist violence and intimidation".
Rachel Sylvester in the Times is scathing that Farage has become "the de facto foreign secretary", stepping into a gaping hole left by Boris and May. "Since taking over in July, the foreign secretary has inspired mistrust among senior Whitehall officials who fear he is acting like a boy in a man's job. The real problem. though, is that the prime minister treats the man appointed to represent Britain abroad as a fool."
The hot news Stateside is that Rudy Giuliani is the Trump camp's favoured pick for the post of Secretary of State. That will reassure many foreign capitals worried about the alternatives, as will Barack Obama's arrival in Germany today with a strong hint that Trump will not tear up Nato's basic rules. Ahead of his meeting with Angela Merkel, Obama described her as "probably...my closest international partner these eight years". That would have made David Cameron wince (all those hotdogs at the basketball really were just photocalls).
Some will be worried by Putin's account of his phone call with the President Elect last night, in which he said "US-Russian ties are in extremely unsatisfactory condition" and the pair agreed on "non-interference in each other's internal affairs". Given that Russia views Ukraine as an 'internal affair', the fear in the EU as much as London may be that Trump will back off sanctions.
Yet Obama's soothing words, that Trump had told him he wanted a "strong and robust Nato relationship", may make the Baltic states a little less uneasy. The message to Giuliani and Trump from the UK seems to be that they agree Europe should do more to fund its Nato commitments (Fallon and Boris have both suggested this, as did former Nato chief Anders Fogh Rasmussen). Perhaps that will calm things further.
Still, Alastair Campbell on ITV's Agenda last night suggested that a bigger realpolitik would kick in for Trump at some point: that Brexit makes the UK less significant in economic terms at least. "I actually think us coming out of the European Union will make us less interesting to Trump. In the end, if he is a pragmatist, if he is actually is going to sort of try to do the job properly, he's going to look where power is." As Obama suggests, on the economy at least, that power is in Berlin, not so much London.
Speaking of realpolitik, the Telegraph has a story that senior Government ministers including Fallon and Fox are pushing for arms sales to Saudi not to be curtailed by recent controversies.
BECAUSE YOU'VE READ THIS FAR…
In an email to party members last night, Jeremy Corbyn said that "Last week's Presidential election result was a global wake up call…people are right to be angry". That didn't go down too well with Progress chief Richard Angell who said "If you could at least look like you are not enjoying a Donald Trump victory that would be great."
But Corbyn is in many ways echoing what Bernie Sanders has been warning about for the past two years. This morning, Sanders told Today that the Democrats' real issue was the Clintons taking huge cheques from banks and others rather than taking on the billionaires.
With the stock markets continuing to enjoy a 'Trump Hump' on the back of his plans for a fiscal stimulus, the irony remains that the Donald's infrastructure plans look like a Corbyn-McDonnell dream (though Trump's £500bn figure is just over double the Labour figure, in a country many times bigger). McDonnell's big speech on Brexit is timed ahead of the Autumn Statement to warn Philip Hammond to end not just postpone austerity, to reverse benefit cuts and to pump more funds to the NHS and social care.
Yet as the route for HS2's northern link is confirmed, maybe the political cross-dressing on infrastructure is more extensive than we thought. The FT has a story that the Chancellor is "very, very interested" in raising billions in new "infrastructure bonds", and the plan could be unveiled as early as next week. National Savings could offer them to private investors and a new Infrastructure Bank too. Civil servants aren't keen, and some in industry think it's all about re-branding, but it does sound very much like Ken Livingstone's 1999 plans (scotched by Gordon Brown) to issue bonds to raise cash for the Tube.
Inflation figures are out this morning and some analysts are predicting that prices could rise by up to 3% by the end of this year and won't drop until 2018 at the earliest. If wages fail to keep up, that means a real squeeze on incomes.
After the Marmite scare and Toblerone con, is bacon next? Mike Coupe, the chief exec of Sainsbury's was on Today's business section in the early hours to suggest that "slicing bacon thinner…is a good thing". Are bacon packs now being redesigned to include the same number of rashers, but just thinner? I've heard of Government's 'salami-slicing' their budgets, but that really would be a new one.
If you're reading this on the web, sign-up HERE to get the WaughZone delivered to your inbox.
Got something you want to share? Please send any stories/tips/quotes/pix/plugs/gossip to Paul Waugh (paul.waugh@huffingtonpost.com), Ned Simons (ned.simons@huffingtonpost.com), Martha Gill (martha.gill@huffingtonpost.com), Aubrey Allegretti (aubrey.allegretti@huffingtonpost.com) and Owen Bennett (owen.bennett@huffingtonpost.com)
Related