The five things you need to know on Friday, November 18…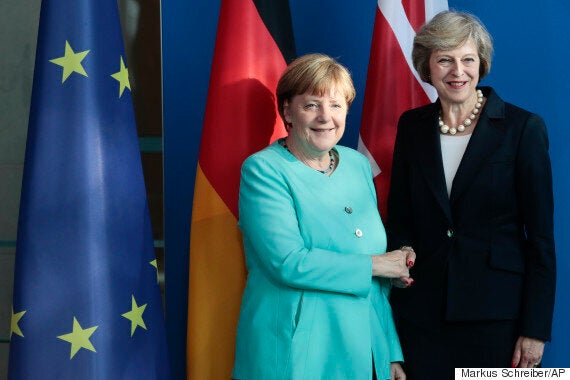 Senior European leaders today gather for the first time since Donald Trump's election, and meet one final time with Barack Obama. Yet for the UK, the key meeting in Berlin will be a one-on-one session between Theresa May and Germany's Angela Merkel. And the FT has a timely interview which underscores just how the Germans will play hardball over Brexit.
Finance minister Wolfgang Schauble tells the paper Britain's financial commitments will "last beyond the exit" (even to 2030) and that it will not benefit from any rebates. He underlined Merkel's point that you can't curb freedom of movement and remain in the single market (her remarks earlier this week were about benefit curbs, rather than work restrictions). Ominously, Schauble added that the UK should be prepared for financial services to abandon London and move to Frankfurt. Oh, and for good measure, he warned we won't be allowed to undercut the EU by abandoning international tax rules.
None of that will please the Brexiteers, some of whom see the UK as a Singapore-type, buccaneering island economy that will attract more investment after Brexit. What Merkel tells May today, behind closed doors (there's no press conference) could well shape our entire approach. No wonder the clamour for a 'transitional' deal is growing.
In Parliament's The House magazine, William Hague worries about Whitehall's 'bandwidth' being taken up by too much Brexit work. Former Cabinet secretary Lord McDonnell adds that the civil service is not prepared - but it will be.
As for Nigel Farage, my colleague Ned Simons reports that Tory 1922 Committee chairman Graham Brady has revealed that he has no problem with the UKIP leader getting a peerage. And thinks it may be time for Douglas Carswell to be welcomed back into the fold. Will Theresa agree?
Next week's Autumn Statement is all but signed-off by now, but that hasn't stopped some late heavy lobbying. Chris Hopson, the head of 'NHS Providers', warns today that the health service needs more money than the £8bn previously demanded by NHS chiefs and agreed by ministers. The reason is higher than expected demand and deep cuts to social care. Nine former Health Secretaries say more cash is also needed for mental health provision.
Grant Shapp's British Infrastructure Group (BIG) of MPs is demanding that air passenger duty be slashed in half and eventually scrapped altogther. But some MPs will strongly resist cuts in aviation taxes. Quietly and with little fanfare, the UK yesterday ratified the Paris climate change treaty (Boris Johnson signed it formally, making us the 11th country to do so).
More widely, several papers have more details on the FT's story earlier this week that No10 wants more Treasury help for the 'Just About Managing' classes, (such a shame there isn't a senior Treasury minister called James, we could then call them the Jim-Jams…OK, I'll get my coat). The Times says that even as late as this week Downing Street has been demanding more moves to help those earning between £18,000 to £24,000, a group that struggles to make ends meet but does not qualify for much government aid.
Nick Watt on Newsnight last night reported that the Chancellor still 'aspires' to achieve Osborne's ambition of a surplus by 2020. Is that anything other than window dressing, given the £100bn 'Brexit black hole' the FT talks of?
The Times' Lucy Fisher had a lovely scoop yesterday that a leaked transcript of Donald Trump's phone conversation with Theresa May after his victory. No10 refused to deny that the president-elect had told the PM: "If you travel to the US you should let me know." That hardly sounded like a 'special relationship', though it may just be a reflection of the folksy style Trump uses.
Lots of papers follow up the story today and no wonder. May was 10th in line to get on the phone to Trump, and the call lasted just 10 minutes. Yesterday, GMB presenter Piers Morgan revealed he'd talked to Trump - for 15 minutes.
On the vexed issue of globalisation and car jobs, Trump has been caught out once more for being economical with the truth. Ross Perot famously once warned of 'that great sucking sound' of US manufacturing jobs going south, thanks to NAFTA. During the Presidential campaign, Trump warned Ford he would slap huge tariffs on them if they closed a car plant and moved it to Mexico.
Yesterday, in yet more Twitter delights, Trump claimed he had ensured Ford would not be moving its Kentucky factory (which makes Ford Lincoln cars) to Mexico. But a Ford spokesman says there were never any plans to shut the Kentucky factory. And the firm IS going ahead with a plan to move production of the Ford Focus to Mexico, its CEO Mark Fields told Reuters. Tricky business, cars. Maybe Trump should ask Greg Clark for some Nissan advice.
As for foreign policy, Lithuania's Foreign Minister Linas Linkevicius has warned that Russian President Vladimir Putin may test Nato in the weeks before Trump becomes president, saying he is "very afraid" for the Baltics.
BECAUSE YOU'VE READ THIS FAR…
4) MOVIE-ING THE GOALPOSTS
Most Labour MPs are proud of the party's campaigns to reverse cuts to sickness and disability benefits, building alliances even with former enemies like Iain Duncan Smith ahead of the Autumn Statement. In a symbolic vote yesterday, the Commons backed by 127 votes to nil a motion to stop the planned cuts to employment support allowance (ESA) and universal credit, with several Tories joining in.
But not all Labour MPs are enamoured of the tactics used by their leadership. Neil Coyle has had a pop at Jeremy Corbyn for urging all his MPs and the public to go and see Ken Loach's movie 'I, Daniel Blake'. He tells The Sun: "I find the idea of asking people getting £65 a week to give Odeon £10 to watch a film about how badly they're being treated a little worrying as an election strategy."
Another Labour MP hit out: "I'm not sure Labour MPs descending on cinemas to watch a film armed with leaflets is the most appropriate response to the gut-wrenching poverty and inequality we see in our case work." Still, Corbyn, John McDonnell, Debbie Abrahams, Margaret Greenwood and Rebecca Long-Bailey all turned up to the special screenings last night.
Meanwhile, Diane Abbott has told PoliticsHome just who is Labour's new shadow immigration minister: herself. The post has been mysteriously unfilled for some time (indeed frontbencher Andrew Gwynne admitted on BBC Daily Politics he was 'not aware' who held the job). But Abbott's office have ended the confusion: "Diane will be covering the role. It's an issue she cares deeply about."
Throughout November, HuffPost UK has been running our 'Building Modern Men' series, taking a close look at men's mental health and the pressures that lead to high suicide rates. Our 'Boys Do Cry' video (watch it HERE) has had a fantastic reception.
Today, Tory MP Scott Mann writes for us and explains how he almost drowned this summer because he was afraid to admit he couldn't swim. He was rescued by fellow MP Johnny Mercer. "I hid from my fears but there is no need now, we are modern men after all," he writes. Read Scott's blog HERE, it will give you a whole new take on the phrase 'Man up!'
A hundred years ago, on the final day of the Battle of the Somme, men were facing their fears in an entirely different way. A million soldiers were injured and a quarter of a million dead or missing. Few people are marking this final day centenary, but former Para and now Labour MP Dan Jarvis has blogged for HuffPost HERE. He asks whether social media, and the sharing of graphic war photos and footage, will stop another Somme from happening again.
Our latest Commons People podcast is out. Click HERE to listen to us chew the fat on Brexit, Trump, Corbyn and May. Oh, and there's the usual quiz.
If you're reading this on the web, sign-up HERE to get the WaughZone delivered to your inbox.
Got something you want to share? Please send any stories/tips/quotes/pix/plugs/gossip to Paul Waugh (paul.waugh@huffingtonpost.com), Ned Simons (ned.simons@huffingtonpost.com), Martha Gill (martha.gill@huffingtonpost.com) and Owen Bennett (owen.bennett@huffingtonpost.com)
Related