The five things you need to know on Tuesday, December 6…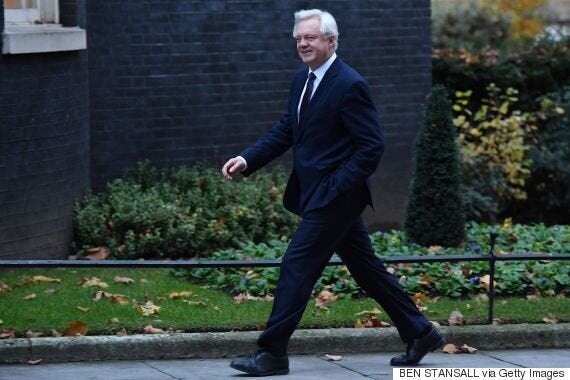 1) ALL'S WELL THAT AMENDS WELL
The looming prospect of a possible defeat on a Labour motion on Brexit is causing some consternation in some Government circles. Tomorrow's opposition day motion has been craftily worded to urge Theresa May to 'commit to publishing the Government's plan for leaving the EU before Article 50 is invoked'. It also agrees there should be 'no disclosure of material that could reasonably be judged to damage the UK in any negotiations'.
Anna Soubry reckons that up to 40 Tory MPs are ready to back the motion. There is undoubtedly a hardcore of Tory Remainers who like the idea, but there's also some Leavers who want May to be more straight with Parliament. And while the cat is away (on a tour of the Gulf states), the backbench mice are at play. David Davis, who was Major's whip on Maastricht, will lead for the Government tomorrow. Labour is set to impose a three-line whip, so it's game on.
There's talk of a Government amendment that could try to water down the wording (maybe instead of 'plan' it could be 'principles'?). But with the PM and some ministers abroad, the Opposition suspects it has the numbers for a defeat. Of course, even if the motion is passed, it is non-binding and may be shrugged off by No10. Yet efficient management of the Tory backbenches is going to be crucial in coming years, and May does not want to repeat some of Cameron's errors.
We in the media, like the City and the public, have been feeding off scraps of information from ministers on what Brexit may look like. Liam Fox yesterday met Norway's foreign minister as he published a statement starting the process for WTO repatriation (though it will 'replicate' current EU schedules until a later date). DD and Philip Hammond promised City bosses a 'smooth and orderly' Brexit yesterday, the FT reports. May herself, asked about possible EU contributions, said in the Gulf that the UK would not be a "supplicant into the EU".
Charles Dunstone, CarphoneWarehouse billionaire, Remainer and pal of Dave and George, told the Standard last night: "What I feel about Brexit is that it's a little bit like we've jumped off a 100-storey building and have just passed the 50th floor and we're saying, 'Actually this isn't so absolutely terrible' — but we haven't hit the pavement yet." That's exactly how many Osborne-ites, and many Labour MPs, feel.
Michel Barnier, the EU's Brexit negotiator, has his first press conference on the subject this morning. Let's see if he speaks French. Or if he trots out anything more than the tired 'no negotiation without notification' mantra.
UKIP just can't keep out of the news. On Sky, Nigel Farage hit out at the media class for mocking Ukip - as he stood in front of a party sign mis-spelling the constituency it is trying to win in a by-election. Yes, Sleaford and North Hykeham (or 'Hykenham' as Kippers call it) takes place on Thursday.
Still, Farage would have been more pleased that Time magazine shortlisted him for its Man of the Year cover (though I'm just guessing another Brexit-plus-plus character may win that prize). Farage's pal and donor Arron Banks, fresh from suggesting Austrians had seen enough immigrant 'rape and murder' to elect a right-wing President, indulged in a bit of mansplaining to Classics don Mary Beard last night. Apparently Rome fell because of illegal immigrants, Banks said. He knew because he'd been taught that in school.
As for typos, the Government had its own yesterday. Its press notice of a written ministerial statement on the need to get ethnic communities to speak more English…misspelled the word 'integration'.
Ruth Davidson last night warned UKIP against "rubbing Europe's noses" in the Brexit vote. But she also had a line that sounded like a breach in the new truce of not taking the Michael out of Boris (the Times reports May met Boris recently to reassure him, after Hammond's rugby scrum quip): "Putting journalists in actual charge of stuff is something of a gamble…And that is not a comment meant to fuel the media obsession with my relationship with the foreign secretary." Oh, no, Ma'am, definitely not.
Nigel Farage's hopes of a peerage may have had a setback, as the Lords last night voted to cut their numbers, not increase them. A select committee will be created, but just how the Government responds is another matter entirely. Still, the debate was enlivened by Betty Boothroyd laying into Cameron's 'crony' peerages. "The repeated abuse of Prime Ministers' powers of privilege is as plain as a pikestaff!' she declared.
So, at least one snap election is on its way. Len McCluskey looks set to do the deed and quit as the leader of Britain's biggest trade union, Unite. PolHome has the scoop that Len is set to announce his early resignation, as part of a bid to get re-elected for one final term. He had been due to retire in 2018 but under union rules couldn't force an early election without resigning (or dying).
Unite's executive committee is meeting in London this week and McCluskey informed it of his plans last night. An election is the chance for his 'moderate' critics to finally show that they have the numbers to take him on. And with Unite having key roles on Labour's NEC, and Len as a crucial ally of Jeremy Corbyn, the stakes are high. Ed Balls told me last week that defeat for McCluskey would 'definitely' help Labour.
Meanwhile, Momentum, the grassroots outfit that drove Corbyn's victories, has descended into yet more infighting. The Guardian picks up a blog by shadow ministerial aide Laura Murray (daughter of Stop the War veteran and Corbyn friend Andrew Murray), attacking the 'vocal, disruptive and overbearing minority' of Alliance of Workers Liberty 'Trotskyists' who have demanded more direct democracy in Momentum. She stood up for Jon Lansman, a longstanding ally of Corbyn and John McDonnell, who is accused of being 'rightwing' or 'alt-Stalinist'. Yes, you read that right: 'alt-Stalinist'. The People's Front of Judea is alive and well and using 2016 terms.
BECAUSE YOU'VE READ THIS FAR…
4) TOUCHING THE THIRD RAIL
As if the flaccidity of Brexit were not enough, today we have talk of 'soft' and 'hard integration' on the railways. Chris Grayling has unveiled plans to force state-owned Network Rail to devolve some responsibility for track maintenance to private train companies. Trainspotting wonks calls this 'soft integration', as opposed to the harder form in Switzerland and Japan, where one entity runs both track and trains.
Depending on your view, the Transport Secretary's announcement is either the biggest shake-up since the creation in 1996 (in the dying days of the Major Government) of the ill-starred Railtrack, or it's a tweak that involves getting a few people from public and private sectors to talk to each other more regularly. Grayling is in no hurry though and his phased approach means change will only come when rail franchises come up for renewal every seven years. And not everyone is happy. The Editor of Rail News told the BBC at the weekend that "unless this process is handled very carefully, I fear a return to the days when we saw a number of high profile crashes like Hatfield and Ladbroke Grove."
Rail travel has shot up the political agenda in recent years. We have more above-inflation fares due to kick in in January, and a series of Southern Rail strikes started today with the irresistible force of a hardline union pitted against the immovable object of a private rail firm. Passengers, again, are the losers. Grayling told the Today prog the strikes were "politically motivated" but a matter for the union and the company.
The Transport Secretary will confirm roll-out of Oyster-style cards across non-London train firms, but it's not clear that will ease the pain for many facing higher prices and crammed services. Despite polls showing public backing for re-nationalisation, it's even more unclear if commuter anger will ever translate into votes for Labour - and don't forget rail is one of Corbyn's few attack lines to win Tory switchers in the south and midlands.
The Government's careful response to the Dame Carol Black review on benefits and obesity and addiction yesterday was notable. When David Cameron commissioned her study, it felt at the time like another attempt to harden the Tory message on welfare, with the strong implication that there were lots of people being fat at the taxpayers' expense.
Despite Cameron's clear preferences, Dame Carol let slip on Desert Island Discs earlier this year that she didn't think removing benefits from the obese would be helpful in getting them into work and would in fact be counterproductive. And yesterday's report was at pains to say that while pilot schemes should compel claimants to discuss their weight with doctors, it was silent on the issue of sanctions or penalties if people failed to turn up for such 'discussions'.
Normally, a Government with an eye for another headline of welfare crackdowns would have pounced, pointing out that failing to meet obligations leads to consequences. But yesterday first No10 sources, then the DWP and then finally the PM's spokesman all refused to go down that track: "Withdrawing benefits from obese people is not under consideration".
Proof that May doesn't want to create fresh rows ahead of a snap election? Or proof that she just wants a different, non-nannying tone on health to Cameron (though the sugar tax was confirmed yesterday)? Or that Damian Green doesn't want his less harsh language on welfare upended?
If you're reading this on the web, sign-up HERE to get the WaughZone delivered to your inbox.
Got something you want to share? Please send any stories/tips/quotes/pix/plugs/gossip to Paul Waugh (paul.waugh@huffingtonpost.com), Ned Simons (ned.simons@huffingtonpost.com), Martha Gill (martha.gill@huffingtonpost.com) and Owen Bennett (owen.bennett@huffingtonpost.com)
Related