The five things you need to know on Wednesday, December 21…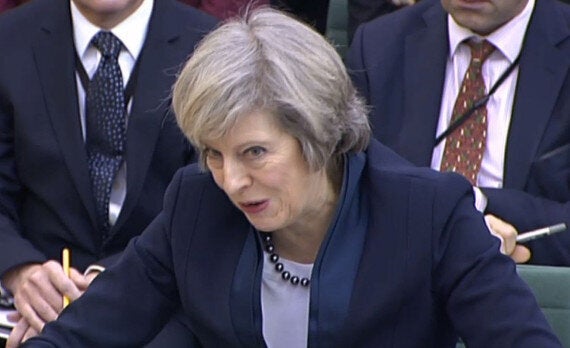 The Commons has risen for Christmas recess (the Lords lingers for one more day, see below), but Theresa May is never under-employed. She is expected to stage an event to underline her commitment to 'a country that works for everyone, not just the privileged few'.
The PM's final Parliamentary appearance of 2016 was at the Liaison Committee yesterday. As with her EU statement on Monday, she tried her damnedest to keep a straight bat on Brexit, giving very little away. She delivered some classic May tautologies like "You will see what we publish when we publish it", "negotiations mean negotiations" and "I gave the answer I gave, chairman".
May hinted at a transitional deal for Brexit, though she stressed it would be an 'implementation' plan, a shrewd way of insisting it would be about delivery not delay. And she said that it would focus on 'practical' matters like preparing business and Whitehall IT systems, invoicing and the like. The hint was enough to make the FT front page, but not enough to boost the pound.
The Mail and Sun preferred her line that 'all options' are open, leaving hanging the hardball threat of a super-hard Brexit if Brussels talks fail to produce an agreement by 2019. 'This will hurt you as much as it'll hurt us' seemed to be the PM's tone. Just as significant though was her confirming for the first time that she wanted to negotiate a trade deal with the EU at the same time as conducting divorce negotiations.
For many of us what was striking was her curious reluctance to guarantee that the UK Parliament would get a vote on the eventual Brexit deal. What David Davis found 'inconceivable' just a few weeks ago, she found strangely conceivable. As the Government's own lawyer has told the High Court too that it was 'very likely' MPs would get a vote and it seems a legal requirement under the 2010 Constitutional Reform and Governance Act, it was odd that the PM didn't want to commit to one.
Note the PM didn't rule out a vote, she just refused to confirm there would be one. Her main point seemed to be that she didn't want Parliament unpicking the referendum result in any way, even though the European Parliament has a veto in the ratification process. It may just be her natural caution, so let's see if her Brexit speech 'early in the New Year' yields any more clarity.
Apart from saying 'FFS' about Boris Johnson, Theresa May doesn't swear much. But she was said to be personally affronted by the now infamous Brexit memo by consultancy firm Deloitte when it was published by the Times last month.
The memo, which claimed Cabinet splits were delaying her Brussels negotiation plan, suggested May was adding to the delay by micro-managing and "drawing in decisions and details to settle matters herself". But has the PM now got her revenge?
The paper reports that she has 'forced' Deloitte to withdraw from bidding for Whitehall contracts for six months. Industry sources say the firm feared a more draconian punishment without such an offer. The company said on Tuesday night that it had "put forward a plan" for working with the government that was intended to "put this matter behind us".
No10 refused to comment on an individual contractor while Government sources deny the 'reset' is intended as a punishment. Sir Jeremy Heywood is said to be unhappy with the six month 'sin bin' idea, but it's perhaps again an indicator of how determined and protective the PM's inner circle is. The Times says some in industry fear a culture where external criticism is punished, with one source adding: "It is government by rage."
3) TARIFF-ICALLY IMPORTANT
You just can't get away from Brexit, especially if you're in business. And today the CBI has a report warning that most firms want to continue tariff-free trade with the EU, and only 'minimal' non-tariff barriers.
The CBI's list of industrial sectors worried about tariffs - from aviation to chemicals, from agriculture to financial services - is extensive, and underlines just how complex life may be after we quit the EU. The FT picks up on the "confusion and uncertainty" firms fear over the post-Brexit regulatory regime as the UK will have to maintain or copy the work of no fewer than 34 European regulators. The costs ould be huge, with aerospace lobby saying it alone would see a £400m bill to copy the European Aviation Safety Agency.
When quizzed about this on Monday, May said only that "we need to look with great care and consideration at the wide range of our relationships with Europe". The PM knows that staying under the auspices of any European regulator would leave Britain under the influence of the European Court of Justice — breaching a Brexit "red line" she's underlined several times in red biro this week.
BECAUSE YOU'VE READ THIS FAR…
The Department for Work and Pensions is never really a quiet corner of government and Frank Field isn't a quiet kinda guy. The Work and Pensions Select Committee chairman has two blasts at the government today, one on pensions and one on the 'bedroom tax'.
His committee says that in the wake of the Sir Philip Green fiasco, ministers should treble the amount the UK pensions regulator can fine employers as a "nuclear deterrent" against another BHS-style disaster.
But Field also chairs the Liverpool City Region Child Poverty and Life Chances Commission and it has a report today urging immediate reform of the 'bedroom tax' after evidence that it has left "parents going hungry to feed their children". It urges a swift response to recent Supreme Court rulings on exemptions from the tax. There has been talk in Whitehall that May could signal another break with the Osborne/IDS era by amending spare room subsidy regulations - but is it just talk?
Today sees the end of an era in the DWP with the final minsterial outing in the Lords for Lord Freud, after six and a half years as an unpaid work and pensions minister. First hired by new Labour's James Purnell, Freud has proved a controversial figure and peers could raise the scrapping of child poverty targets and the news that the Child Poverty Unit has been axed.
But the Upper House is a polite place and Freud is sure to get some tributes as well as brickbats today, not least for swapping private industry for public service. It's not yet clear who May will get to replace him.
5) LORDS' MYSTERIOUS WAYS
Speaking of the Lords, their main business is the second reading of the Health Service Medical Supplies (Costs) Bill, which you can bet Labour will try to amend to get a better deal for patients on drugs rationed by the NHS.
But it's worth reflecting that while there have been 51 Government defeats in the Lords in 2016, its work these days is often more about getting ministers to make concessions without the need for a confrontational vote. The dynamics of the Lords have changed since the 2015 general election, as it's relatively easier for the non-Tory majority to team up with crossbenchers to outgun the Government.
Given worries about an unelected House over-reaching itself, the cannier moments come in tidying up shoddily-drafted bills or when the threat of defeat forces change. Alliances with Tory MPs are invaluable as the recent stalking law vote showed. The Housing Bill and Trade Union Bill changes are among the most significant of the year.
Like the Commons, the Lords will continue to be dominated by Brexit. Its recent committee reports underlined the expertise in the Upper House. And Lords debates can be sparkier than some think. Labour's Shadow leader Angela Smith this week noticed former Chancellor Nigel Lawson "huffs and puffs over there and shakes his head" as she demanded more detail on the withdrawal plan. "I do wonder if those who were the most enthusiastic about Brexit loathe any questions about Brexit," she asked. 2017 will tell us just how much scrutiny either House will get.
This is the final WaughZone of 2016. I'd like to thank you all for reading this year, and for your texts, emails, phone calls and tips that make this early morning madness so worthwhile. Forgive the worst puns, just savour the best ones. See you the other side…
If you're reading this on the web, sign-up HERE to get the WaughZone delivered to your inbox.
Got something you want to share? Please send any stories/tips/quotes/pix/plugs/gossip to Paul Waugh (paul.waugh@huffingtonpost.com), Ned Simons (ned.simons@huffingtonpost.com), Martha Gill (martha.gill@huffingtonpost.com) and Owen Bennett (owen.bennett@huffingtonpost.com)
Popular in the Community