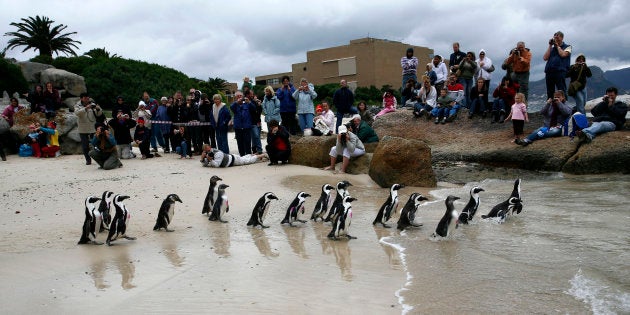 South African wildlife rangers are stepping up efforts to hunt one of two caracal cats blamed for killing around 130 endangered penguins at a tourist beach near Cape Town, officials said on Wednesday.
Following several failed hunts, Cape Town conservation authorities will close Burghers Walk close to Boulders Beach overnight as they lay down padded traps.
"It is something that the animal will trigger when he steps into it and then grab him around the leg," said Arne Purves, a senior officer at the city's environmental management unit.
"It is padded, it is non-lethal and doesn't injure the animal."
The caracal, known as the "rooikat" (red cat) in the local Afrikaans language, is a medium-sized wild cat native to Africa. It can weigh up to 18 kilograms, has long powerful legs, a short tail and pointed ears.
The other caracal was caught in a cage last July and successfully relocated, but the second cat, thought to weigh around eight kilograms, has evaded capture since mid-November.
"What is unusual is that these two cats seem to have become stuck in the area and not moved on. Perhaps it has to do with the fires of 2015 which limited other game and birds," Purves said.
African penguins, also known as Jackass penguins, are the only species that breed on the continent but their numbers have been falling sharply over the years due to a loss of habitat and declining fish stocks.
Experts estimate there are fewer than 21,000 breeding pairs left in the world. Hundreds of those are nesting and breeding on Boulders Beach.