The five things you need to know on Thursday, February 2…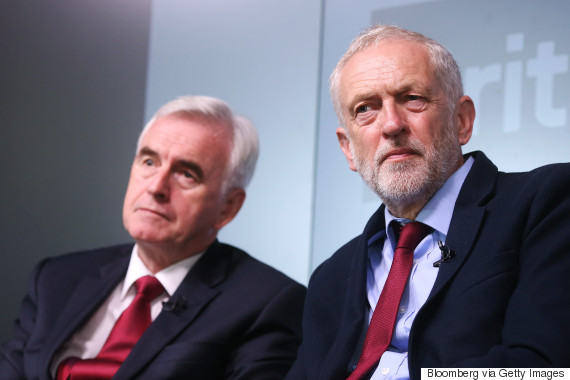 1) MISSED WHIPLASH
We hacks tend to overuse the word 'historic' in our copy, but for once it is apt when describing last night's Commons vote on the Brexit bill. It was only the second reading, the 'in principle' bit of the legislation, but the overwhelming vote of 498 to 114 confirmed that MPs will not be defying the outcome of last year's referendum. With the Bank of England due today to double its growth forecast, you can see why the Brexiteers' tails are up.
For Labour, its split was underlined by 47 MPs - a fifth of its Parliamentary party - defying its three-line whip. You can read the full list of 47 HERE. Yet what was surprising was that 10 shadow frontbenchers remain in place this morning, despite voting against the bill and against their party leader's edict.
We knew something was up yesterday when Jeremy Corbyn's spokesman said decisions on the rebels would be made 'later', without specifying when. And on the Today programme Shadow Chancellor John McDonnnell confirmed that there could be a distinction drawn between Shadow Cabinet rebels and those who merely occupied other frontbench roles. "Parliamentary convention will apply," he said. "If you're in the Shadow Cabinet you will be expected to resign [Rachael Maskell, Jo Stevens and Dawn Butler did just that]…other positions, that will be for the chief whip to report…"
In fact, McDonnell sounded like Corbyn was ready to rewrite Parliamentary convention not confirm it. Normally, a vote against a three-line whip is instant, automatic grounds for a sacking. Especially when three of those MPs who did so are whips themselves (Jeff Smith, Vicky Foxcroft and Thangam Debboanire). Instead, there seems to be some wriggle room - or at the very least a delay - in deciding their fate. McDonnell said that any discipline will be applied "after the Parliamentary process in the Commons", ie Third Reading of the bill next week. If Shadow Business Secretary Clive Lewis does quit then, at the very least Corbyn will need a wider reshuffle.
Alarm bells rang among some in the PLP last night when I tweeted that Diane Abbott had not voted, with her office saying she'd been taken ill about 5pm. The Shadow Home Secretary, who has suffered from severe migraines in the past, is in a London seat that voted Remain. When asked on Today if she'd also been 'sick' of Labour's uncomfortable position on Brexit, McDonnell replied "we are all uncomfortable". I'm told she informed the whips she was ill.
McDonnell also made this bold claim: "We may look divided, but when we get past article 50 our party is capable of uniting - and this Tory party will split apart." There seems no real sign of that, despite George Osborne's passive-aggressive warning yesterday about not putting the economy first. Still, the Times reports that Remainers are keeping their powder dry for amendments insisting EU citizens get guaranteed rights.
Today's White Paper is said to be 'substantial' but for all the charts and graphics let's see if it actually goes beyond the PM's Lancaster House speech. More interesting will be Labour's 'meaningful vote' amendment next week on the final Brexit deal, as this is something ministers may actually concede, depending on what meaningful means. As for the customs union, trade minister Lord Price has suggested we really will be making a clean break.
2) BELT LOOSENER
We will all get a bit of a Brexit breather next week as the Government finally publishes its Housing White Paper. The Sun has a spread on the guts of the Sajid Javid proposals which it says will come on Tuesday. The FT too says the White Paper is likely to include plans to housing density, relaxed rules on heights of buildings in urban areas.
So-called 'right to light' rules could be watered down, but Tory backbenchers may well revolt over plans to reform current Green Belt rules. Four million acres of protected land could be opened up
Ministers are likely to set out plans for a swath of new prefabricated housing, using modular, or off-site, construction in a bid to speed up housebuilding volumes.
The Tories have promised to build 1m new homes by May 2020, but Labour's John Healey last week revealed that the target was being put back to several months. One thing to watch for will be just how tough Javid will be with councils, including Tory councils, who fail to increase home-building. Tory MP Andrew Mitchell has been on the warpath. And HuffPost reported this month that the £4.8bn New Homes Bonus fund could be used as "a stick to beat" councils with if they do not allocate more land for houses.
3) ATOMISED INDIVIDUAL
Labour's uneasy coalition of the metropolitan middle class and its working class heartlands is facing a big test in the Copeland and Stoke-on-Trent by-elections. And one campaign issue that symbolises Jeremy Corbyn's balancing act is nuclear power.
Now, having spent weeks side-stepping it, he has given his firm support to plans for the new Moorside development in Copeland. "I back the proposed new power station at Moorside which will bring thousands of skilled jobs," he told HuffPostUK (and the local paper too). But he had a caveat, adding he hopes the Japanese-backed investors "can provide the necessary assurances on the strike price and value for money".
Almost as divisive for Labour has been the issue of Heathrow, with many sharing John McDonnell and Ed Miliband's doubts about a third runway, but unions and others also keen on the jobs that aviation brings. Today, Transport Secretary Chris Grayling unveils a four-month consultation and I reckon the biggest challenge will be meeting air quality pledges. On the Today prog, Grayling said 'this is a real issue' and Defra would 'shortly' publish plans to tackle diesel cars 'to the next level'. I understand there's been a big battle with the Treasury on this though.
The Sun picks up on former Cameron adviser Julian Glover telling a Radio 4 Today documentary that Cameron "saw air pollution as an annoyance, as a bit of an enemy". But he added after the Government were taken to court by the ClientEarth group "suddenly they saw this as a huge political problem, they had a panic and had a real problem"..[with] Ministers absolutely looking frightened at what an earth they were going to do."
BECAUSE YOU'VE READ THIS FAR…
In case you missed it, here's a bunch of anti-Trump protestors in Brighton singing a rather rude version of that 60s classic Hey Baby.
4) ABUSIVE POWER
The Digital Economy Bill has got little attention so far but its second day of Lords Committee stage today will see the start of something that could escalate. Labour's Baroness Jones, backed by a Lib Dem and helped by the All-Party Parliamentary Group of Anti-Semitism, has tabled two key amendments to crack down on abuse on social media.
Under the plans, Twitter and Facebook would be forced to have "safety responsibilities and must inform the police if they become aware of any threat on its site to physically harm an individual and remove any posts that are deemed to be violent or could incite violence". The abusive trolling of Labour MP Luciana Berger is just one example of why peers want tougher rules.
The Government would also be forced to issue a code of practice about the responsibilities of commercial social media platform providers in dealing with online abuse. There will be no vote today but watch it come back at Report stage if ministers fail to show willing. The rise in anti-semitics attacks reported by the Community Safety Trust today should worry everyone.
As for a different kind of crackdown, the Telegraph's Chris Hope has a scoop that spies and civil servants who leak national security secrets face up to 14 years in jail. In a major overhaul of the Official Secrets Act in the face of the growing threat from Russia, the Law Commission proposals published today will aim to update legislation for the digital age, with one eye on leakers like Ed Snowden.
5) NURSING A GRIEVANCE
A sharp drop in nursing applications and EU students have led to a fall in overall university applications of 5%, new figures show today. Nursing had the biggest fall of any subject, and the Royal College of Nursing says that's all down to the Government axeing the nursing bursary. But there were also falls in older students applying to uni, with a 23% drop in 25-year-olds, suggesting rhetoric about giving people a 'second chance' at higher education is not matching reality.
The Health Service Journal meanwhile has a corking exclusive that the former head of NHS Digital repeatedly clashed with Theresa May's Home Office over requests to hand over confidential patient data to help trace immigration offenders. "We were supposed to be a safe haven for patient data," Kingsley Manning says.
On the health service more widely, May yesterday held a cross-party meeting at No.10 with Lib Dem Norman Lamb and others arguing for a Convention on NHS and Social Care funding. The Sun points out the PM's newly appointed adviser James Kent will sit down for regular meetings with Tory, Labour and Lib Dem MPs after the PM gave talks the green light. One to watch.
If you're reading this on the web, sign-up HERE to get the WaughZone delivered to your inbox.
Got something you want to share? Please send any stories/tips/quotes/pix/plugs/gossip to Paul Waugh (paul.waugh@huffingtonpost.com), Ned Simons (ned.simons@huffingtonpost.com), Martha Gill (martha.gill@huffingtonpost.com) and Owen Bennett (owen.bennett@huffingtonpost.com)