The five things you need to know on Friday, March 17…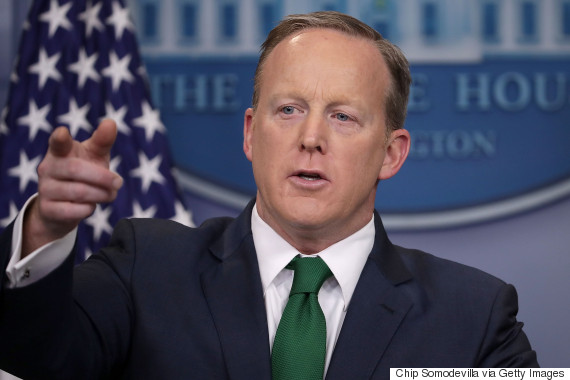 This morning's Waugh Zone is by Ned Simons, so is 'utterly ridiculous and should be ignored'. Paul is away.
1) SPOOK REBUKE
GCHQ has publicly denied a suggestion by the White House it spied on Donald Trump at the request of Barack Obama as "utterly ridiculous", "nonsense" and something that "should be ignored". The claim was first made by Fox News pundit Judge Andrew Napolitano. It was then repeated by White House press secretary Sean Spicer as he attempted to justify Trump's assertion that Obama tapped his phones at Trump Tower last year - despite intelligence officials saying there's no evidence that ever happened. It is highly unusual for GCHQ to comment in this way. But as the spy agency's director of communications added on Twitter: "Well it is a very unusual allegation." One of the five eyes is certainly narrowed this morning.
In the White House briefing room yesterday, Spicer was visibly flustered as reporters pressed him on Trump's charges, given that there is bipartisan consensus among intelligence leaders that there is no basis for his claims. But the White House spokesman wouldn't accept that. Instead, for half an hour, he berated reporters for refusing to "cover the possibility" that Obama had spied on Trump. At one point, apparently annoyed that the media isn't looking for signs of Obama's espionage, he shouted, "Where is your passion?"
Crazier things have happened however, remember as Kellyanne Conway warned us, microwaves have ears.
2) REFERENDUMS FOREVER
If there was ever a time when Britain was not holding a referendum, then I don't want to know about it. Sounds dull. Theresa May yesterday firmly insisted she would not allow Nicola Sturgeon to hold a second Scottish independence vote until she had got this whole Brexit thing out of the way. The Scottish first minister wants to hold it in 2018 or 2019. But the prime minister told ITV's Robert Peston that "now is not the time". Pressed on when the time would be right, the PM carefully avoided answering.
Sturgeon has condemned the move as "undemocratic". And the SNP's deputy first minister John Swinney told BBC Radio 4's Today programme this morning he believed May's position was "utterly unsustainable" and should change her mind like she did on the Budget. Asked repeatedly if the Scottish government would hold an advisory referendum without Westminster's agreement, Swinney four times refused to answer yes or no. He also did not rule out holding a third referendum should the second one not end in independence. This is of course all timed nicely to coincide with the start of the SNP's conference in Aberdeen, which will kick off with a speech from Angus Robertson. The prime minister meanwhile, will be delivering a speech at the Conservative spring forum in Cardiff.
English-Scottish relations were probably not helped a great deal by the BBC Question Time audience member in Bognor Regis, West Sussex, asking SNP MP Joanna Cherry whether the currency of an independent Scotland would be the "groat". Although Cherry did not say what it would be.
3) CAMERON DENIES CONSERVATIVE CAMPAIGN CON
David Cameron has played down the significance of Conservative breaches of election spending rules which have left the party facing a record £70,000 fine. The former prime minister said undeclared spending in the 2015 general election amounted to only around 0.6% of the Tories' total budget for the campaign, and that the party had kept well within the permitted spending limit. Former Tory treasurer Simon Day is facing a police investigation after an Electoral Commission report found "numerous failures" in Conservative reporting of expenses for the general election and three by-elections in 2014. "In terms of a party being fined, this is not the first time this has happened. Other parties have been fined," he told a charity event in London. Tory chairman Patrick McLoughlin took a different approach to questions over party electioneering, and decided to try and knock Sky News' Darren McCaffrey's phone out of his hand.
BECAUSE YOU'VE READ THIS FAR… Nick Clegg is in a poster for airport maintenance in Las Vegas.
4) PLAN FOR BRITAIN.COM
Theresa May says she has a plan for Brexit Britain. And it has a website (that now actually works after a bit of an awkward false start that in no way was a metaphor for anything). The site tells voters they can use it to "find out about some of the work the government has undertaken to prepare for the UK leaving the EU". Not available on the website is David Davis' assessment of the economic impact of leaving with no trade deal in place - because he hasn't done one.
5) COMMONS PEOPLE
This week on The Huffington Post UK's Commons People podcast, Owen, Paul and I rattle through Brexit, Budget u-turns, student immigration figures, Jeremy Corbyn's PMQs performance and more. There is also a quiz about Scotland which mostly served to prove how painfully English I am. As well as listening online, you can subscribe to on iTunes by clicking here.
If you're reading this on the web, sign-up HERE to get the WaughZone delivered to your inbox.
Got something you want to share? Please send any stories/tips/quotes/pix/plugs/gossip to Paul Waugh (paul.waugh@huffingtonpost.com), Ned Simons (ned.simons@huffingtonpost.com), and Owen Bennett (owen.bennett@huffingtonpost.com)