In a dramatic move that sent the rand plummeting and political temperatures soaring, President Jacob Zuma pulled his Finance Minister Pravin Gordhan back from the first leg of a global roadshow with investors. He instructed that the roadshow be cancelled.
Why did he do it? While the first reports said that a Cabinet reshuffle is imminent, National Treasury officials told Huffington Post South Africa that it had more to do with the Gupta family.
The motive behind Zuma's decision to summons Gordhan back from a global roadshow is likely to lie in the case that Gordhan is bringing which is due before the Pretoria High Court on Tuesday March 28.
Through that case, with the Gupta family at its epicentre, Gordhan wants the courts to set out the limits of his power in relation to the power of banks to close bank accounts.
The case is unprecedented and the minister made this application after facing months of pressure from the family and their 14 companies, which were stripped of their banking privileges and their JSE sponsorships by the four major banks and Sasfin.
The banks have also joined in the application against the Guptas.
Now the president has joined in too.
The president appears to have been angered by the relief sought from Standard Bank, which went much further than that of the other major banks, which supported Gordhan's application.
Standard Bank sought an order protecting itself not only from the interference of the finance minister but also from "...the National Executive of Government, including the President and Members of the Cabinet, acting of their own accord or for and/or on behalf of Cabinet".
In response, one of the Guptas' companies, Sahara Computers, is on Tuesday expected to ask the court to ensure Gordhan represents himself though there is no precedent for this.
This is what's happening in the legal proceedings
We track the legal dealings around that case in the past week to reveal how it is likely to be reason that Gordhan was stopped in his tracks although his trip to the UK and US had been duly authorised by Zuma.
It starts on Thursday March 16, when lawyer Gert van der Merwe, who up until then had been representing 10 of the Gupta-affiliated respondents, was replaced by Stein Scop Attorneys as the lawyers for Sahara Computers. Van der Merwe, a familiar face on television talking about his controversial clients, is still however representing the family as a whole, as well as Oakbay Investments, the family's main business entity.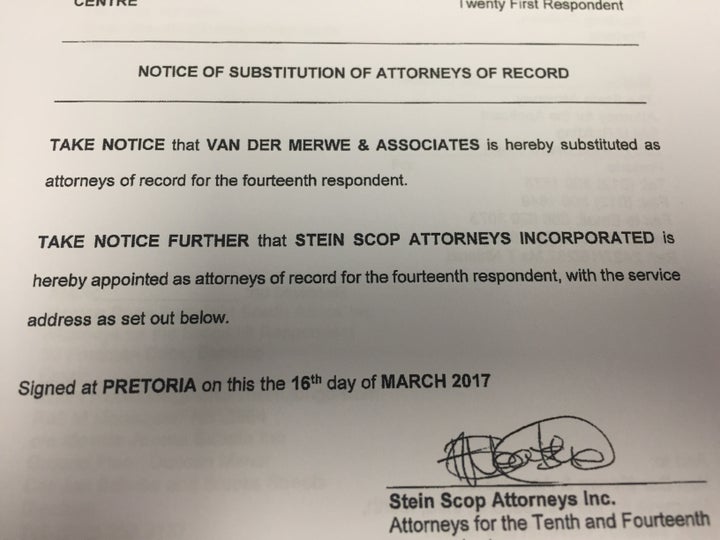 Stein Scop Attorneys, from Melrose Arch in Johannesburg, didn't waste any time and filed a so-called Rule 7 notice on Friday 17 March, the very day after they were appointed by Sahara. This notice disputed the right of the state attorney to represent Gordhan, arguing that the minister did not give proper notice that she was acting for him. Rule 7 — in terms of the uniform rules of court — pertains to the power of attorney. It later becomes clear that they want Gordhan in court.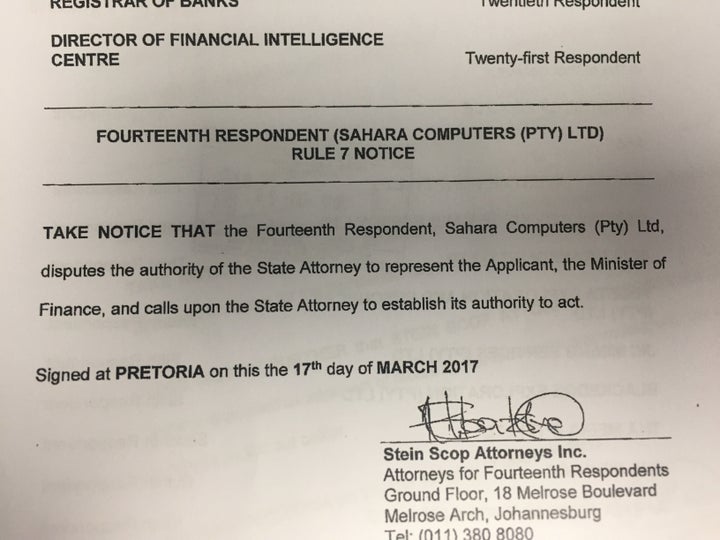 We don't have the correspondence, but on March 22, Stein Scop filed papers giving notice that Sahara intends to file supplementary court papers, as it was now represented by a new legal team.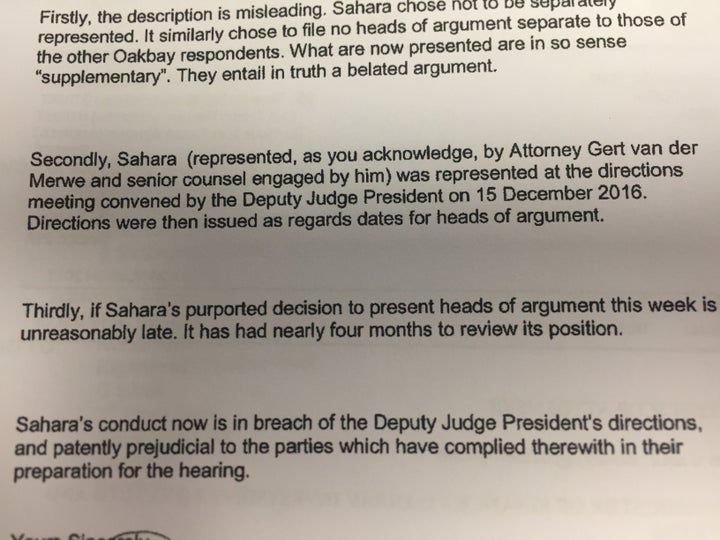 On Friday, 24 March, state attorney Thembilihle Nhlanzi filed papers at the high court disputing the validity of Stein Scop's Rule 7 challenge. But she upped the ante even further: filing a Rule 30 notice, which disputed Sahara's right to file supplementary court papers because the submission of the arguments were "unreasonably late" and not in line with the directives issued by the Deputy Judge President in December 2016.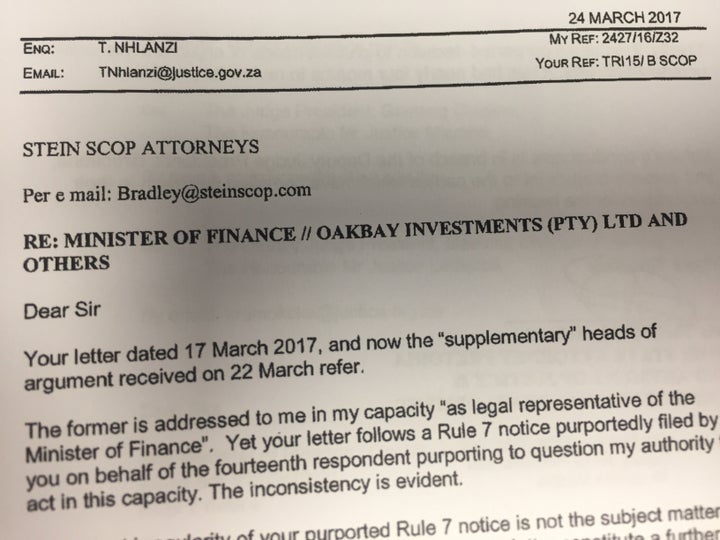 On the same morning (Friday March 24) Gordhan addressed around 200 business people at consulting firm Deloitte's offices in Woodmead, Johannesburg. He spoke about the need to protect the integrity of institutions that enhance democracy and told the audience he will be travelling to Europe to meet with investors and ratings agencies. In an interview later that morning with Huffington Post South Africa, Gordhan was asked about the political risk in challenging the Guptas. He replied: "We're a democracy, we have laws and we are all required to obey those laws . . . if we have to go to court to get clarity on some things, we'll do it."
Later in the day National Treasury sent out a statement providing more details on Gordhan's visit to Europe, where he was due to lead a delegation consisting of Treasury, labour and business. There was no doubt that the plans for the visit was, as in the past, a long time in the making.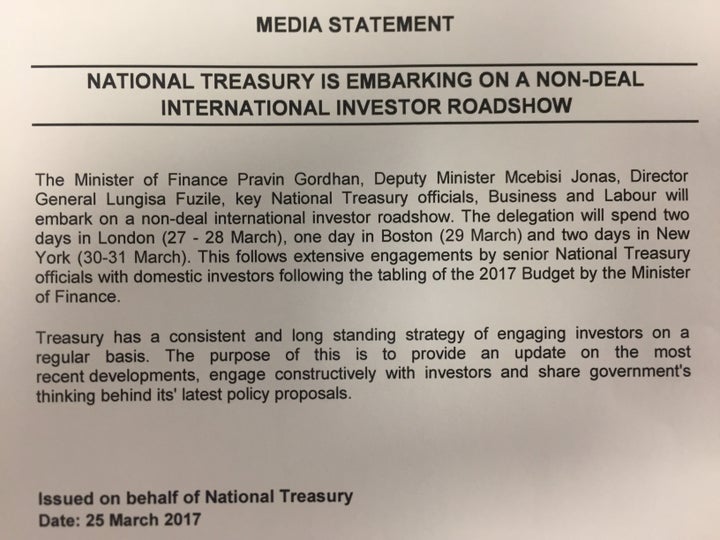 On Saturday, March 25, Stein Scop replied to Nhlanzi, giving the state attorney a deadline of 16:00 on Saturday to indicate whether she would accede to the Rule 7 notice, or whether Stein Scop would be forced to lodge a formal application.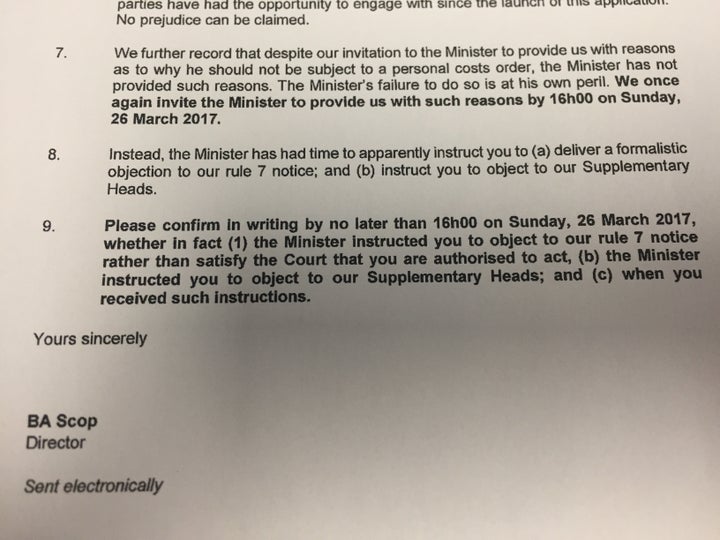 Nhlanzi replied on the same day, rejecting Stein Scop's legal arguments and confirming that she is the instructing attorney representing Gordhan.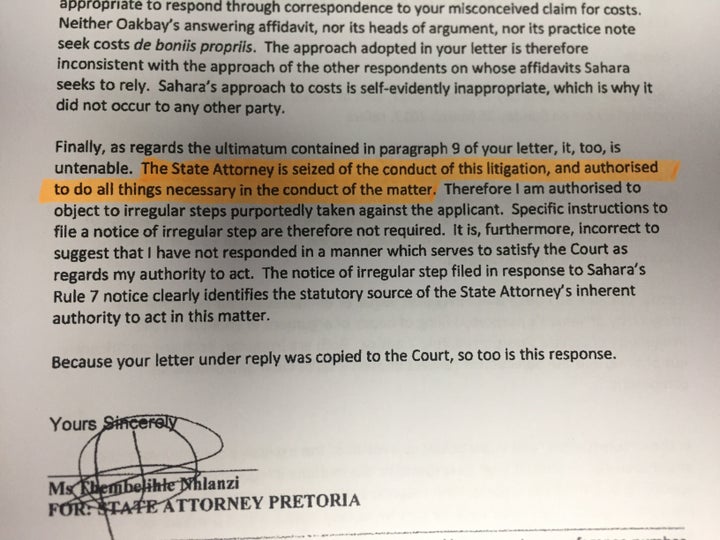 Gordhan left O.R. Tambo International Airport for London on the evening of Sunday March 26. Whenever a minister travels overseas he does so after getting permission from the head of state. Without that, spending on travel is regarded as irregular of fruitless and wasteful. He landed in London at around 08:25 South African time on Monday March 27 — and received a message from President Jacob Zuma saying he must return to South Africa immediately. His deputy, Mcebisi Jonas, who would have travelled to London in the evening, also had his permission to travel rescinded.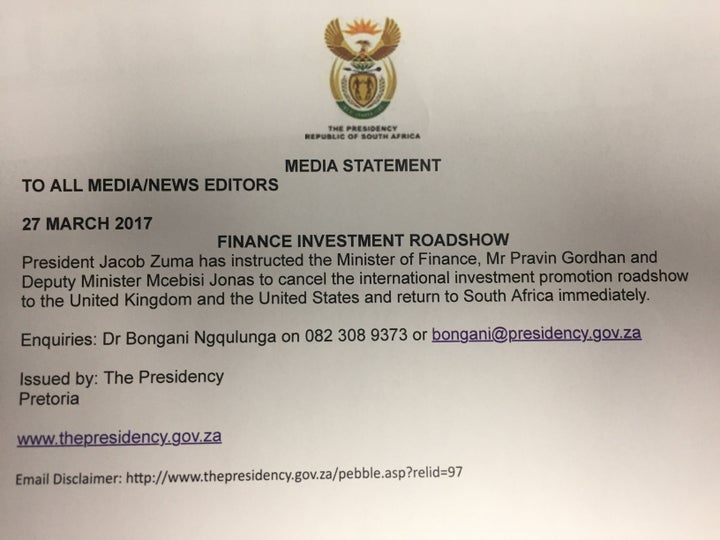 Stein Scop, meanwhile, on Monday March 27 filed Sahara's application in which the company disputes Nhlanzi's status as Gordhan's legal representative. Sahara argues there is no proof that she is authorised to act on Gordhan's behalf. This could be interpreted as a powerplay to get Gordhan into court.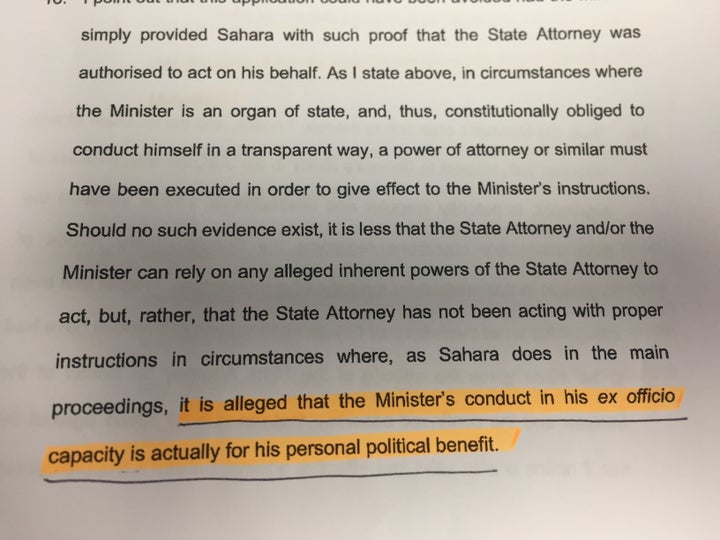 In a further stunning development, Kgosi Lekabe, another state attorney, filed an affidavit on behalf of Zuma on Monday March 27. He asked the court to reject Standard Bank's application, which is to be heard as part of Gordhan's application. Zuma specifically objects to relief sought in Standard Bank's affidavit, filed as "SB1", in which the bank asks the court to order that neither the president nor his Cabinet may interfere in its decision to stop doing business with the Guptas and Oakbay.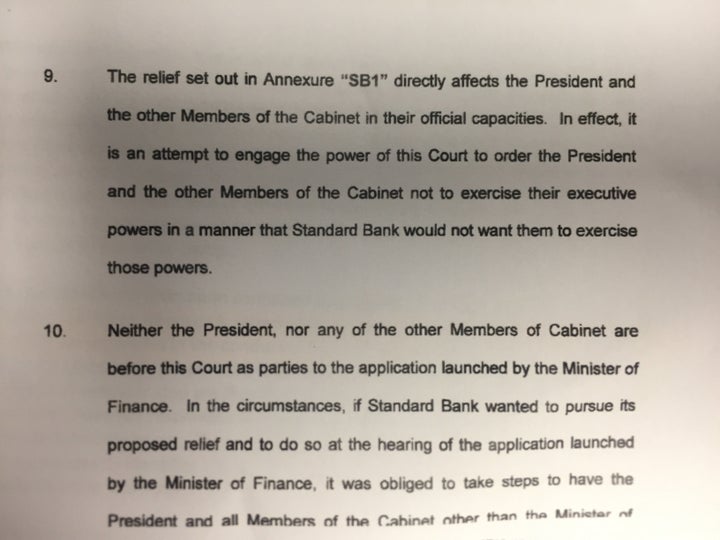 Zuma, Gordhan and the mystery of "Annexure SB1"
An angry Zuma has taken a legal jab at Standard Bank's request that the court makes an order that the president and all members of the Cabinet are not empowered to intervene in its commercial relationship with the Gupta family's main company, Oakbay, and its associated entities.
Zuma wants the court to strike Standard Bank's application from the court roll and to pay the costs of two counsel. Standard Bank's request is contained in an annexure to its court papers marked "SB1".
"Standard Bank should be directed to pay the costs of the president occasioned by its irregular attempt to seek relief against the president in proceedings to which he is not a party..." said Lekabe, for the president.
In its application, Standard Bank details what happened when it revoked the banking facilities of Oakbay and related Gupta family owned companies. "Standard Bank became the subject of a wholesale public campaign, through paid advertisements in the media and pressure from the ANC, SACP, trade unions that referred the account closures to Nedlac and (by) some members of the Cabinet to reconsider and reverse the decision and reinstate the relationships.
"As part of such campaigns, Standard Bank's senior executives were requested to attend a meeting of the NEC of the ANC and meeting of a committee of Cabinet.
"The pressure brought to bear on Standard Bank, in the context described above and at the instance of Oakbay and its associated entities, is unprecedented, and to the best of my knowledge has not been experienced by it or any of the other members of the Standard Bank group, in connection with or arising from a decision to terminate a banker-customer relationship, with any other of its erstwhile customers," says Standard Bank's group general counsel Ian Hamish Scott Sinton in court papers.