With Emmanuel Macron's victory in the final round of the French presidential election Sunday night, France is poised to have a new first lady: Brigitte Trogneux.
She's been a constant presence at the side of Macron, who's called her one of his closest confidantes and an essential part of his success. While headlines have been preoccupied with her and Macron's age difference (she is 64 and he is 39), it's possible she may be France's most involved first lady yet.
She may take on a formal government position
While France does not typically create a role for the president's spouse in the same way the U.S. provides first ladies with office space and staff, Macron ― who takes office this Sunday ― has suggested Trogneux will have a more official capacity.
"If I'm elected — no, sorry, when we are elected — she will be there, with a role and place," Macron told supporters in April, The Local reported.
"She is not going to be behind or hidden or become a tweet," he has also said, according to Forbes. "She will be next to me because she has always been next to me."
As first lady, she told Paris Match last year, Trogneux plans to focus on education and issues affecting young people.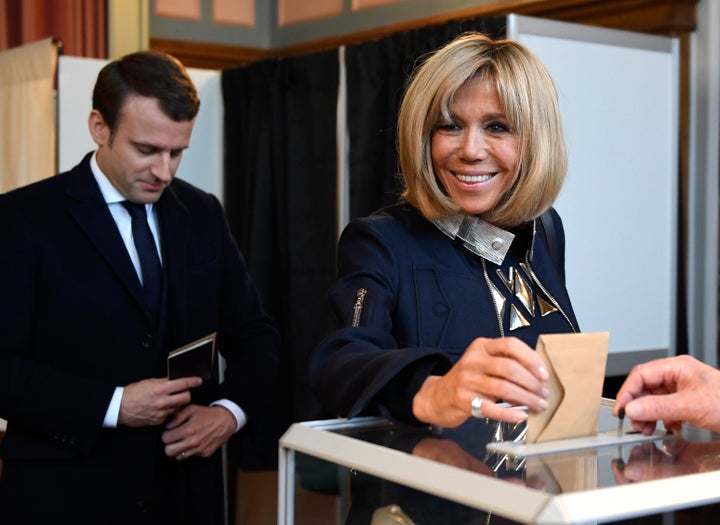 ERIC FEFERBERG via Getty Images
Trogneux casts her ballot at a polling station in Le Touquet, France, on May 7, 2017.
She's challenging sexist, ageist stereotypes
Trogneux is about 24 years older than Macron ― a fact that much of the media can't stop obsessing over, although little fuss is made when older men marry younger women. U.S. President Donald Trump, for example, is also about 24 years older than his wife, Melania.
"If I was 20 years older than my wife, no one would have questioned it being a legitimate relationship," Macron told Le Parisien last month, as translated by The Guardian. "It's only because my wife is 20 years older than me that people say it's not tenable."
But Trogneux hasn't let the barrage of insulting nicknames in the press ― "first grandmother of France," "menopausal Barbie," and so on ― keep her from being a constant presence at Macron's side throughout the campaign. In the face of sexist, ageist gawking at women who are romantically involved with younger men, Trogneux embracing her husband onstage at campaign events feels like an act of defiance.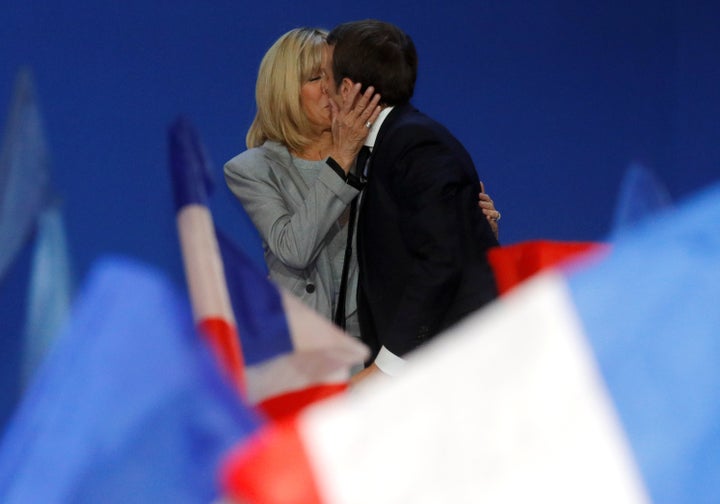 Philippe Wojazer / Reuters
Trogneux kisses Macron before he gives a speech in Paris on April 23, 2017.
She is a former educator
Up until 2015, when she began advising Macron full-time, Trogneux worked as a teacher at Lycee Saint-Louis de Gonzague, a Jesuit high school in Paris.
Before that, she was Macron's high school drama instructor when they met in northern France in 1993. At the time, he was 15 and she was married with three children. Trogneux eventually left her first marriage and married Macron in 2007.
"We wrote, and little by little, I was totally awed by the intellect of this boy," she recalled in a documentary last year. "His culture, his clever, well-formed head. Amazing."
She is also the heiress to a French chocolatier company, the BBC notes.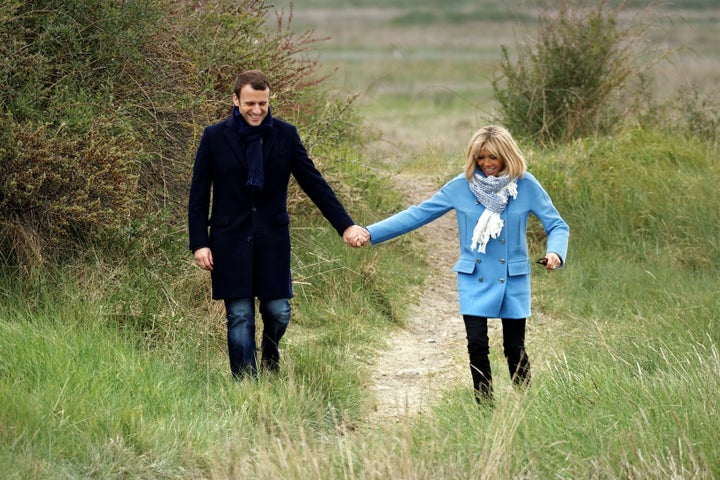 Sylvain Lefevre via Getty Images
Macron and Trogneux pose for a photograph during a campaign visit to meet voters on April 22, 2017, in Le Touquet-Paris-Plage, France.
She's seen as one of Macron's most trusted advisers
"Without her, I wouldn't be me," Macron said of Trogneux after winning the first round of the election in April.
Like the theater coach she once was to Macron in high school, Trogneux was known to advise him on his stage presence during the campaign.
"Your voice is falling, you need to lift your voice," she once told him during a speech rehearsal, The Guardian noted.
She's also credited with encouraging Macron to focus on gender equality issues, the BBC reports. He's promised that half the candidates running in his En Marche party later this year will be women.