The five things you need to know on Friday, May 26…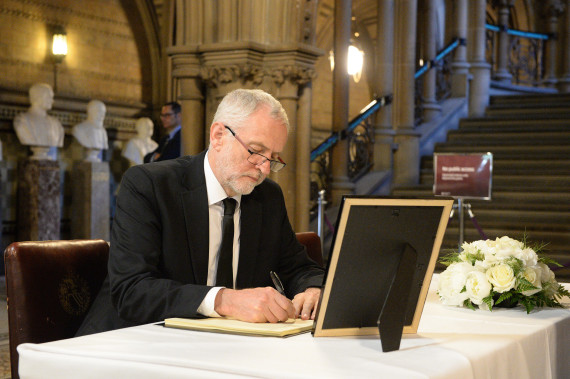 1) WAR, WHAT IS IT GOOD FOR?
Jeremy Corbyn knows he needs to take risks to win this general election. And it is certainly risky to use his first speech since the Manchester bombing to link Britain's foreign policy overseas with terrorism at home.
The Labour leader has long believed that the Iraq and Afghanistan wars have made the UK less safe. He can point to people like ex-MI5 chief Eliza Manningham-Buller and Barack Obama stating that Iraq in particular radicalised a whole generation. Chilcot found Tony Blair had been warned military action risked increasing the terror threat.
Yet while there are many people in various parties who agree with that, there are others who will feel strongly that trying in any way to shift responsibility for terrorism from the jihadis to the UK government is a mistake - especially as parents have yet to bury their dead children. It's worth recalling that 9/11 happened before Iraq, that terror attacks have been unleashed against men, women and children in Stockholm, Berlin, Paris and Brussels, none of whose governments sided with Blair or Bush in 2003.
Corbyn will stress in his speech that he is not excusing the guilt of individual terrorists, but will talk about the need to tackle 'the causes of terrorism' (a strange echo of another Blairism). The Tories had planned another event today but instead put up security minister Ben Wallace to react to the Corbyn speech. He told Radio 4's Today programme: "His timing is incredibly disappointing and crass. To try and make a political statement about it…no amount of excuses or twisted reasoning about foreign policy here or there can be an excuse. These people hate our values." Even the Lib Dems, who made Iraq their political cause celebre, say it's too soon to talk about terrorism.
Labour certainly thinks it is on strong ground to point out May's own record at the Home Office as police numbers were cut by 20,000. Despite criticism by rank and file officers warning of the impact of slashing neighbourhood policing, the Tories have their line agreed. Amber Rudd said last night "it's not about pure numbers on the street", Wallace said today "when you fight counter-terrorism it's not just boots on the ground".
Wallace made the valid point that intelligence agencies had a 20% rise in funding with 2,000 more officers for GCHQ and MI5 (he didn't add those numbers should have risen much faster between 2010 and 2015). But as we learn more of the bomb-making flat in central Manchester, and the year-long planning by Salman Abedi, I was struck yesterday by remarks by former RUSI defence think tank chief Michael Clarke: "There's a lot of evidence that it [Manchester] could have been prevented.".
Labour candidate Jonathan Reynolds yesterday had the Manchester bee symbol tattooed on his arm in memory of the victims. He's blogged for HuffPost on why he did it - and on his mum's shock (then pride) at his gesture. Meanwhile, we report Labour has expelled the Corbyn fan who yelled at the No.10 gates that May was 'a terrorist'. Tina Buckley shares JC's views on much foreign policy, but she was kicked out for backing George Galloway on her Twitter feed.
Corbyn faces his grilling from Andrew Neil on BBC1 tonight at 7pm. Will Neil resist asking about the comparisons and differences between IRA and Islamist terror? Or is it 'too soon'? Let's see.
2) YOU GOTTA POLL WITH IT
Two newly-released polls show the Tory lead has narrowed further. The YouGov/Times poll is the most eye-catching as it is the first one conducted since the bombing. It shows CON 43%(-1), LAB 38%(+3), LDEM 10%(+1), UKIP 4%(+1) - a Tory lead of just five points. A uniform swing would mean the Tory majority would actually fall to just two seats. As ever, we should wait for other polls to see if this is an outlier or a trend, but that higher Labour share has cheered Team Corbyn no end.
A Kantar poll conducted between Thursday and Sunday (before the bombing and the social care U-turn) has Con 42% Lab 34%, LD 9% and UKIP 4%. Labour are up five and the Tories down five. Pollster Matt Singh has spotted that in this poll much of Labour's new support comes from people who didn't vote at all in 2015. That's in keeping with Corbyn's narrative that he is appealing to those previously disillusioned by New Labour, but can he get them to the polling booth?
Many Corbyn supporters (who previously saw pollsters as an Establishment plot) think it's his positive policies and fairer broadcast exposure that is the key. Others say it's the severe backlash at the Tory social care and winter fuel plans. Either way, if the YouGov poll is repeated, the jitters in No10 will start. The hoary old question of whether Governments lose elections or Oppositions win them has looked academic for a long time. Will it remain academic? Normally elections are won and lost over years not weeks, yet May has been PM for just a few months and only really tested recently. As always, it will come down to a gut feeling among voters as to which leader they trust more to be on their side.
Labour will be particularly pleased that the poll gap is narrowing despite them being totally outspent in the campaign. Yesterday's donation figures showed the Tories' City supporters have provided a wall of cash, four times as much as Labour's. The Tories' expensive targeted Google and Facebook ads worked in 2015's closing weeks, will they work again?
3) ONLINE FRONTLINE
With police still fearing terrorists and more explosives are still at large, this weekend will be a particularly nervy one, with troops almost certainly guarding the FA Cup Final and armed police on intercity trains.
Theresa May is chairing a special counter-terrorism session at the G7 summit in Sicily today to try to drum up support for her plans to tackle extremism online. She'll propose a new international forum to explore ways to get tech firms to develop tools to block and remove harmful material. Yvette Cooper says her Home Affairs Committee proposed an escalating series of sanctions, including considerable fines, if companies failed to comply. Meanwhile, the industry warns that removing encryption risks opening everyone's phone to criminals and hackers.
Let's see what fresh body language there is at the G7 today. Emmanuel Macron yesterday literally got the upper hand as he squeezed Trump's fingers in the traditional handshake shot. The new French President also made a point of greeting Angela Merkel before Trump. French officials later said Trump had denied he supported Le Pen in the election. "You were my guy," he told Macron.
The summit continues tomorrow but May is cutting short her G7 trip tonight, ostensibly to oversee the ongoing counter-terror measures back home, but also because it will allow her to focus once more on her election strategy. I suspect she will prioritise things like attending special church services before rejoining the campaign proper on Sunday or Monday.
BECAUSE YOU'VE READ THIS FAR…
Watch Donald Trump barge aside the Montenegro PM to get a front row position at the Nato photocall.
4) SCHOOL SHOUT FOR SUMMER
All the parties will be nervous as the IFS casts its beady eye over their manifestos (and manifesto costings) at a special event today. But the overnight sneak-peek focuses on education policy and it doesn't make for good reading for Theresa May.
May's social care U-turn got all the attention last week but to my mind just as important was her attempt to limit the political damage of schools cuts. But despite being forced to pump an extra £4bn into schools after a huge backlash at the Tory funding fomula plan, the IFS wonks have done the sums and concluded it just ain't enough.
Luke Sibieta pointed out on the BBC that the plans wouldn't keep up with rising pupil numbers, inflation and costs. "Proposals from the Conservatives would lead to a near 3% real terms fall in spending per pupil over the Parliament, taking it back to its 2010 level." Ouch. And he added that while the shift of cash from free school lunches to breakfasts is talked about, "they've been quite unclear in what they've included in the £4bn". Double ouch.
We will find out what other manifesto monsterings the IFS comes up with after 9.30am. I suspect they won't let off any party lightly.
5) TARGET ZONE
There was good news and bad news for the PM yesterday on the stats front. Net migration fell to 248,000, a fall of over a quarter in one year and if the rate continues the fabled 100k/yr Tory target could even be matched this Parliament. But the bad news was that the drop was caused by both EU citizens heading back home and more Brits emigrating. The idea that people leaving your country is a sign of success was always seen as perverse by critics of the target and never more so than yesterday. (See Owen Bennett's Brexit Briefing for details).
And the drop in GDP estimate yesterday was worrying to many too. The ONS said growth had slowed in the first quarter of 2017 because consumer facing industries - including retail and accommodation - fell and household spending slowed, partly thanks to rising prices.
Of course it was George Osborne who was privately often the biggest critic of May's push towards the net migration target in government, even though he and David Cameron cooked up the idea in Opposition then imposed it on May (who don't forget was Shadow Work and Pensions Secretary until 2010). And under Philip Hammond, the Treasury is still eyed with suspicion by May and her team.
So the FT's story today on a possible break-up of the Treasury is fascinating reading. Civil servants fear May wants to undermine its powerbase by splitting the department into two, with a Department of Economic Affairs overseeing industrial strategy and the economy and a new department to monitor public spending and drive efficiency. One Treasury insider talks of 'paranoia', while a Conservative spokesman dismisses the idea as 'total nonsense'.
COMMONS PEOPLE
Our latest CommonsPeople podcast is out. We discuss the impact on politics of the Manchester attack, manifesto wobbles and our latest 'Beyond Brexit' focus group from Bury South. Click HERE to listen.
If you're reading this on the web, sign-up HERE to get the WaughZone delivered to your inbox.
Got something you want to share? Please send any stories/tips/quotes/pix/plugs/gossip to Paul Waugh (paul.waugh@huffingtonpost.com), Ned Simons (ned.simons@huffingtonpost.com), Kate Forrester (kate.forrester@huffingtonpost.com) and Owen Bennett (owen.bennett@huffingtonpost.com)