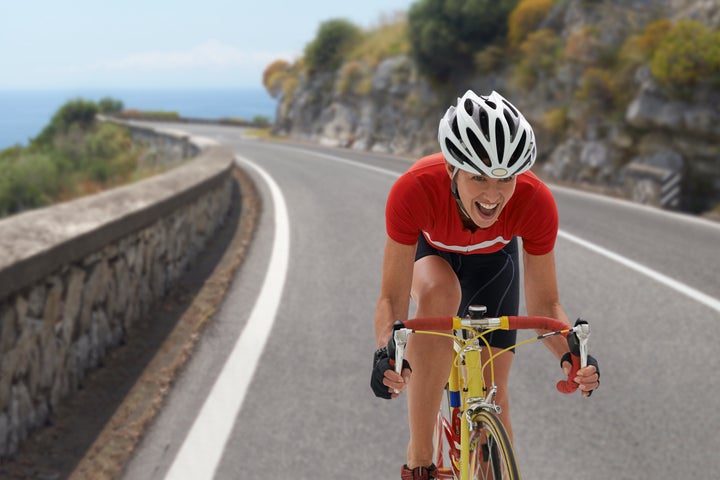 Inspired by the achievements of homegrown heroes like Bradley Wiggins, Chris Hoy and Victoria Pendleton, Britain has become a cycling nation.
The number of daily average trips made by cycle in London in 2015 went up to 0.67 million, a leap of 61% from 2005, according to Transport for London. Meanwhile British Cycling, the sport's governing body in the UK, surpassed 125,000 members for the first time in the organisation's history in August 2016 – with 75,000 signing up since London 2012.
With improved cycling routes, the Cycle to Work scheme, and bike rental opportunities cropping up all over the country, it's never been easier to get around by two wheels. And with benefits including increased fitness levels, reduced carbon footprints and financial savings, why wouldn't you?
But with an increase in the number of amateur cyclists comes an increase in the number of cycling injuries.
"An obvious cause of cycling injuries is falling off the bike, but most cycling injuries we see in our physio clinic are actually overuse injuries that come on gradually over time," says Jenny Heron, a senior physiotherapist at Physiofit.
"Many overuse problems on the bike are caused by incorrect bike set up, poor cycling posture and imbalances in muscle strength and flexibility. It is worth investing in a session with a suitable qualified professional to help avoid injury. As well as assessing static bike fit, a good assessment should look at your pedalling technique and at strength and flexibility off the bike."
We asked Heron to outline five of the most common cycling injuries and offer her advice on how to prevent them.
Suffering the pain of a cycling injury and itching to get back in the saddle? Pain relief products can help you along the road to recovery. Voltarol Pain-Eze Emulgel provides up to three times more effective pain relief than non-medicated gel, offering a triple effect, which helps relieve pain at the source, reduces inflammation and helps speed up recovery.
Voltarol Pain-Eze Emulgel contains diclofenac diethylammonium for relief of pain and inflammation. Always read the label. Jenny Heron does not endorse Voltarol.
©2017 GlaxoSmithKline Consumer Healthcare.
type=type=RelatedArticlesblockTitle=See Also: + articlesList=599d3a4ee4b0d8dde999e554,59832edce4b00f0084ae51bb,593ec0b4e4b0b13f2c6cbcc1