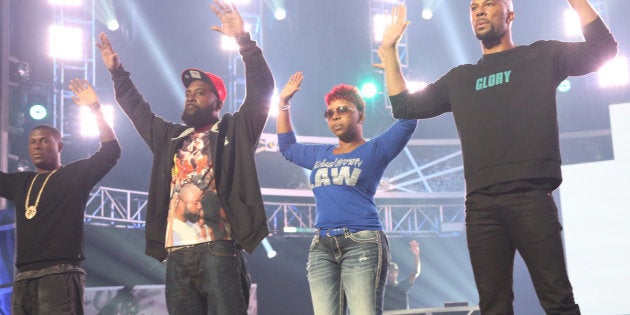 The 2014 police killing of Mike Brown marked a breaking point for many black Americans overwhelmed by the increasingly regular news of cop shootings. And now his life and death will be the subject of an upcoming Warner Bros. movie.
On Thursday, The Tracking Board reported that Lezley McSpadden's memoir of her son, Tell the Truth & Shame the Devil: The Life, Legacy and Love of My Son Michael Brown, was being adapted into a film. A Warner Bros. representative confirmed with HuffPost on Monday that the movie is indeed in its early development stages.
On August 9, 2014, Brown was gunned down by Darren Wilson in Ferguson, Missouri. Some witnesses said Brown had his hands up and told officers not to shoot before he was killed, although there were later claims that this wasn't true.
Nonetheless, as "Hands up, don't shoot" became a verbal symbol of frustration and a plea to end police violence, the killing was etched into American history.
According to The Tracking Board, the Warner Bros. movie will play out in a style similar to that of the 2004 drama "Crash," where the intertwining of the character's lives was a core element of the film.
The last major movie to follow the true story of an unarmed black man killed by police was the 2013 film "Fruitvale Station," which recounted the life and death of Oscar Grant, who was killed on New Year's Day in 2009.