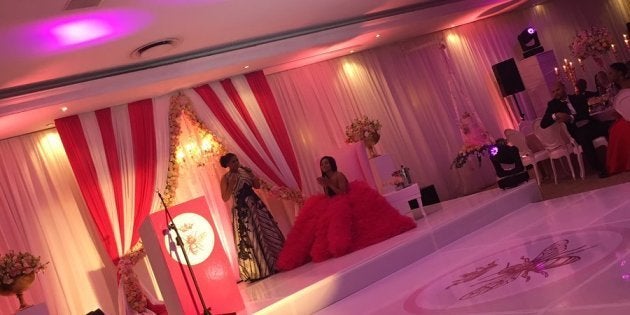 Ballerinas, bottomless champagne, some of the country's celebrated and an opulent venue to match, Bonang B* Matheba's 30th birthday celebration was nothing short of a royal affair.
The party was held at Summer Place in Hyde Park, Johannesburg.
Matheba turned 30 on June 25 and the party was the culmination of celebrations that included a New York trip with her boyfriend, rapper AKA.
Details of the party were kept under wraps and the guest list pretty exclusive. We scoured social media and picked out some of the moments that had us wishing we had bagged an invite.
Decorated in mostly pink and white flowers the banquet room at Summer Place looked like a dream. It was dripping in luxury and seemed like no expense was spared on the decor. Also, the cake was suspended in the air. Need we say more?
Created by her go-to designer Gert-Johan Coetzee, she looked like a real princess in this pink ruffled number. When she sat in her chair as people spoke about her, she looked like a dream.
From politicians to bloggers and CEOs the guest list was packed with some notable faces who went all out and looked the part.
Fikile Mbalula, Nomzamo Mbatha, T-bo Touch, Khanyi Dhlomo, Maps Maponyane and Basetsana Khumalo are just some of the people that showed up to help Bonang celebrate.
Being BFFs with Lorna Maseko, one of the country's ballerinas, has to have its perks.
And it did in the form of the grand entrance to her party. The ballerinas opened the floor with a performance and then led the way for Bonang when she entered the hall dancing to her boyfriend AKA's 'The World Is Yours'.
They were a hit with the guests too. Nomzamo couldn't resist a picture:
5. Last but not least, this 'awww' moment when she thanked AKA.
Mr Party looked dashing and when he performed Caiphus song, danced with a little boy and had everyone doing the bus stop jive it might have been all we needed. But when Bonang acknowledged what a great presence he has been in her life, we just had to release that collective "awww".
It really was a party fit for a queen.
O gole, o gole, o lekane le tlou!