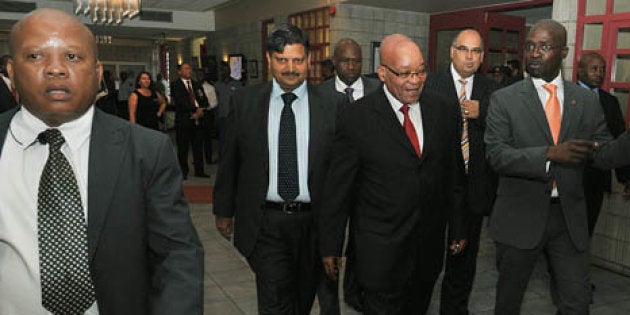 (Reuters) The National Prosecuting Authority, which is investigating alleged corruption in the awarding of government contracts claims made in the former public protector Thuli Madonsela's report, has denied reports that it will not accept leaked emails as evidence against President Jacob Zuma's allies.
The allegations of influence-peddling in the so-called state capture affair are deepening a divide in the ruling ANC party as factions jostle for control before a conference in December where Zuma's successor as party leader will be chosen.
In June, media began reporting on more than 100,000 documents and emails leaked from inside the business empire of the Gupta family, which is close to Zuma. The Guptas have said the leaks are fake.
Zuma and the Guptas have denied wrongdoing. A family spokesman last month said the allegations were false and part of a "blatantly political campaign".
The City Press newspaper reported on Sunday that two senior prosecutors and a senior official at the elite police unit the Hawks said they did not think the emails would be admitted as evidence as they believe they were stolen.
"They are like the fruits of a poisoned tree," said the senior prosecutor to the newspaper, who denied any direct political interference in their investigation.
"His report is sensational and an attempt to discredit and malign the NPA and its leadership. We intend to take up the matter with the Press Watchdog," the National Prosecuting Authority said in a statement.
"The NPA, in particular the prosecution team giving guidance to the Hawks investigators has never raised any issues relating to legality in respect of the leaked emails with the management."
City Press journalist Abram Mashego stood by his story.
"I can tell you my sources within the NPA are very reliable. They have no reason to lie to me. They have been accurate on a number of occasions," said Mashego told radio station 702.
The stories based on the leaked emails have drawn several international firms into a scandal that has prompted senior politicians to call for Zuma's resignation.
One of the Gupta brothers, Atul said earlier this month the leaked emails suggesting his family used links to Zuma to win contracts and influence decisions were fake.