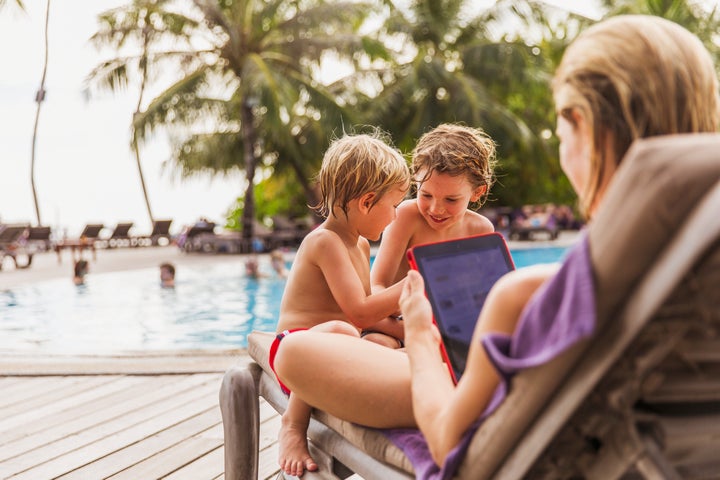 It's true that many of us choose a family-friendly hotel based on what it offers for children. That can mean noisy kids' clubs, dining options that suit less adventurous taste buds and plenty of nearby attractions of the "thrills 'n' spills" variety.
That's fair enough. As any parent will tell you, happy children make for happy holidays. But there's another side to the very best family-friendly hotels. Whisper it, but the really good ones aren't only about the kids. These top-drawer hotels, selected by British Airways Holidays, offer fabulous family entertainment right alongside sophisticated service, boutique style, and the little extras that only parents will truly appreciate.
It's all about variety
Variety is the spice of life, and it's certainly the main ingredient in the sort of family-friendly hotel parents will secretly love. Take dining. The Ikos Oceania in Halkidiki, Greece, boasts five dining options, which include a family friendly buffet and an informal, open-air Greek taverna that will make children feel right at home. At the same time, an Italian dinner menu designed by Andrea Fusco at his eponymous restaurant offers a more refined choice. So lots for children to enjoy, and plenty for adults to savour.
In the same vein, Occidental at Xcaret Destination in Cancun, Mexico, offers 11 international restaurants, which again range from fine dining to more informal, family-friendly fare. Good food is one of the essentials of a good holiday. The best family-friendly hotels offer excellent choice for both parents and children.
It needs a kids' club (and an adult alternative)
Many hotels offer kids' club, but the best offer activities that go way beyond mini-golf and colouring books. Blue Waters in Antigua, for example, is famous for its excellent Blue Waters Kids Club, which features a child-friendly "secret garden" and a huge range of activities that include arts and crafts, football, tennis, cricket, jewellery design, ice-cream trips and team challenges.
Children and teens are also well catered for at Dreams Dominicus La Romana in the Dominican Republic, thanks to a full programme of adventures, games, and social activities available at the supervised Explorer's Club and Core Zone.
But these excellent resorts also feature superb adult alternatives – whether spas, bars or fitness clubs. Dreams Spa at Dreams Dominicus La Romana features 10,000 square feet of peaceful treatment spaces, gardens, and hydrotherapy areas. Sanda Nature Spa at the beautiful Hillside Beach Club in Dalaman, Turkey, is located right among the trees, offering spa treatments accompanied by the sounds of bird song and lapping water.
Oh, and with a babysitting service and some wonderful bars, these resorts keep the grown-up fun going right through the evening. Kenzi Club Agdal Medina in Marrakech boasts a great spa, wonderful views of the Atlas Mountains, and the famous Le Pacha, a delightful place to dance the night away.
It should offer activities for everyone
Vital though good kids' clubs are, it's great to spend time together as a family on holiday. That means finding a hotel with easy access to the sort of activities everyone will enjoy.
For families, there is so much to recommend the stunning Atlantis The Palm in Dubai. The pristine white sand beach and turquoise sea is matched by the sheer range of on-site activities. They include Aquaventure Waterpark, The Lost Chambers Aquarium (home to 65,000 marine animals) and a magical dolphin encounter.
Tempted? If you're thinking of booking a break to remember, you should know that British Airways Holidays takes the stress out of planning, booking and going on holiday, from start to finish. British Airways Holidays never forgets that your holiday is something you never forget.
type=type=RelatedArticlesblockTitle=See Also: + articlesList=59c1186ae4b087fdf507f5ae,59c3bddde4b063b2531857cc,599ed9e1e4b06d67e335b8dd