Britain will soon regret voting for Brexit, but the European Union will move on, the European Commission president has insisted.
In a speech setting out the future direction of the bloc, Jean-Claude Juncker said the UK's exit would be a "sad and tragic" moment, but it was "not the be all and end all".
Mr Juncker evoked the Queen to describe how Brexit helped to make 2016 an "annus horribilis" for the European project.
But during the annual state of the union address, he insisted the "wind is back in Europe's sails" and countries were knocking on Brussels' door to do trade deals with the EU.
Setting out hopes for closer integration, Mr Juncker announced plans to increase passport-free movement around the EU, expand use of the euro and boost the number of member states.
But the hour-long speech, which ranged over areas as diverse as the quality of fish fingers to plans to create a super-presidency role, Brexit was given a notably short slot near the end.
Mr Juncker said: "This will be a very sad and tragic moment in our history. We will always regret this, and I think that you will regret it as well, soon.
"Nonetheless we have to respect the will of the British people. But we are going to make progress. We will move on because Brexit isn't everything, it's not the future of everything, it's not the be all and end all."
In a letter circulated as he made his speech, Mr Juncker said the past 12 months had been "challenging" for Europe.
He wrote: "2016 was in many ways an 'annus horribilis' for the European project. From the Brexit referendum, to the terrorist attacks, to slow growth and continued high unemployment in several of our member states, to the ongoing migration crisis, Europe was challenged in many ways."
Mr Juncker said he wanted use of the euro, membership of the Schengen agreement – which abolishes internal borders, and the banking union set up after the eurozone crisis to become standard.
He insisted it was "high time" that Romania and Bulgaria were included in the passport-free travel area and Croatia should follow soon.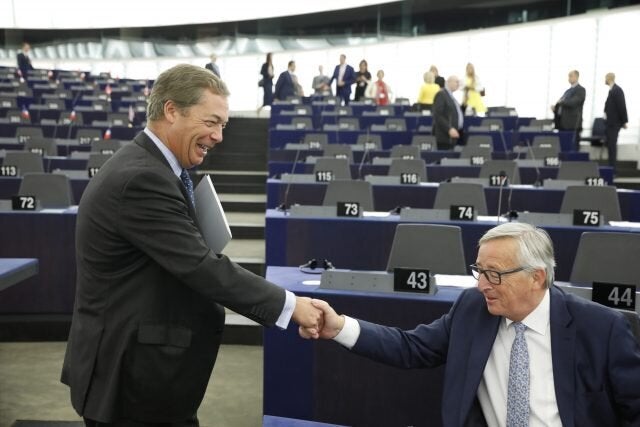 European Commission president Jean-Claude Juncker (right) shakes hands with former UKIP leader Nigel Farage (Jean Francois Badias/AP)
Mr Juncker said the euro is destined to become the common currency of the "entire" European Union.
More countries will become EU members, but Turkey will not become a member for the "foreseeable future", he said.
Former Ukip leader Nigel Farage described Mr Juncker's address as "the most open, honest and truly worrying" speech he had heard in his time as an MEP.
"The message is very clear," said Mr Farage. "Brexit has happened, full steam ahead."
Addressing the Parliament in response to Mr Juncker's speech, Mr Farage added: "All I can say is, 'Thank God we're leaving'.
"You have learned nothing from Brexit. If you had given (David) Cameron concessions, particularly on immigration, the Brexit vote – I have to admit – would never, ever have happened.
"And yet the lesson you take is that you are going to centralise and move on to this very worrying, undemocratic union."
Juncker with chief Brexit negotiator Michel Barnier ( Jean Francois Badias/AP)
Responding to Mr Juncker's comments, Prime Minister Theresa May's official spokesman said: "What we are absolutely focused on is making the best of the opportunities provided by Brexit.
"We are working towards an ambitious free trade deal and securing a deep and special partnership with the EU."
A spokesman for Jeremy Corbyn was asked whether the Labour leader agreed with Mr Juncker that the UK would come to regret voting for Brexit.
Mr Corbyn's spokesman said: "Labour has from the time of the referendum last summer said we respect and accept the referendum result."