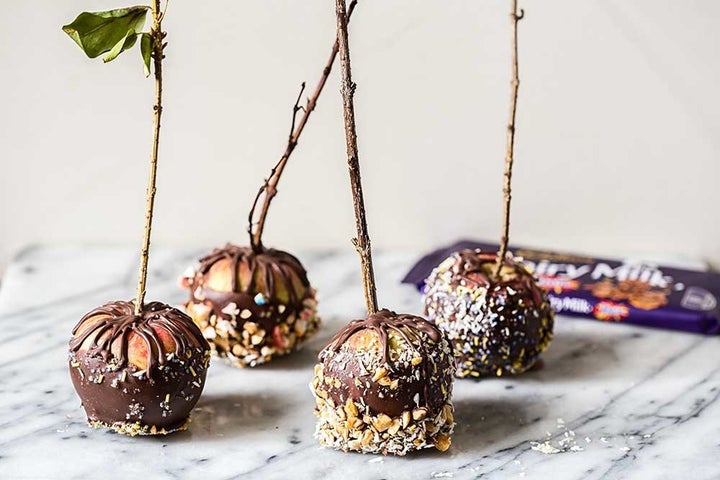 We Brits have recently taken to celebrating the traditionally American holiday of Halloween - and what's not to like? Kids especially love the thrill of dressing up as spooky characters and pillaging the neighbourhood for chocolate and sweets - and it's a great excuse to whip up some special treats at home too. We've teamed up with talented recipe blogger Julia from Vikalinka to create these special Halloween recipes to make with the kids…
Chocolate-dipped apples
"When you think of a classic Halloween treat, caramel-dipped apples immediately come to mind! But did you know that they are easy to make at home and taste much fresher than the shop bought ones? Chocolate apples are even simpler to make and a lot safer than working with hot caramel.
"You can find fun-looking sticks while out on your morning walk for your apples, the scragglier the better. My kids absolutely love that part!"
150g Cadbury Dairy Milk Chocolate
Set a bowl in a pot of simmering water making sure the bottom of it is not in contact with water. Chop the chocolate and add it to the bowl. Melt over low heat stirring continuously.

Insert the sticks into the apples. You might need to use a metal skewer to pierce a hole in each apple first.

Arrange all your extras into separate small bowls on a worktop.

Holding by a stick dip each apple into melted chocolate, then into toppings of your choice.
Let your decorated apples set on parchment paper for one hour.
Halloween chocolate bark
"This chocolate bark is what Halloween is all about. Considering our usually strict household policy on sweets, it's the kind of treat that my kids go wild for. When choosing your topping, go for fun, spooky-shaped sweets like snakes, frogs, worms, and teeth. In other words, all things Halloween!"
200g Cadbury Dairy Milk Chocolate
assorted sweets and chocolates
Set a bowl in a pot of simmering water making sure the bottom of it is not in contact with water. Chop the chocolate and add it to the bowl. Melt over a low heat, stirring continuously.

Spread the chocolate on a sheet of parchment paper with an offset spatula no thicker than ¼ inch. Top with assorted sweets and let it set for 1 hour. Alternatively you can put it in the fridge to speed up the process.

Break up the chocolate bark into serving-sized pieces.
"If you fancy a little bit of baking, I've got a perfect fail-proof recipe for chocolate cupcakes with delicious chocolate icing! This is my go-to-recipe for birthday parties, bake sales and everything in-between. The recipe itself takes hardly any time and makes 24 cupcakes. You will be the most popular parent on your street!
"Decorating them is undoubtedly the most fun part and you and your little ones can have so much fun together!"
90g Cadbury Bournville Cocoa Powder
1½ tsp bicarbonate of soda
150g Cadbury Dairy Milk Chocolate
50g Cadbury Dairy Milk White Buttons
Preheat your oven to 160°C and line your cupcake tins with cupcake papers.

Mix together flour, sugar, cocoa, baking powder, bicarbonate of soda and salt in a large bowl until combined. In a separate bowl mix eggs, milk, oil and vanilla essence. Add the wet ingredients to the dry ones and beat with an electric mixer until well incorporated, then add hot coffee and quickly mix everything together. I promise you the cupcakes don't taste anything like coffee but it is a magic ingredient!

Fill your 2 lined cupcake tins ¾ full and bake them for 15 minutes, test for doneness with a toothpick.

Cool in the tin for 20 minutes, then remove from tins onto a cooling rack.

Meanwhile bring the double cream to a boil, then pour over 100g of chopped chocolate and let it sit until the chocolate is completely melted, stir until well combined.

Melt the while chocolate in a double boiler and pour it in a piping bag or a small plastic bag.

Dip each cupcake into the chocolate ganache. Pipe three circles over the cupcakes then with a toothpick, pull lines through the circles to make the web effect.

Melt remaining 50g of milk chocolate, pour in a piping bag, then snip a tiny hole in the bag. Pipe chocolate spiders on parchment paper, use white pearls or sprinkles for eyes. Top each cupcake with a chocolate spider. You can also use little plastic spiders instead of chocolate ones.
Note: Never leave your children alone in the kitchen mid-cooking session and drum into them that hot pans and ovens can be dangerous. A serving of these recipe should be seen as a treat - best enjoyed occasionally as part of a balanced diet.
type=type=RelatedArticlesblockTitle=See Also: + articlesList=59d52544e4b0380b6c99d4c5,59dbafa2e4b00377980acc22,580e1563e4b056572d8357e6