Theresa May has said Israel's illegal settlements presented an obstable to peace, as she welcomed Benjamin Netanyahu to Downing Street.
The Prime Minister told her Israeli counterpart that Britain remained committed to a two-state solution with a viable Palestinian state.
The Israeli premier's visit marks the 100th anniversary of the Balfour Declaration which signalled British support for the creation of a Jewish homeland.
Mrs May said she recognised the "sensitivities" around the anniversary.
Speaking in Number 10 she told Mr Netanyahu: "Britain remains committed to a two-state solution. I'm sure we will want to be talking about the peace process in the Middle East.
"I also want to talk about what we see as some of the barriers and some of the difficulties like the illegal settlements in relation to that peace process."
Mr Netanyahu said Israel was committed to the peace process, but the Palestinians had to accept his country's right to exist.
He said: "Israel is committed to peace, I'm committed to peace. A hundred years after Balfour, the Palestinians should finally accept a Jewish national home and finally accept a Jewish state.
"And when they do, the road to peace will be infinitely closer. In my opinion peace will be achievable."
Mrs May also stressed the UK's commitment to the Iran nuclear deal – which Mr Netanyahu said was flawed.
US president Donald Trump has condemned the Joint Comprehensive Plan of Action (JCPOA) deal and Mr Netanyahu has called for it to be redrawn.
But Mrs May said: "We remain committed to the JCPOA."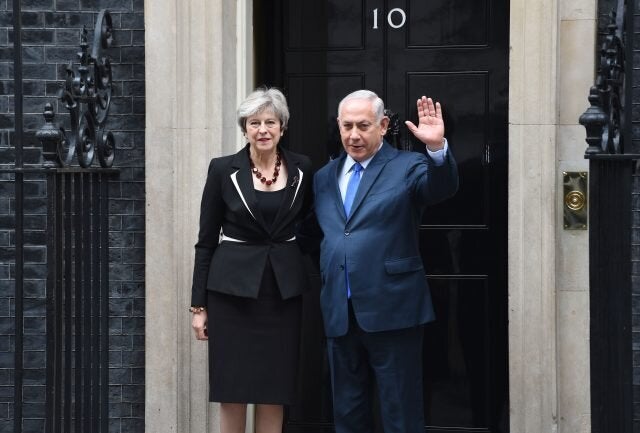 Mr Netanyahu said: "There are great things that are happening in the Middle East because many Arab countries now see Israel not as an enemy but as their indispensable ally in the battle against militant Islam.
"The threat we all see is a resurgent Iran that is bent not only on dominating the region but bent on developing nuclear weapons.
"The goal that I have in mind is not keeping or eliminating the deal, it is improving the deal and correcting its main flaws.
"I think those that want to keep the deal should co-operate on correcting the deal."
Mr Netanyahu thanked the Prime Minister for her "resolute stand against anti-Semitism" before a speech later where she will speak out against "new and pernicious form" of the anti-Jewish hatred.
At a dinner to mark the Balfour Declaration's centenary she will say that "criticising the government of Israel is never – and can never be – an excuse for hatred against the Jewish people".