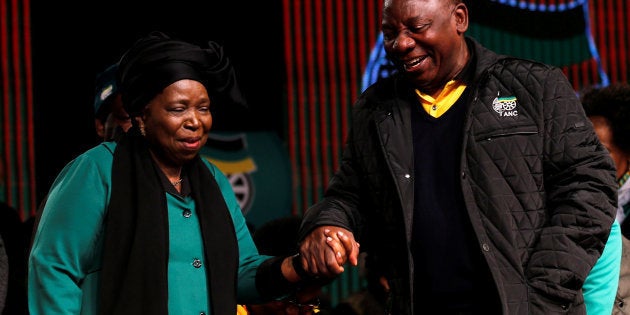 Deputy President Cyril Ramaphosa is streaking ahead of his fellow presidential hopeful, Nkosazana Dlamini-Zuma, with most of the ANC branches that had held their branch general meetings (BGM) by Thursday nominating him. This is according to the Mail & Guardian, which reported on Friday that a third of the branch nominations are in.
There are a total of 3,800 branches in good standing, and 1,138 have held their BGMs. Of the 1,138, 768 reportedly voted for Ramaphosa and just 360 for Dlamini-Zuma. While the number is certain to change, this also leaves the other presidential hopefuls lagging behind, the paper reported.
In KwaZulu-Natal, Nkosazana Dlamini-Zuma reportedly appears to be ahead in the nominations, but the province has seen numerous complaints of nomination rigging. There have been similar complaints in other provinces, as well as instances of violence and intimidation surrounding the nomination process.
There were complaints that voters were kept out of BGMs.
Ramaphosa is in the lead in, among others, the Eastern Cape, Northern Cape and Limpopo.
According to News24, the nomination process began on October 6. About 4,763 delegates will reportedly attend the elective conference in December, as stipulated in a letter that Gwede Mantashe, ANC secretary-general, wrote to the branches.
KwaZulu-Natal will send the most delegates, followed by Mpumalanga and the Eastern Cape. Manatashe reportedly said: "[The delegate numbers are] based on a calculation where a branch with a minimum of 100 members is entitled one delegate and for every additional 250 members the branch is allocated one additional delegate."
Eyewitness News reported that branches have until November 15 to send in their nominations. ANC provincial leaders reportedly met several months ago to try to agree on an uncontested leadership race, but could not agree on who should be the president.