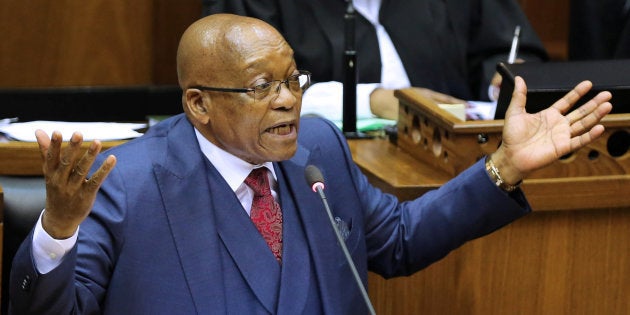 President Jacob Zuma does not just beat around the bush: he strides around it and pokes fun at it with a stick as well.
And that is much to the frustration of political parties who staged a walkout when Zuma deliberately issued half answers to questions posed to him on Parliament on Thursday.
It has been a long-time tactic, infuriating opposition members to a point where they either give up or are thrown out of the House. The Economic Freedom Fighters (EFF) don't even bother with him anymore, not showing up at all.
The DA persists but their insistence mostly falls on deaf ears. The end result -- South Africa gets mostly nothing out of Parliament's question-and-answer session with the president. And that's how he likes it.
Thursday is another prime example. It was the president's last parliamentary dodgeball session this year and he played the game to perfection.
Zuma, who walked up to the podium to a standing ovation from the ANC side of the House, answered his first question with a two-line statement. At least he was direct.
"I did not receive any payments from private individuals or companies during my tenure as president other than those disclosed or reported to the necessary authorities," he said.
In a follow-up question, DA leader Mmusi Maimane asked Zuma whether he would be willing to table his declarations of interest since 2009 to Parliament.
"I have given a very categoric answer to the question, and secondly, there are many books that have talked about Jacob Zuma. I don't think my job is to answer books, I have given the answer here," Zuma said, dismissing the allegations against him as speculation.
There was nothing about declaring his interests.
The Congress of the People's Deidre Carter was next to be left disappointed. She wanted to know if Zuma had any knowledge of ongoing corruption, and if so, what actions was he taking.
After the question had to be repeated numerously because Zuma, and other MPs, could not hear, he asked: "corruption done by who?"
The question disappeared after a ruckus in Parliament between the ANC and opposition members.
But more blatant was Zuma's response to why he has not got rid of embattled Social Development Minister, Bathabile Dlamini.
After blaming poverty solely on apartheid, Zuma accused Maimane of defending the regime when he reiterated the question of Dlamini's Cabinet survival.
"I don't know why [Maimane] is saying all the problems we face are not the problems of apartheid. Why are you defending apartheid? You are a victim of apartheid, I don't understand why you are defending apartheid," Zuma said, much to Maimane's dismay.
When Maimane asked the president about how the country is going to afford the nuclear deal (a follow-up question which National Speaker Baleka Mbete immediately dismissed as unrelated), Zuma went on to explain why nuclear energy is important.
There was no answer to how the country would afford it.
But it all boiled over at the fifth question to Zuma -- a question to which Zuma's answer was arguably most anticipated.
"The litigations referred to was not at the instance of the president but was initiated by the political party [the DA]. The president has defended it as he is entitled to do so at state expense according to the provisions of the State Attorney Act...This benefit is extended to all who are employed in the service of the state," Zuma said.
But what is the figure Mr. President? The amount in rands of taxpayer money?
"I am answering the question because the answer gives the impression I have been running to courts... I haven't spent the money; the government has spent the money... If [Maimane] is not satisfied, I have answered the question," Zuma said.
Parliament descended into chaos, ANC versus DA in their typical shouting match. It went on for 15 minutes, while Zuma sat on the bench chuckling. DA members were demanding a direct answer to the question, and deputy speaker Solomon Tsenoli denied the either party's attempts to raise points of order.
The DA eventually staged a walkout.
Zuma continued with his answers. Easy follow-up questions came from the ANC benches. The session came to a close.
At the end, South Africa still does not have answers to critical questions surrounding corruption, state capture and the use of taxpayer money to fund Zuma's drawn out court battles.
Perhaps we will get the answers to some of these questions when Zuma appoints his commission of inquiry, on his terms, by his rules.