Rail lines closed during the notorious Beeching cuts of the 1960s could be reopened as part of sweeping reforms, the Transport Secretary has announced.
Chris Grayling said he wants to identify which routes would boost the economy, encourage house-building and ease overcrowding.
Restoring lost capacity is one of a number of measures featured in the Government's new rail strategy.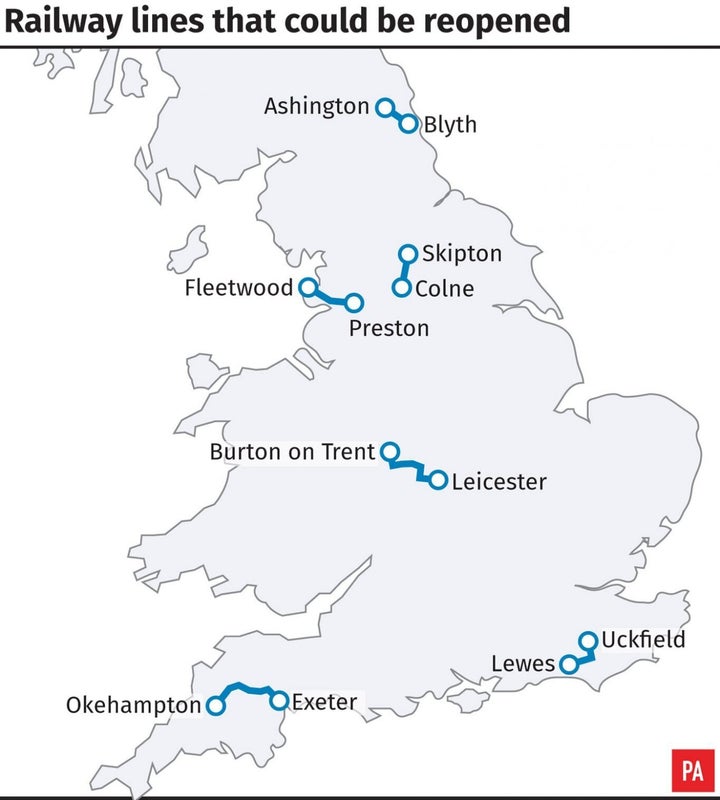 There are plans to split the troubled Thameslink, Southern and Great Northern franchise when the current contract with Govia Thameslink Railway comes to an end in 2021.
A public consultation has been opened on splitting up the Great Western Railway franchise.
It is proposed that one franchise would focus on regional services and another on long-distance routes.
The strategy also includes publicly-owned Network Rail sharing its responsibility for running the tracks with private train operators.
Joint teams managing day-to-day operations will first be rolled out across the South Eastern network with a new alliance director being introduced to take overall responsibility.
Rail campaigners welcomed the possibility of lines being reopened, but Labour and trade unions reiterated their calls for public ownership of the network.
Mr Grayling heralded the "massive growth" of Britain's railways in recent years as "decades of decline" under British Rail were reversed with passenger numbers doubling.
He said a "new model for the 2020s and beyond" is needed to cope with the increased demand which has caused congestion on the network.
The MP for Epsom and Ewell went on: "Rail passengers deserve a more reliable, more efficient service and I will deliver it by ending the one-size-fits-all approach of franchising and bringing closer together the best of the public and private sector."
He denied the plans amounted to the splitting up and privatising of Network Rail.
Mr Grayling told BBC Radio 4's Today programme: "No, we're not privatising Network Rail.
"Network Rail will remain in public ownership, but Network Rail is going to be devolved into a series of route businesses, it's not going to be one big central blob, it's going to be a series of locally-focused, or route-focused, operations around the country."
Thousands of stations and hundreds of branch lines were closed between 1964 and 1970 after a report by British Railways chairman Dr Richard Beeching.
A new development programme will identify opportunities to restore capacity which offer good value for money.
Proposals being discussed include suburban lines around Bristol, a freight route that runs through central Birmingham, the line from Okehampton to Exeter and from Blyth to Ashington in County Durham.
The Department for Transport also pledged to "accelerate" the reopening of the rail link between Oxford and Cambridge.
A document published by the Treasury as part of last week's Budget confirmed funding for Network Rail to deliver phase two of the western section of East West Rail, from Bicester to Bedford and Milton Keynes to Princes Risborough, with passenger services running in 2023.
An independent East West Rail Company will be set up to deliver the central section between Bedford and Cambridge to open in the mid-2020s.
Related