Five members of a robbery gang have been handed lengthy jail sentences after a jewellery shop worker was hit with a hammer during a £250,000 raid.
CCTV footage released by West Midlands Police captured one of the men posing as a customer to trick staff into opening the door at SP Green in Birmingham's Jewellery Quarter.
The security camera film also shows a smoke shield being triggered, gang member Owen Richardson lashing out with a hammer, and accomplices Daijon Johnson and Jamul Pinnock-Parkes ransacking the store.
Pinnock-Parkes, Johnson and a 17-year-old gang member who failed to get into the shop, were arrested after fleeing the scene and calling a taxi.
Richardson and getaway driver Jermaine Davis were arrested the following day in a Renault Megane seen at the time of the offence.
West Midlands Police said the defendants were convicted at Birmingham Crown Court after CCTV cameras around the city captured their movements before and after the raid on January 6 last year.
Richardson, of Frankfort Street, Newtown, was jailed for 14 years for conspiracy to rob and possession of class A drugs with intent to supply.
The 21-year-old denied the conspiracy charge, but was convicted after a jury spent just 11 minutes deliberating.
Johnson, 20, of Sherborne Grove, Ladywood, admitted conspiracy to rob, and an unrelated robbery, and was jailed for 12 years and eight months.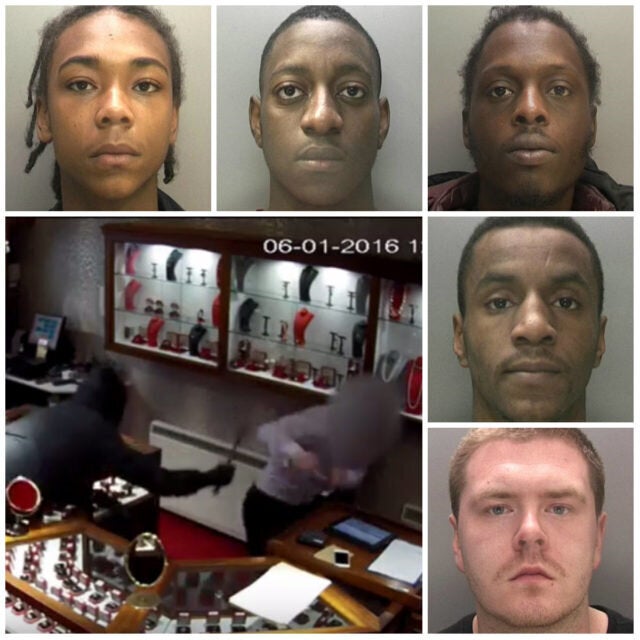 From top left, Daijon Johnson, Jamul-Pinnock-Parkes, Jermaine Davis, Owen Richardson and Bradley Devine, who have been jailed for their parts in the robbery (West Midlands Police/PA)
Pinnock-Parkes, 20, of Manilla Road, Selly Park, admitted conspiracy to rob and was jailed for nine years and 10 months.
Davis, 27, of Icknield Port Road, Edgbaston, admitted conspiracy to rob and possession with intent to supply and escaping from lawful custody. He was jailed for 14 years and 11 months.
Bradley Devine, 25, of Four Acres, Quinton, who posed as a customer to allow the gang access, was jailed for 10 years in May last year after admitting conspiracy to rob and other offences.
The 17-year-old, who cannot be named for legal reasons, will be sentenced on December 15 after admitting conspiracy to rob.