People living in a street where visitors flock to see cherry trees festooned with lights every Christmas have said the tradition is being wrecked by the local council's controversial felling programme.
Householders in Abbeydale Park Rise in Sheffield said they were horrified when masked contractors turned up at 4.30am on Tuesday to cut down branches overhanging their front gardens.
The residents said some of the lights, which attract dozens of visitors every December evening and have raised hundreds of pounds for the city's hospice, were damaged and left dangling over the road.
Now they fear Tuesday's preparatory work is just a prelude to the felling before Christmas of some or all of the 19 threatened trees on the street, in the leafy suburb of Dore.
Pamela Hanrahan was taking her turn standing sentry close to two of the trees which lost many of their branches on Tuesday morning.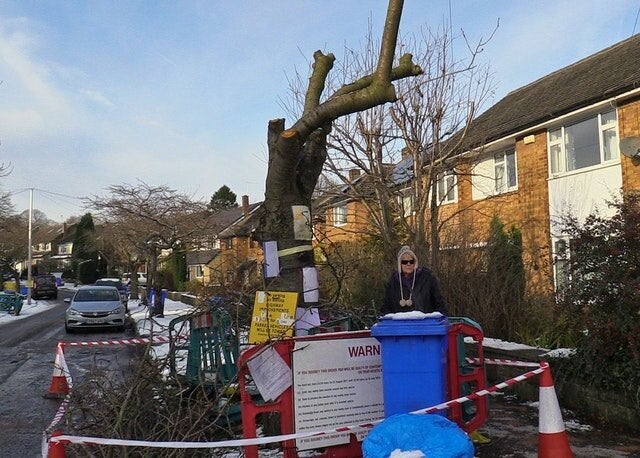 Resident Pamela Hanrahan by a tree which has been cut down near her house in Abbeydale Park Rise, in Dore, Sheffield. (Dave Higgens/PA)
She said: "That one had lights on it that were on last night. They just chainsawed them off and they're hanging down over the road now.
"If an ordinary member of the public went around and started cutting and dragging people's lights out of trees we'd be in trouble but they seem to be immune to things like that."
Mrs Hanrahan said she had lived on the street for 25 years and that many of the trees were planted when the houses were built and the first residents were given the option by developers of paying for a street tree outside.
This year, the residents have raised more than £500 for St Luke's Hospice with the 30-year-old lights tradition.
"People come from miles around just to drive up with their children to see the lights," she said. "Some children call it Christmas Road and some call it Twinkle Street.
Jane Sharpe said contractors began work on the tree outside her house early in the morning but they had already stripped off the lights a couple of weeks ago and dumped them in her garden.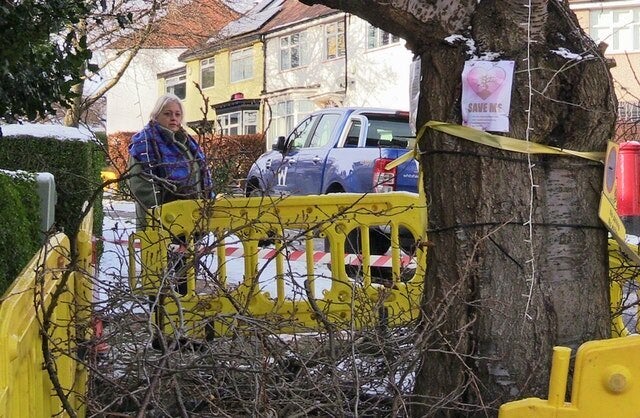 Resident Jane Sharpe by a tree outside her home in Abbeydale Park Rise, in Dore, Sheffield. (Dave Higgens/PA)
Ms Sharpe said she came to the street 17 years ago and her children have grown up with the tree.
She said: "I think it's my duty to protect it. I have loved that tree and I have promised that I will do everything I can to stop it being chopped down.
"I'm not really a habitual tree hugger but I've started hugging my own tree."
The Abbeydale Park Rise controversy is part of the long-running row over Sheffield's street trees which has seen daily demonstrations in some of the city's leafiest suburbs.
The council says only a small proportion of the city's 36,000 street trees are being removed because they are diseased or dangerous, and all are being replaced.
But protesters say many of the trees are being felled because their roots are getting in the way of the resurfacing methods used as part of a £2 billion private finance initiative agreement with contractor Amey.
Amey said that as only 19 of the 65 trees in Abbeydale Park Rise need replacing, the Christmas lights tradition can continue.
Streets Ahead account director for Amey, Darren Butt, said the team arrived early in the morning to cause "minimal disruption to residents" and work was done with hand tools.
Mr Butt said protests delayed the work earlier in the year so it is now having to be done in December.
He said "Although we try to preserve the lights and return them to their owners if we can, it's not always possible.
"However, we have given adequate notice for them to be removed and some people have removed them."