EU nationals seeking to stay in the UK after Brexit will be able to complete applications in minutes, the Immigration Minister has said.
Brandon Lewis told a House of Lords committee requests for the newly created "settled status" should be processed and answered within a fortnight after they are submitted.
He emphasised that the Home Office will adopt a presumption in favour of granting status – with refusals only likely in cases where issues are flagged up in criminal records checks or where the application is fraudulent.
Mr Lewis said the new scheme, which is expected to go live in the second half of next year, will be much easier than the system currently in place for those seeking permanent residence.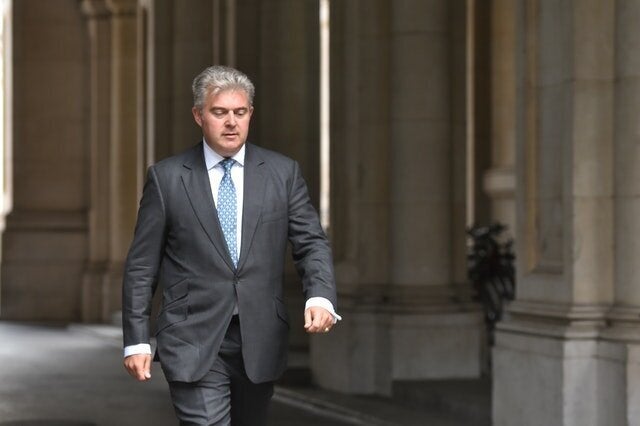 Immigration Minister Brandon Lewis said the Government wants EU nationals in the UK to stay (David Mirzoeff/PA)
He said: "The way we are looking to develop this is using online processes where somebody spends literally a few minutes online and within a couple of weeks your settled status is dealt with and granted. What we need to confirm is that there's not a criminal record issue and the person who is applying really has been and is living in the UK."
Mr Lewis told the Lords EU Justice Sub-Committee there will be a presumption that applications will be accepted.
He added: "The only circumstance in which I can foresee somebody not being granted settled status is either the criminal records check shows they are a criminal and if somebody was trying to claim they were an EU citizen in the UK and they are not – ie, a fraudulent application."
A document published by the Government last month set out its intention to ask applicants to self-declare criminal convictions, while officials will check UK criminal records databases.
Consideration of deportation on the grounds of public policy or public security as set out in an existing EU directive will continue to apply to any pre-exit criminality.
This means UK authorities will weigh up whether the individual poses a "genuine, present and sufficiently serious threat to the fundamental interests of UK society".
The fee for applying for settled status will not exceed the cost of a British passport, which is currently £72.50 for an adult.
Mr Lewis said: "There will be a charge. We've not set the price yet."
The fee will be reduced, or possibly waived altogether, for those who have already been through the permanent residency process, the committee heard.
Mr Lewis also emphasised that the Government does not want EU citizens to leave. "We want them to stay," he said.
His remarks chime with the message delivered by Theresa May in an open letter to EU nationals.
She wrote: "I know our country would be poorer if you left and I want you to stay."
EU citizens who arrive by March 29 2019 and have been continuously and lawfully living in the UK for five years will be able to apply to stay indefinitely by getting settled status.
Those who have been in the country for less than five years before the exit date will be able to apply to remain until they have reached the five-year threshold.
Scrutiny has fallen on the Home Office's capacity to complete the administrative task of processing potentially more than three million applications from EU citizens and their families.
The department came under fire earlier this year when it emerged around 100 letters were wrongly sent to EU nationals warning them they faced detention and removal from the UK.
The Home Office has launched a recruitment drive to bring in 1,200 extra caseworkers in preparation for the new system.