Brexit will help Britain improve animal welfare standards and combat problems such as puppy smuggling, Michael Gove has said.
The Environment Secretary said it was "good news" that an agreement had been reached in the first stage of negotiations over Britain's departure from the European Union, adding that the focus could now turn to trade and the positive outcomes of leaving.
His comments came as a draft bill, enshrining animal sentience into UK law post-Brexit and introducing jail sentences of up to five years for animal abusers, was published.
The plans are part of Government efforts to ensure that Brexit works "not just for citizens but for the animals we love and cherish too", Mr Gove said.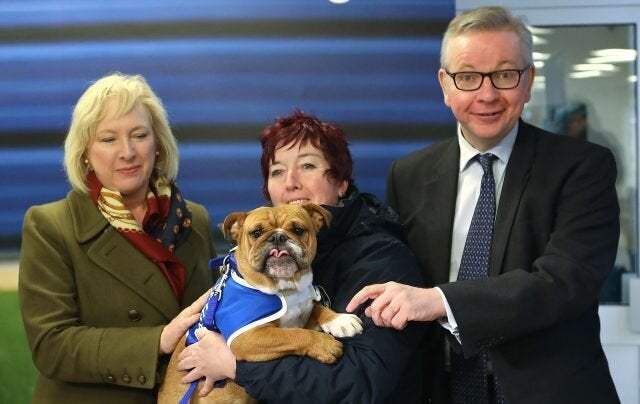 Mr Gove meets Enid the bulldog at Battersea Dog's Home (Philip Toscano/PA)
Speaking during a visit to Battersea Dogs and Cats Home in London on Monday, he told the Press Association: "I think it's good news that we've got an agreement to move to the next stage of the Brexit negotiations, where we can talk about trade and talk about some of the changes that will work in Britain's interest.
"I'm glad that we're now at this stage because actually Britain outside the European Union can have higher standards on the environment and indeed on animal welfare.
"And one of the reasons why people voted to leave the European Union is to make sure that when it comes to, for example things like puppy smuggling, that we can have the rules here which ensure that there is appropriate welfare and appropriate protection for animals and for humans."
Mr Gove has sought to allay concerns after MPs last month voted against an amendment to the European Union (Withdrawal) Bill, which would have transferred an EU protocol recognising animals as sentient beings into domestic law.
The vote prompted a social media backlash, but the Environment Secretary denied it was a vote against the idea that animals feel pain and argued the amendment risked creating legal confusion.
The draft bill says the Government "must have regard to the welfare needs of animals as sentient beings in formulating and implementing government policy".
It also increases the maximum prison sentence for animal cruelty from six months to five years in England and Wales.
Mr Gove said: "As we leave the EU we will deliver a Green Brexit, not only maintaining but enhancing animal welfare standards.
"Animals are sentient beings who feel pain and suffering, so we are writing that principle into law and ensuring that we protect their welfare.
"Our plans will also increase sentences for those who commit the most heinous acts of animal cruelty to five years in jail. We are a nation of animal lovers so we will make Brexit work not just for citizens but for the animals we love and cherish too."
Claire Horton, chief executive of Battersea Cats and Dogs Home, said the rescue centre was "delighted" by the announcement.
She said: "It will make a massive difference for animals and hopefully really start to act as a deterrent and put England back where it should be at the top of the league tables for animal welfare."
David Bowles, the RSPCA's head of public affairs said: "This is potentially great news for animals post-Brexit.
"To include the recognition of animal sentience as well as increasing animal cruelty sentencing to five years into the new 2018 Animal Welfare Bill is a very bold and welcome move by the Government."