The head of the inquiry into the Grenfell Tower fire was warned not to express an opinion on whether he feels a panel should assist him in making decisions, because it could be seen as influencing the Prime Minister.
Sir Martin Moore-Bick was told the matter was one for Theresa May to decide and that it would be wrong to put forward his views before her.
Counsel including Michael Mansfield QC, who is representing 24 families, urged Sir Martin on Monday to ask the PM to install a panel of decision-makers from a diverse background to sit alongside him.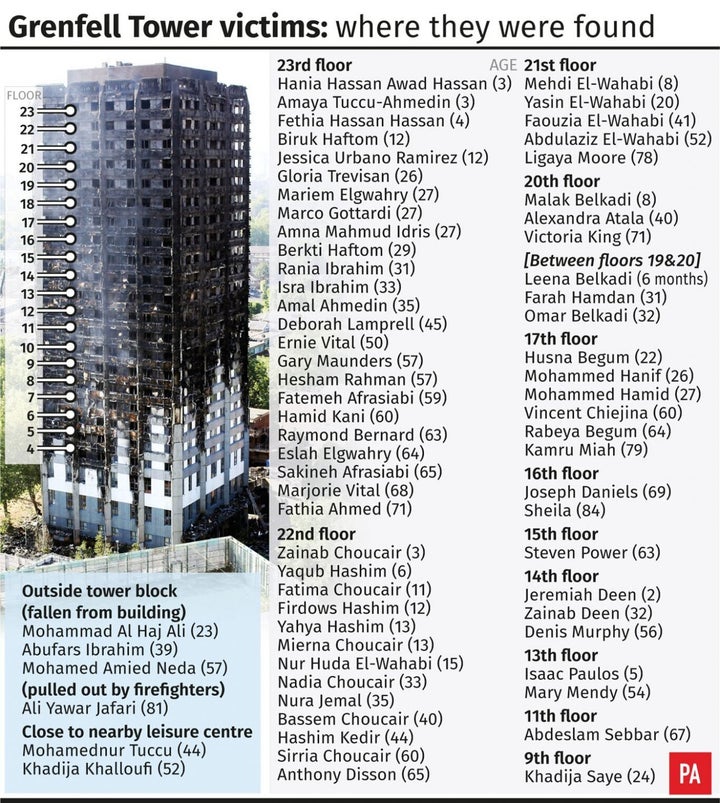 On Tuesday, bereaved families delivered a 16,000-name petition to Downing Street, calling on Mrs May to act to "build public trust" in the inquiry, amid concern that the retired Court of Appeal judge lacks first-hand experience of the complex cultural factors underpinning the tragedy.
Mr Mansfield spoke again briefly, saying he wanted to ensure there was "no confusion that a consultative panel is no substitute for a decision-making panel, of which we are advocates".
It was the second of two procedural hearings in the judge-led probe into the disaster, held at Holborn Bar in central London.
Responding to his submission, counsel to the inquiry Richard Millett said the team intended to involve people affected by the tragedy as much as they can, while also pursuing a "ruthlessly independent and effective investigation".
He said: "However, the question of the composition of the panel does give rise to rather different considerations.
"We would suggest … that it is properly a matter for the Prime Minister, as the sponsoring minister, to decide under the Act whether she wishes to appoint other members to sit as decision-makers with you on the panel.
"We would suggest, respectfully, that it would be wrong for you to express any view either way before she has made that decision, since that might be seen to be influencing her decision on that matter."
He warned Sir Martin that he must approach the matter with an "entirely open mind" if Mrs May did ask him for his view.
Sir Martin thanked all core participants for their "helpful" and "thought-provoking" submissions, saying he wanted a few days to digest them before responding in writing.
He said: "There have been clear indications … that, with the benefit of continuing dialogue, it should be possible to take the inquiry forward in a way that enables the work to proceed as quickly and smoothly as possible, while at the same time ensuring that the needs of all the core participants, but particularly those of the bereaved, survivors and local residents, are fully met."
Legal representatives for the Royal Borough of Kensington and Chelsea (RBKC), the Tenant Management Organisation (TMO) responsible for managing the tower and the Secretary of State for Communities and Local Government, Sajid Javid, said they had no objections to a consultative panel.