Ruth Davidson has hinted that she could make the switch from Holyrood to Westminster and run as an MP.
The Scottish Tory leader suggested such "conversations" could take place after the next Scottish Parliament elections in 2021 – though she insisted she would only run for a Scottish seat and would not opt to stand in a safe Conservative seat in the south.
Such a prospect would depend on those election results, with Ms Davidson having publicly set her sights on ousting Nicola Sturgeon and becoming Scotland's next first minister.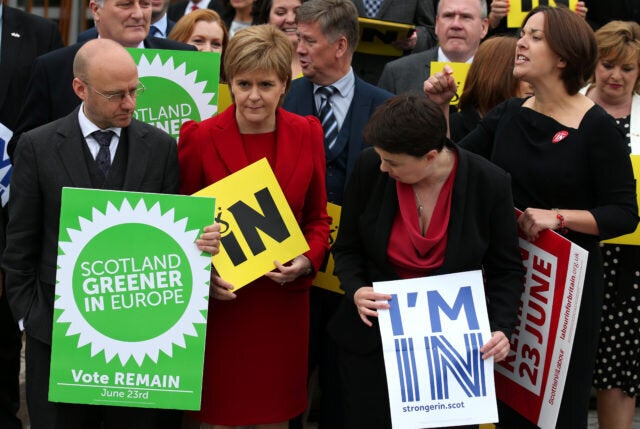 Ruth Davidson and Nicola Sturgeon were on the same side during the EU referendum but the Scottish Tory leader said her priority is to take over as First Minister of Scotland. (Andrew Milligan/PA)
Her comments, in an article with The Spectator magazine, come amid continuing speculation that she could be a future leader of the UK Conservatives after her success in transforming the fortunes of the party north of the border.
Under her leadership, the Conservatives have become the second-largest party at Holyrood, returning a record 31 MSPs to the Parliament in Edinburgh in 2015 and removing Labour as the main party of opposition.
While the Conservatives in England lost seats in the June 2016 general election, the Scottish Conservative tally of MPs went from one to 13.
Ms Davidson ruled out taking on the job of Conservative Party chair, insisting that "leading the party in Scotland is a bigger job than being Conservative party chairman".
When asked what could happen if the Tories come third in the 2021 Scottish elections, after recent polls showed Labour in second place, she told the magazine: "I've been leader of the party now for six years. My two predecessors lasted six and a half years each."
By the time of the next Holyrood elections, she would have been in charge of the party for "significantly longer" than them and said: "Then we can start other conversations."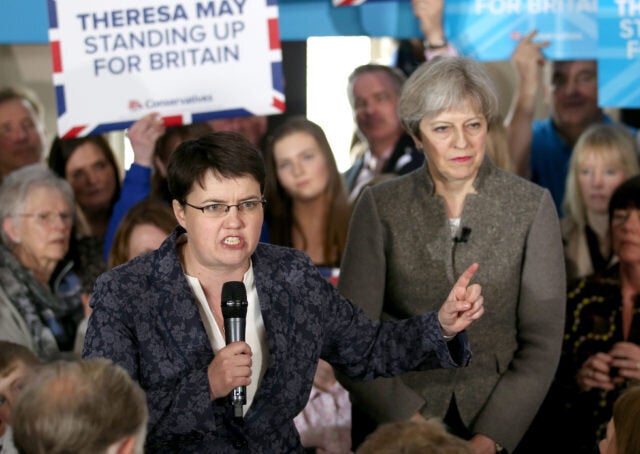 Ruth Davidson joined Theresa May on the campaign trail at this year's general election. (Jane Barlow/PA)
Asked if those would include conversations about her coming to Westminster, she said: "I haven't ruled it out. If devolution is going to work, then actually there has to be the ability to move between chambers and parliaments."
Pressed further on if she would only stand for a Scottish seat, Ms Davidson said: "Yes."
She also declared that Labour leader Jeremy Corbyn would be "eminently beatable" in the next UK general election in 2022.
Ms Davidson said that in this year's election voters viewed the veteran left-winger as a "safe receptacle because everybody had written off his chances" but said that he would "not be a safe receptacle next time".
A Scottish Conservative spokesman said: "Ruth's only focus is on winning the 2021 Scottish elections. Scotland needs a change after 10 years of the SNP and the Scottish Conservatives intend to provide it."