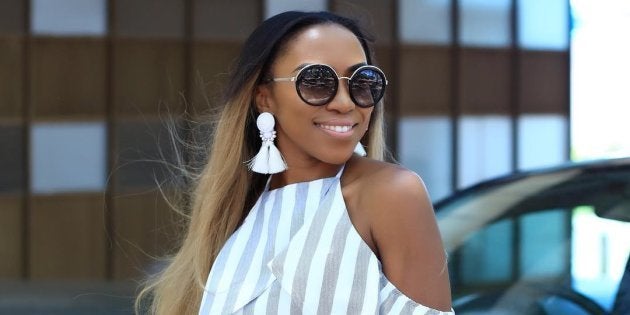 Radio DJ and media personality Tumi Voster says she is going into 2018 with clear intentions about her career plans and successes.
Tumi attended the L'Ormarins Queen's Plate Festival at the Kenilworth Racecourse in Cape Town this weekend.
She spent five minutes with HuffPost SA and let us in on her plans for the year ahead. Here's what we asked her:
Her recipe for success in 2018...
"A vision board. I have seen it work for me before -- I had one in 2016 but did not have one in 2017 and that made me realise just how important it is. There's just something about putting things out in the universe because, without you realising it, they just come back to you."
Her message to young girls looking up to her is...
"Start with what you have. Sometimes we look so far for things without realising that the teachers we interact with on a daily basis, for example, have all the information we need. Use them for mentorship. Build from that to get to where you want to be in the future."
Trends she's excited about in 2018 are...
"Colour. I love colour and statement pieces. I'm a simple girl, so I'll go for a simple look, but put in a statement piece for the pop of colour."
But is she listening to any Gqom?
"I love R&B music. I am currently enjoying the [new] Sam Smith album. I do, however, enjoy a bit of hip-hop -- I love Kendrick and I'm also loving Drake. There's also a man by the name of Marley Music who I'm liking but otherwise, it depends on my mood at a time."
And what does the year have in store for her?
"I'm excited to be tapping into the digital space in terms of growing my brand. When I get to launch and reveal it, people will be seeing a lot of my work and my brand coming on a different platform and it's exciting."