Amy Poehler served up a whole lot of sass to Seth Meyers during his 2018 Golden Globes monologue and coined THE catchphrase for the year: "Reclaiming my wine."
As Meyers turned his monologue to the crowd, asking various actors and actresses to contribute punchlines to his joke setups, the entire game was pretty much won when he got to Poehler.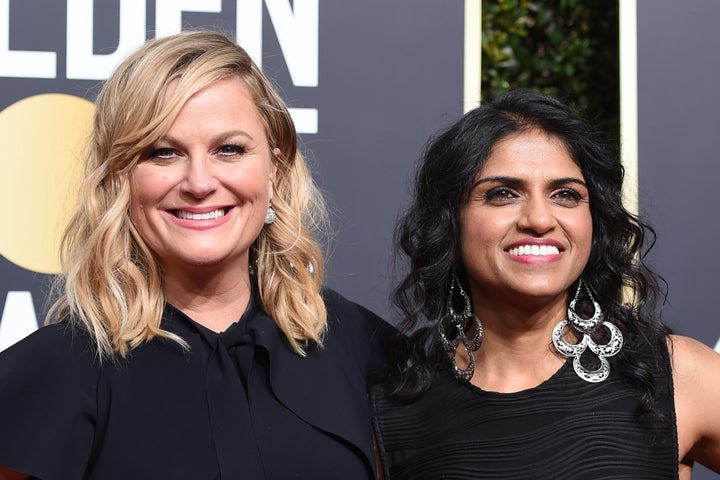 The two bantered back and forth about Meyers' mansplaining and how Poehler didn't need his help to tell a joke. (Leslie Knope doesn't have TIME FOR YOU, SETH!)
Once Poehler finally delivered her joke ― "Said the peach in 'Call Me by Your Name,' 'This scene is the pits!'" ― the actress took a beat and went for a sip of wine, exclaiming that she's "reclaiming my wine."
The line is an obvious nod to Rep. Maxine Waters (D-Calif.), Congresswoman extraordinaire. In July 2017, Waters pushed back during a House Financial Services Committee meeting during Treasury Secretary Steven Mnuchin's testimony. Waters asked Mnuchin about his office's lack of response to a letter from her pertaining to President Trump's financial ties to Russia. Mnuchin attempted to evade the question and run out the clock, but Waters shut him the hell down. "Reclaiming my time," she said, repeatedly, in an effort to reroute the response. It was easily one of the most viral moments of the year.
Poehler's channeling of that ultimate shut-down with has people excited all over again. Twitter users seem to think it's the catchphrase of 2018.
Anyone else in sudden need of a bottle?