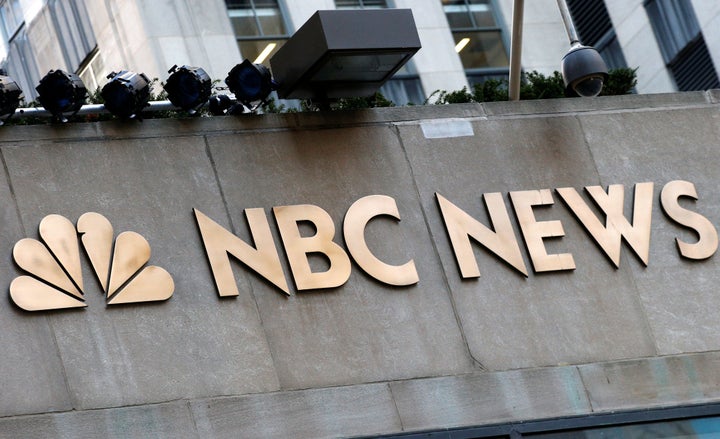 Many of America's leading television networks did a poor job of covering climate change last year, even as the newly minted Trump administrationworked to unravel regulations meant to tackle the phenomenon and the U.S. was pummeled by a series of record-breaking natural disasters, according to a new report.
The group Media Matters for America analyzed climate change coverage on major broadcasters' nightly news programs and Sunday morning political shows ― including those on ABC, CBS, NBC, Fox News and PBS ― over the course of 2017. While a total of 260 minutes were devoted to climate change during the year, almost all of that coverage (79 percent) related to actions taken by the Trump administration rather than explanatory reports about the phenomenon or the way it affects humans or extreme weather.
Often networks used talking points furthered by climate change deniers (including President Donald Trump) without refuting such claims or clarifying that an overwhelming majority of scientists believe that climate change is happening and that humans are the primary cause. Trump has notably called global warming a hoax manufactured by the Chinese.
"Broadcast TV news neglected many critical climate change stories in 2017 while devoting most of its climate coverage to President Donald Trump," Media Matters said in its report. "The networks undercovered or ignored the ways that climate change had real-life impacts on people, the economy, national security, and the year's extreme weather events ― a major oversight in a year when weather disasters killed hundreds of Americans, displaced hundreds of thousands more, and cost the economy in excess of $300 billion."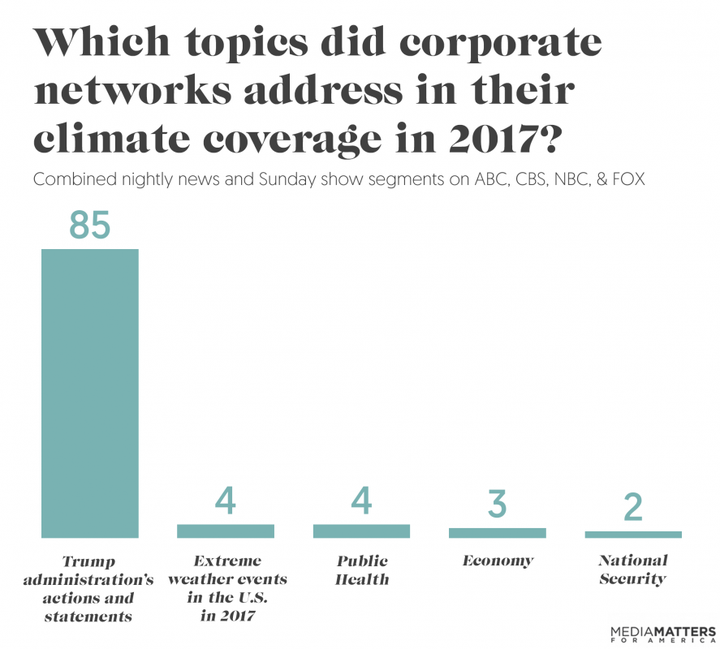 Some major White House decisions related to climate change did make the news, however, including Trump's decision to withdraw the United States from the landmark Paris climate deal last June. Every major network except Fox News ran at least a dozen segments on the decision, and PBS NewsHour mentioned it 23 times.
But other major environmental decisions garnered little, if any, coverage. The Environmental Protection Agency's decisions to roll back the sweeping Clean Power Plan was reflected in only 26 segments in the entire year. And Trump's approval of the Keystone XL and Dakota Access pipelines wasn't covered by any of the major networks.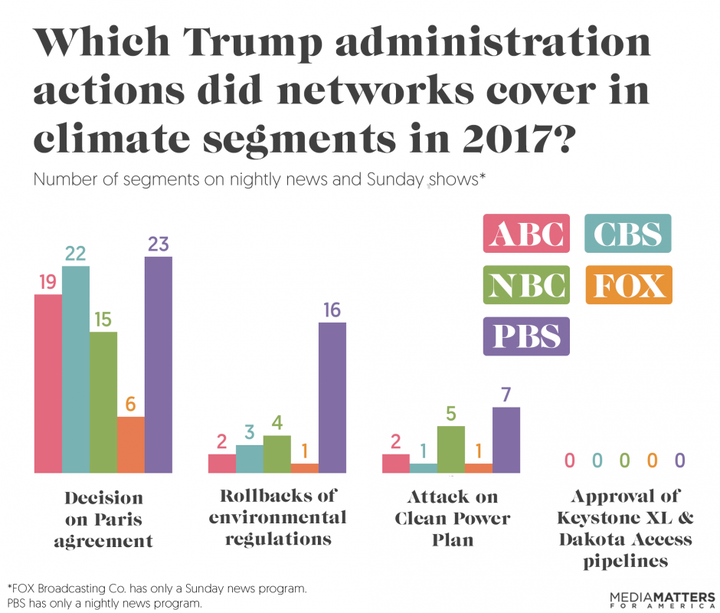 Regardless of the coverage, climate change and its related effects remained a major news story throughout 2017, which was one of the hottest years ever recorded. The year set a new record for insurance losses due to natural disasters, spurred by an overactive hurricane season that caused upwards of $300 billion in damages. Scientists have attributed the rains from at least one of the storms, Hurricane Harvey, to climate change, although linking a single occurrence of extreme weather to the phenomenon is difficult.
Researchers have long said, however, that a warmer world will increase the prevalence of extreme weather events, including record-breaking heat, rainfall and drought.
Despite this, Trump didn't mention climate change once in his State of the Union address last month, and even Democrats refrained from broaching the topic during their rebuttal. The White House also proposed a massive $4.4 trillion budget on Monday that included large increases in military spending but a 23 percent reduction in the budget for the EPA, the agency tasked with implementing environmental protection measures.