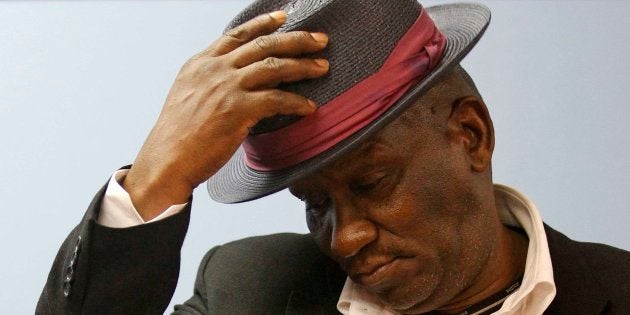 Former national police commissioner Bheki Cele has climbed the ranks to head up the police ministry, after President Cyril Ramaphosa announced his appointment during a Cabinet reshuffle on Monday evening.
Cele takes over from Fikile Mbalula at a time when four police officers and an off-duty SANDF soldier have just been gunned down in Eastern Cape, when the murder rate in the country sits at 34 per 100,000 people, and when 109 rape cases are reported daily (according police crime statistics last year).
Is the former general the right choice to invoke a turnaround in the police?
Firstly, there are some dark clouds hanging over his head.
In 2011, then-public protector Thuli Madonsela found that Cele – at the time national police commissioner – was guilty of improper conduct and maladministration when the police authorised a R500-million lease for its new headquarters in Pretoria. Former public works minister Gwen Mahlangu-Nkabinde then sealed the deal for businessman and Zuma ally Roux Shabangu.
Then there was his infamous "shoot to kill" comment.
In an interview at the beginning of his tenure as national commissioner, Cele reportedly said that the law should be changed to allow police to "shoot to kill" criminals without worrying about "what happens after that".
Senior research consultant at the Institute for Security Studies, Johan Burger, says Ramaphosa "could have done worse" in appointing Cele.
"Although Cele is remembered for his public statements and was removed after [Madonsela's] report, he was never found to be dishonest or corrupt. In the past few years, he has been an open critic of corruption and state capture. He has been involved in policing for a long time," Burger said.
"Cele enjoyed a lot of support from senior officers in the police, especially in KwaZulu-Natal, and by the time he concluded as national commissioner, he had a lot more knowledge about the police than most others. Morale in the police was also much higher under his leadership."
Burger advised that Cele begin by looking over the White Paper on policing and community safety in his bid to revitalise the police force.
The University of KwaZulu-Natal's Dr Jean Steyn, a leading expert in police culture, said Cele is an "experienced cadre of the ANC" – and many in the party, and in the police, see him as a leader.
"But he has a big job ahead of him. It should be clear that the police are moral guardians of the country and should lead by example. Officers should be equipped to deal with a range of problems. The culture in the police needs to be addressed," Steyn said.
"Cele must find a way to bridge the trust deficit between the public and the police. Skills and competency issues also need to be addressed. The spotlight will also be on Cele, to see if there is any political interference in the police and other crime-fighting units."